From One Extreme to Another
2017-05-08 23:24:15.000 – Caleb Meute, Weather Observer / Meteorologist
Summertime preparations have begun here at the Observatory, as highlighted by Mike and Adam earlier this shift. We are preparing for the warmer months, but that certainly does not mean we are out of Winter's icy grasp quite yet atop the Rockpile. Snow showers have fallen on and off since Sunday night which has led to just shy of 3 inches of accumulated snow. Sunday morning, there were only a few patches of snow remaining on the summit, but now there are just a few patches of rocks visible… Temperatures have also been falling since last night with tonight's lows expected to drop through the teens. These temperatures are below seasonable for this time of the year, falling well below the daily average for the beginning of May in the lower 30s.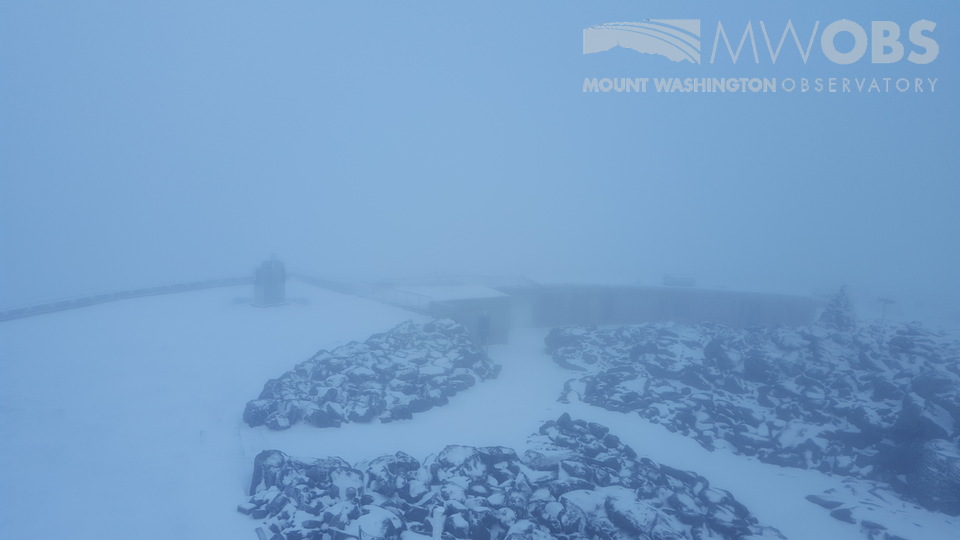 A broad upper level low pressure system centered over New England is the culprit for the below seasonable temperatures and persistent snow showers. The center will be moving over the White Mountains Region late tonight and then remain stationary through most of tomorrow. As a result, winds across the higher summits will likely become light and variable which is certainly atypical when we discuss wintry conditions on Mount Washington. Despite light and variable winds in the forecast tomorrow, winds will pick back up overnight and then stay gusty through Wednesday keeping wind chills in the single digits above zero.
The spring months across the higher summits of the White Mountains Region can become quite treacherous when these types of conditions occur and catch hikers by surprise. It is extremely important to consult the higher summits forecast when attempting to venture above treeline during these transitional months. If you take a quick look at the valley forecast, you may think it will be the perfect day to hike above treeline. That is not always the case! In order to relay this information to those who rely on our forecasting, we used the following wording throughout this past weekend: A combination of rain, persistent fog, and temperatures in the 40s will lead to very chilly and wet conditions across the White Mountains through the duration of the weekend. Although the calendar reads May, these sorts of conditions can still result in cold weather maladies such as hypothermia if you are unprepared. With the weather taking a decidedly more wintry turn on Sunday, this danger will be enhanced even further with snow and even colder temperatures added to the mix. Expect to be met with borderline-wintertime conditions if venturing above treeline anywhere in the White Mountains at any point through the course of the upcoming weekend, and be prepared for wet and cold conditions, winds gusting near hurricane force at times, and even snow and ice late Saturday night into Sunday.
As part of our valley forecasts today, we included this wording: It should be noted that more wintry conditions are expected across the higher terrain of the White Mountains, resulting in a very different forecast than valley locations. If you plan to venture into the higher elevations, utilize the Higher Summits Forecast for planning purposes.
This type of strong wording that we occasionally include in our forecasts is by no means meant to dissuade people from hiking! If the necessary precautions are taken, and individuals are properly experienced with hiking in these wintertime conditions, they can be rewarded with beautiful wintry landscapes and a challenging, but rewarding hike.
Caleb Meute, Weather Observer / Meteorologist
Ellen Estabrook
Adjusting to Life on the Summit By Charlie Peachey Working on the summit of Mount Washington is not your average job. There aren't too many other places where the employees work and live together for
Ellen Estabrook
A Surprise Aurora By Francis Tarasiewicz After 17 months of working at New England's highest peak, it finally happened. On the night of November 12th, 2023, I was lucky enough to view the famous and
Ellen Estabrook
A Glimpse at METAR Reports By Alexis George, Weather Observer & Meteorologist METAR observations are submitted every hour of every day at Mount Washington Observatory. METAR is a format for reporting weather information that gets