From One High Peak To Another
2013-05-27 15:33:22.000 – Ryan Knapp,  Weather Observer/Meteorologist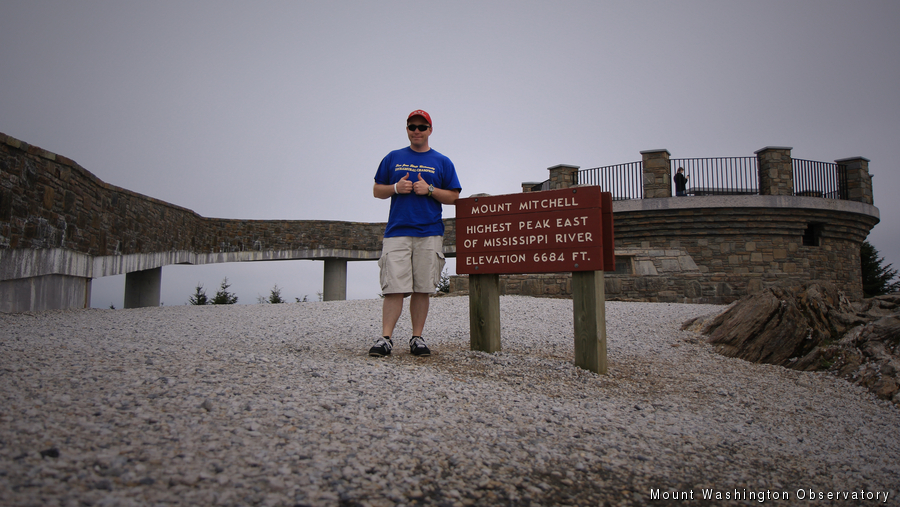 The Summit Sign for Mt Mitchell, NC.
"…Mount Washington, NH is the highest peak in the Northeast. To define that a bit more, it's the highest peak east of the Mississippi River and north of the Carolinas/Tenness…" Over the years I have said this phrase to countless guests while providing tours of our summit facilities. Occasionally some will follow up with, "So you're the second highest?" Nope, not even second highest. When looking over the various lists of the highest peaks on the east coast, we usually land somewhere in the teens or twenties depending on how a particular list is defined. But that's not why I mentioned this phrase. I mentioned it because this statement is partially how I chose where I was going to spend my vacation this month – conquering the biggest peak in the east – Mount Mitchell, NC.
I chose May because flowers are blooming and it is typically one of Mount Mitchell's drier months. However, the days I wanted to go up, the summit and the range around it were socked in the fog and/or rainy – now what peak do I know that has those characteristics? (hint: you're reading the blog of that peak) So day 1 – I arrived too late. Day 2 – fog/rain. Day 3 – fog/rain. Day 4 – fog/rain. It was starting to look like my summit would never happen. However, I kept checking their automated weather station and "broken" webcam in hopes they'd clear at some point before my departure. While photographing waterfalls and sunset late on day 5, I started seeing characteristics of clearing that I am familiar with working here. So, I set my alarm early the next day and checked the weather one last time – still foggy but I was determined to summit and knew from experience that it would eventually clear. So up I went and successfully summited the highest in the east.
So, how'd our highest peak in the northeast (Mount Washington, NH – 6288ft) compare to the highest peak in the east (Mount Mitchell, NC – 6684ft)? Our peak is in the White Mountains; theirs is in the Black Mountains. Our peak is above tree line in an "alpine zone" with trees ceasing at about 4000 feet; their peak was generally covered in a dense spruce-fur forest. Our peak is covered in rocks; theirs had mostly dirt. Our peak is prominent standing shoulders above all neighboring peaks; their peak was surrounded by other 5000-6000 footers. It was still prominent but not to the extent ours appears to be (but I might be slightly bias). Our peak sees colder highs and lows, but that is more due to latitude and location and not so much on height. The same can be said for precipitation and snowfall. Our weather station is considered manual while theirs appears to be automated (from what I could tell). Our summit has the Mount Washington Auto Road that runs 7.6 miles from NH Route 16 to the summit (and the Cog on the opposite side) while theirs has a road that runs 4.6 miles from the Blue Ridge Parkway to the summit. Our views are awesome, extend for miles and miles and worth taking in; their views…well theirs are awesome, extend for miles and miles and just as worth taking in. So while our peaks may be different in many ways both are still able to leave their guests and employees with a sense of beauty and awe while imparting memories that will last a lifetime.
Ryan Knapp,  Weather Observer/Meteorologist
Ellen Estabrook
Adjusting to Life on the Summit By Charlie Peachey Working on the summit of Mount Washington is not your average job. There aren't too many other places where the employees work and live together for
Ellen Estabrook
A Surprise Aurora By Francis Tarasiewicz After 17 months of working at New England's highest peak, it finally happened. On the night of November 12th, 2023, I was lucky enough to view the famous and
Ellen Estabrook
A Glimpse at METAR Reports By Alexis George, Weather Observer & Meteorologist METAR observations are submitted every hour of every day at Mount Washington Observatory. METAR is a format for reporting weather information that gets