From the Valley to the Peak
2019-05-27 09:03:22.000 – Benjamin Charles, Summit Intern
Hello I am Ben Charles and I am one of the new summit Interns at the Mount Washington Observatory. I am from Sparta, New Jersey, where I sparked my desire for adventure by spending my free time hiking, mountain biking and most importantly skiing. As an avid skier I constantly was forecasting for snowstorms in hopes for great powder days on the slopes. This is what brought me to SUNY Oswego where lake effect snow dumps hundreds of inches of snow a year. After four great years of experiencing and forecasting strong winds and heavy snowfall I earned my degree in Meteorology.
After getting a small sample of extreme weather at Oswego I wanted to pursue a career in studying and forecasting extreme weather and there is no better place to do it than none other than the home of the world's worst weather Mount Washington Observatory. For most of my life I've lived in valleys around small hills compared to Mount Washington, but after just spending a week on the tallest mountain in the Northeast I feel right at home, having already experienced a lot of awesome weather from calm sunny days to foggy days with zero visibility and 105 mph winds.
As an intern I will be conducting research throughout the summer called the "Flux Tower Project" with intern Austin Patrick. In the time that I am here I hope to accomplish a lot, by finding definitive results in my research that will help Mount Washington and others, forecast and measure weather phenomena with greater accuracy and precision. But as my first week comes to an end, I look ahead, seeing a summer full of great experiences and most importantly extreme weather.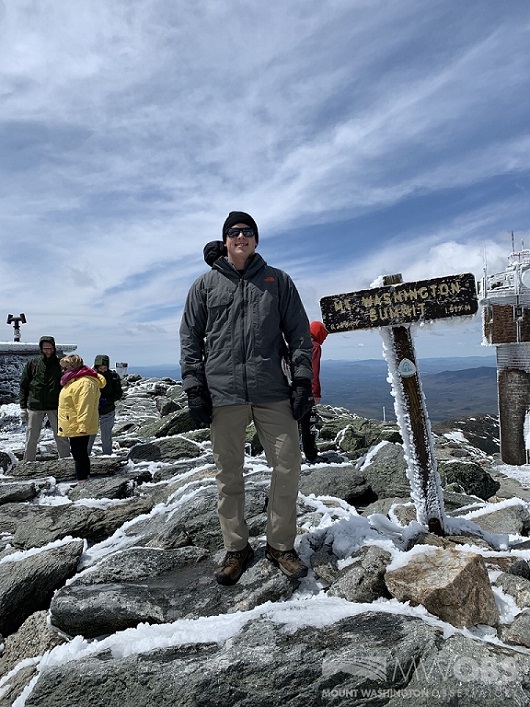 Benjamin Charles, Summit Intern
Ellen Estabrook
Adjusting to Life on the Summit By Charlie Peachey Working on the summit of Mount Washington is not your average job. There aren't too many other places where the employees work and live together for
Ellen Estabrook
A Surprise Aurora By Francis Tarasiewicz After 17 months of working at New England's highest peak, it finally happened. On the night of November 12th, 2023, I was lucky enough to view the famous and
Ellen Estabrook
A Glimpse at METAR Reports By Alexis George, Weather Observer & Meteorologist METAR observations are submitted every hour of every day at Mount Washington Observatory. METAR is a format for reporting weather information that gets