Goodbye MWObs!
2018-08-22 08:05:13.000 – Emily Tunkel, Summer Intern
Goodbye MWObs!
Well, it certainly has been a fantastic six week internship here on top of Mount Washington, but I unfortunately need to get back to college. Overall, this internship has been a once-in-a-lifetime experience, in more ways than one; my university doesn't have any degrees or courses in meteorology or atmospheric sciences, so I never got to be introduced to the amazing science behind the weather that we see every day.
I didn't know when starting here how invested I could become in the weather. Looking outside to see cap clouds or faraway mountains poking up in a sea of morning fog – it's just amazing. I really have no other words. I had never seen a mountain before (much less been on top of one) I came to MWO. Little things would amaze me; the stars at night, getting to see the Milky Way for the first time, watching clouds roll by, talking to thru-hikers who were completing the AT, looking at radar images, finding butterflies and flying squirrels on the summit, and much much more.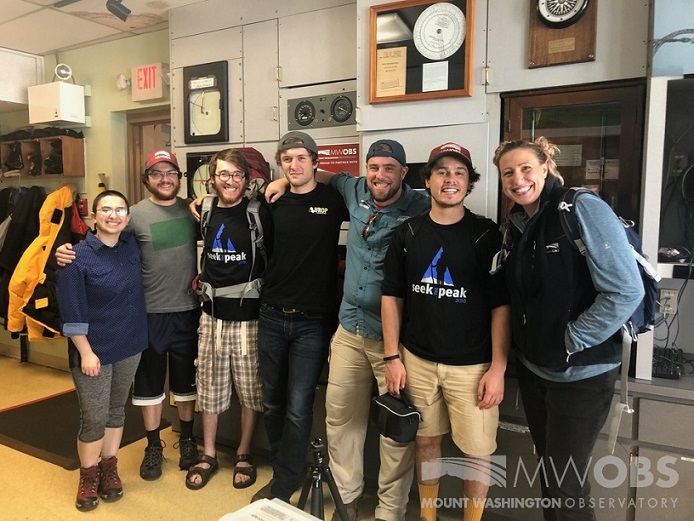 Pictured, from left to right: Emily, Adam, Chris, Ben, Ian, Zach, and Tessa
While getting to experience the weather was fantastic, I think my favorite part of this internship was all of the people. Not just the other interns, but the weather observers, our museum attendant, our lovely volunteers, the employees at State Park, the people I met at the gift shop, all of the dogs, the people who would come on tours and come with me to the top of the tower even when they were scared, the dog who came with me to the top of the tower on a tour, Marty the cat, everybody in the museum who asked "so…what's up with the cat?", little kids who would get excited about weather, and kids who would very softly ask how old they needed to be to be an intern too.
I've learned a lot during my time at MWO; not just about the weather, but about myself too. I'm hopeful that I'll get to come back to the mountain soon both for the weather and meteorology, but also for the great people here.
Emily Tunkel, Summer Intern
Ellen Estabrook
Adjusting to Life on the Summit By Charlie Peachey Working on the summit of Mount Washington is not your average job. There aren't too many other places where the employees work and live together for
Ellen Estabrook
A Surprise Aurora By Francis Tarasiewicz After 17 months of working at New England's highest peak, it finally happened. On the night of November 12th, 2023, I was lucky enough to view the famous and
Ellen Estabrook
A Glimpse at METAR Reports By Alexis George, Weather Observer & Meteorologist METAR observations are submitted every hour of every day at Mount Washington Observatory. METAR is a format for reporting weather information that gets