Halfway Through my Week at the Top
2015-01-24 16:28:24.000 – Jeff Swanson, Summit Volunteer
Volunteering at the Mt Washington Observatory is truly a special opportunity. You get to witness weather research and analysis in progress, get to know some wonderful individuals that come here from around the country to work, and you experience the sudden change of the weather outside. My co-volunteer Jan Berriochoa and I have the primary responsibility to keep them fed with the multitude of food combinations from the pantry. It's great to experiment with recipes for people I have never met. The crews are always up for something different from each set of volunteers they see from week to week.
This is my second trip to the summit as a volunteer. The crews are very focused groups who are continuously recording, checking and double checking their data for accuracy, and at the same time they are always willing to discuss their work by explaining the finer details of what they are working on. Yesterday, we had the added event of an overnight trip from EMS stay with us. They too added to the list of people that we have met so far this week, and they had plenty of interesting tales regarding their trip up to the summit.
When I was 12 (1972), I hiked to the summit with a group of 20 other kids, and never forgot the great time we had. About 5 years ago, I looked into the Mt. Washington Observatory website and was amazed at how it had grown. On that day I posted a question on the sight and was responded to by Peter Crane from the Observatory. In his response, he described the volunteer opportunity as he thought I might be interested in it. Through a few logistics issues and 2 cancellations on my part, I have successfully made it to my first winter trip to the observatory, and now hope to participate on a regular basis. I am also hoping to make an attempt at becoming a member of the century club this week . . . It's up to the weather, however!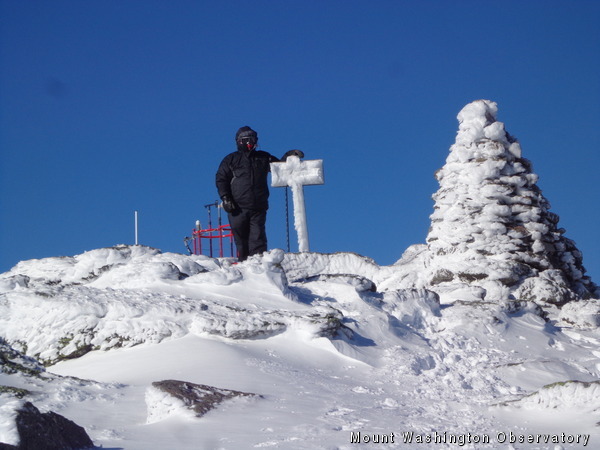 The educational elements that the Observatory offers are most certainly ones that I will forward along to some of my friends in the Ann Arbor, Michigan school system. They truly offer something different than the everyday curriculums.
Thank you Peter Crane and The Mt. Washington Observatory Team for this wonderful experience . . . looking forward to future trips to the summit.
Jeff Swanson, Summit Volunteer
Ellen Estabrook
Adjusting to Life on the Summit By Charlie Peachey Working on the summit of Mount Washington is not your average job. There aren't too many other places where the employees work and live together for
Ellen Estabrook
A Surprise Aurora By Francis Tarasiewicz After 17 months of working at New England's highest peak, it finally happened. On the night of November 12th, 2023, I was lucky enough to view the famous and
Ellen Estabrook
A Glimpse at METAR Reports By Alexis George, Weather Observer & Meteorologist METAR observations are submitted every hour of every day at Mount Washington Observatory. METAR is a format for reporting weather information that gets