Halos Around the Sun
2018-11-19 13:20:35.000 – Chloe Boehm, Summit Intern
Yesterday afternoon, we were treated to a unique sight up here on the summit, the sun with a halo around it! Looking at the sun (not directly of course) you could see a large ring of light that went entirely around the sun. This phenomenon is called a 22-degree halo. It is called a 22-degree halo because it has a radius of about 22-degrees around the sun. These halos can also occur around the moon and actually can help predict when storms are going to occur. There is an old weather saying "Ring around the moon means rain soon" which actually has some truth to it! These halos are due to light reflecting and refracting off ice crystals in high-level cirrus and cirrostratus clouds as they pass in front of the sun or moon. Since a large number of approaching high cirrus clouds can indicate a frontal system is moving in, these halos can be an indicator that bad weather is approaching. However, high sheets and isolated streaks of icy cirrus clouds mean that stable weather is coming making this saying not quite 100% accurate.
But why do the halos have a 22-degree radius? The light undergoes two refractions as it passes through an ice crystal which means that it is bent twice, once as it enters the ice crystal and once as it exits the ice crystal. The light is bent 22 degrees from its original direction due to these two refractions, creating a halo with a radius of 22-degrees. Although it is common to see clouds in front of the sun, the ice crystals within the clouds have to be oriented and positioned just right with respect to your eye for the halo to appear. This makes this phenomenon fairly unique. It also means that the halo that you see is unique to you. The halo you see is through a particular set of ice crystals, someone standing at a slightly different point would be seeing the halo through a different set of icy crystals. Someone standing only a few yards away might not even see the halo because the angle is not exactly correct.
Yesterday you could see the halo if you stood on the observation deck, presenting a perfect opportunity to take a photo of the halo surrounding the tower!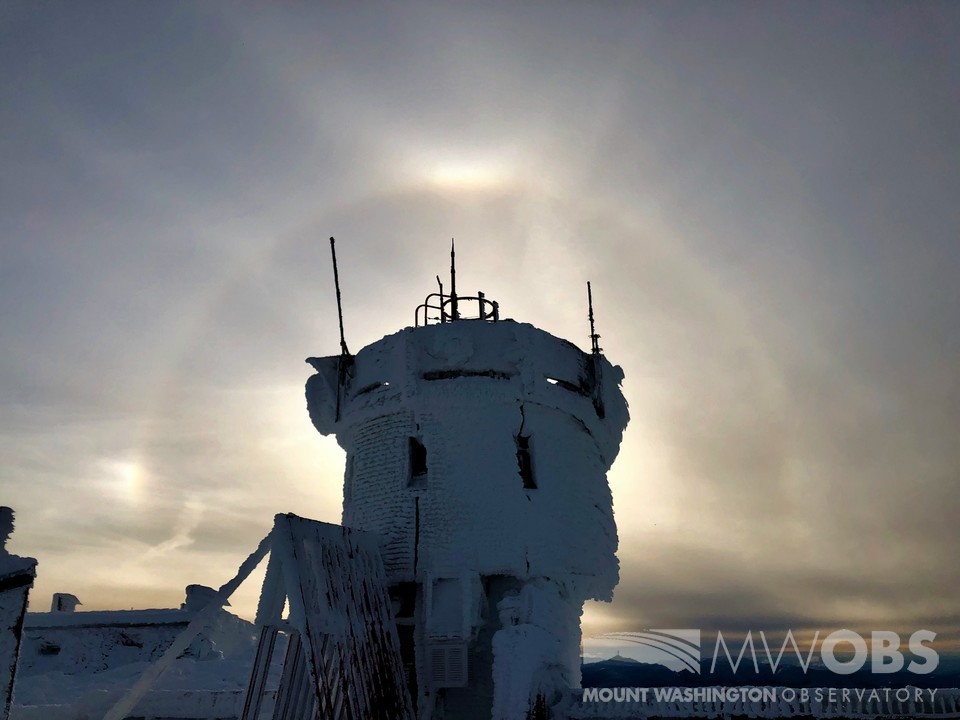 Next time you outside on a clear day/night, see if you can catch a glimpse of a halo around the sun/moon! If you spot one, watch out as there might be some bad weather on its way!
Chloe Boehm, Summit Intern
Ellen Estabrook
Adjusting to Life on the Summit By Charlie Peachey Working on the summit of Mount Washington is not your average job. There aren't too many other places where the employees work and live together for
Ellen Estabrook
A Surprise Aurora By Francis Tarasiewicz After 17 months of working at New England's highest peak, it finally happened. On the night of November 12th, 2023, I was lucky enough to view the famous and
Ellen Estabrook
A Glimpse at METAR Reports By Alexis George, Weather Observer & Meteorologist METAR observations are submitted every hour of every day at Mount Washington Observatory. METAR is a format for reporting weather information that gets