Happy (day late) Mothers Day!
2009-05-10 23:43:38.000 – Ryan Knapp,  Staff Meteorologist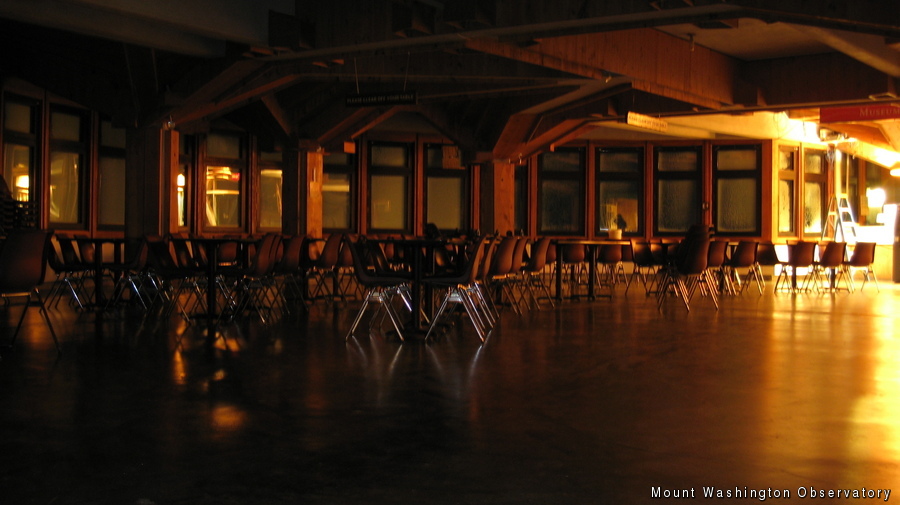 A true sight of summer.
Greetings, from the summit of Mt. Washington! I hope all the mothers of the world had a Happy Mothers Day. I heard that some people hiked up the summit yesterday with their mothers or rode the cog up with them. If your mom is a fan of winter-like weather, then yesterday was awesome for them. If not, you're probably thinking of some other way of making it up to them for ruining their special day by taking them to such a cold and windy place. But, just remind them, it was the time you spent together on the journey here that was worth more than the final destination.
But speaking of this final destination, boy has the weekend brought about a world a varied weather. From Friday through yesterday, we saw vistas go from 120 miles to 15 feet at times. We saw nearly blue-bird skies to dark ominous cumulonimbus clouds to fog. We saw squall lines that dumped about an inch of water in a matter of hours as well as produce our first thunderstorms of the year. We have had rain, freezing rain, sleet, small hail, and snow. The summit went from bare rock and sedge to a white winteresque landscape. Highs went from a high of 47 yesterday to a lows of 19 tonight. Winds were nearly calm at times while other they were blustering to category 2 type speeds. And while none of this is that shocking to me after being here for so long, it was still like a buffet of weather that's for sure. And for the weather nuts up here, it was hard to pick and choose what we kept wanting more of.
But it wasn't just the scene outside of the building that was going through changes; the inside was morphing as well. Our volunteers shampooed our carpets in our living quarters as well as our museum gift shop on the summit. State park started to open up the breeze way by the front entrance. They also started to stock their concession stands and ready the table and chairs in the rotunda. Fresh lacquer and paint is wafting through the building. Everything is approaching that "first day" look and smell. To relay the look and smells I am seeing and smelling, think back to your first day of any school year. It is a very optimistic sight and smell that makes you wonder what this summer will hold. I guess we all will find out what the future will hold as the building is set to open on May 16, 2009. So we will be seeing you all very soon whether you are hiking up, taking the road up, or riding the cog.
Ryan Knapp,  Staff Meteorologist
Ellen Estabrook
Adjusting to Life on the Summit By Charlie Peachey Working on the summit of Mount Washington is not your average job. There aren't too many other places where the employees work and live together for
Ellen Estabrook
A Surprise Aurora By Francis Tarasiewicz After 17 months of working at New England's highest peak, it finally happened. On the night of November 12th, 2023, I was lucky enough to view the famous and
Ellen Estabrook
A Glimpse at METAR Reports By Alexis George, Weather Observer & Meteorologist METAR observations are submitted every hour of every day at Mount Washington Observatory. METAR is a format for reporting weather information that gets