Happy Halloween!
2016-10-31 22:30:00.000 – Ryan Knapp, Weather Observer/Staff Meteorologist
Happy Halloween from the summit of Mt Washington! Hopefully everyone had (or is having) a safe evening in the lowlands. On the summit, we opted to keep it low key, carving some pumpkins and eating candy that our volunteers brought up and that our valley staff sent up. This year we brought two pumpkins to carve up. The pumpkin I carved out was of Marty Kitty wearing a wizard's hat and holding a jack-o-lantern. The other pumpkin was carved out in the shape of our logo (complete with a rainbow overhead) and was done skillfully by Observer Tom Padham and Intern Taylor Regan. Speaking of our logo – the mountain profile with a rainbow over it – over the weekend, there was a real life version posted on the Jackson Area Chamber of Commerce
Facebook
page that was taken by Michael Tutko. To Mr Tutko, if you read this, thanks for sharing that awesome picture! It was really neat to see our logo come to life like that.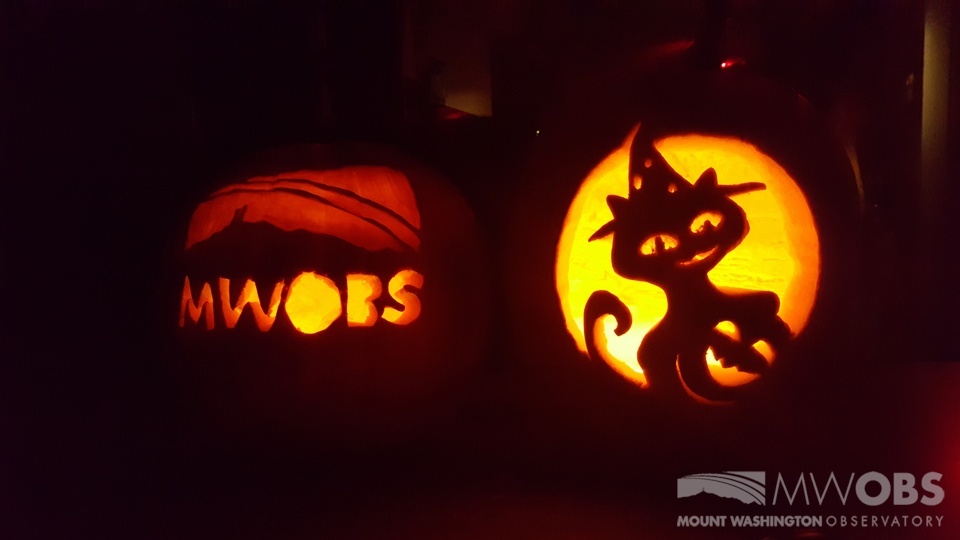 Speaking of weather, from below, I am betting a few people were tricked into thinking our weather was sub-part today since there was a pretty persistent undercast through the day. However, as those who ventured up today know, we were above it all, with diminishing winds and warming temperatures making it for a real treat of a day on the Higher Summits. With the improved weather, I headed to our southside and took a few selfies (below) at sunset as I watched October draw to an end. Here's hoping for a good November ahead!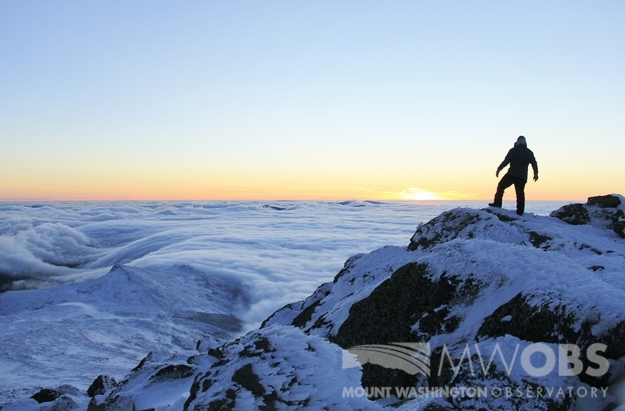 Ryan Knapp, Weather Observer/Staff Meteorologist
Ellen Estabrook
Adjusting to Life on the Summit By Charlie Peachey Working on the summit of Mount Washington is not your average job. There aren't too many other places where the employees work and live together for
Ellen Estabrook
A Surprise Aurora By Francis Tarasiewicz After 17 months of working at New England's highest peak, it finally happened. On the night of November 12th, 2023, I was lucky enough to view the famous and
Ellen Estabrook
A Glimpse at METAR Reports By Alexis George, Weather Observer & Meteorologist METAR observations are submitted every hour of every day at Mount Washington Observatory. METAR is a format for reporting weather information that gets