Harbingers of Summer
2011-05-07 17:22:04.000 – Rick Giard,  Observer & Education Specialist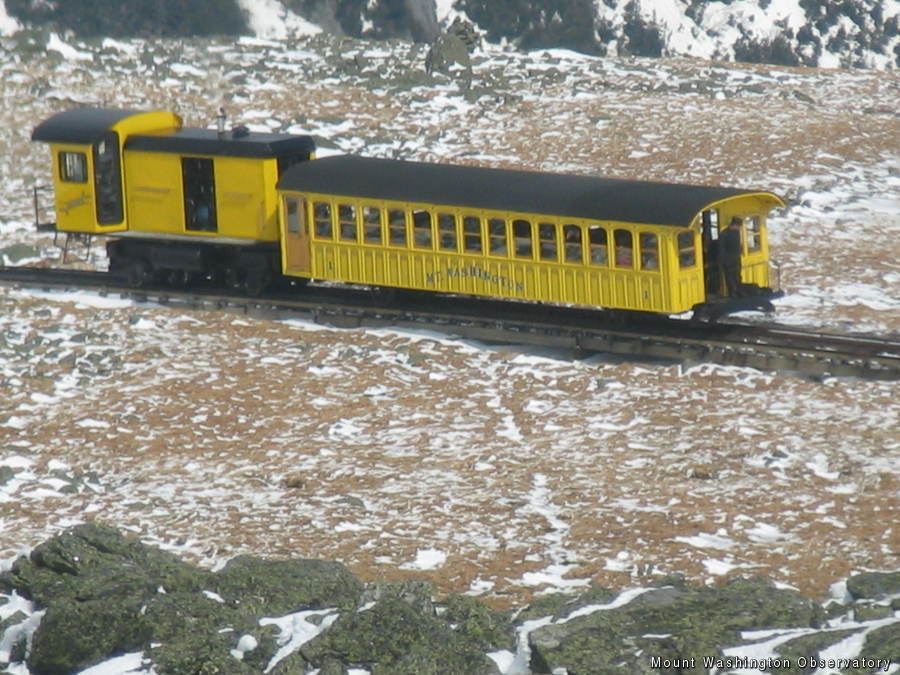 First Cog Run of the Season
With Old Man Winter reluctantly releasing his grip on the summit, we now begin to witness harbingers of the approaching summer season. This morning the first chugging Cog Railway train reached the top with an excited group of visitors. The Auto Road is also open today up to the 4.5 mile level. Hikers are arriving in a slow but steady parade, looking triumphant and bit fatigued. They pause at the ever-popular peak 6288′ sign to savor the astounding panorama and capture the moment in photographs. Even the wildlife and insects are gradually revealing their presence. The patchy light layer of snow, ice and rime that clings precariously to the Presidentials shrinks further with each hourly weather observation. This new surge of summit transformation and human activity is a welcome change from our reclusive winter refuge.
By late morning temperatures in the Mount Washington Valley and southern New Hampshire flirted with the 70 degree mark as cold air remained aloft, triggering thunderstorms that blossomed on the radar screen in Hillsborough County like spring dandelions on a freshly green lawn. Meanwhile, from our omniscient vantage point at the Observatory we recorded all at once five levels of clouds, towering cumulus, distant rain showers, SNOW showers, virga and haze. Later at midafternoon, we emerged from the tower onto the observation deck just as a large, black raven soared by at close range and dove behind the railings. A sudden burst of snow pellets bounced off the deck tiles and scattered at our feet like small bits of packing popcorn. Yet, winter does not give up without a good fight.
Despite the tenacity of winter conditions in this unique subarctic zone, the inevitable arrival of summer looms on the horizon. With this emerges the gentler side of The Rock Pile. Fortunately, this is not only The Home of the World's Worst Weather; it is also the most accessible extreme peak. Whether you prefer to hike, drive or ride, you and your family can experience Mount Washington. And, when you arrive please stop by for an Observatory Tour!
Rick Giard,  Observer & Education Specialist
Ellen Estabrook
Adjusting to Life on the Summit By Charlie Peachey Working on the summit of Mount Washington is not your average job. There aren't too many other places where the employees work and live together for
Ellen Estabrook
A Surprise Aurora By Francis Tarasiewicz After 17 months of working at New England's highest peak, it finally happened. On the night of November 12th, 2023, I was lucky enough to view the famous and
Ellen Estabrook
A Glimpse at METAR Reports By Alexis George, Weather Observer & Meteorologist METAR observations are submitted every hour of every day at Mount Washington Observatory. METAR is a format for reporting weather information that gets