Heading south for snow
2010-02-11 22:03:46.000 – Brian Clark,  Observer and Meteorologist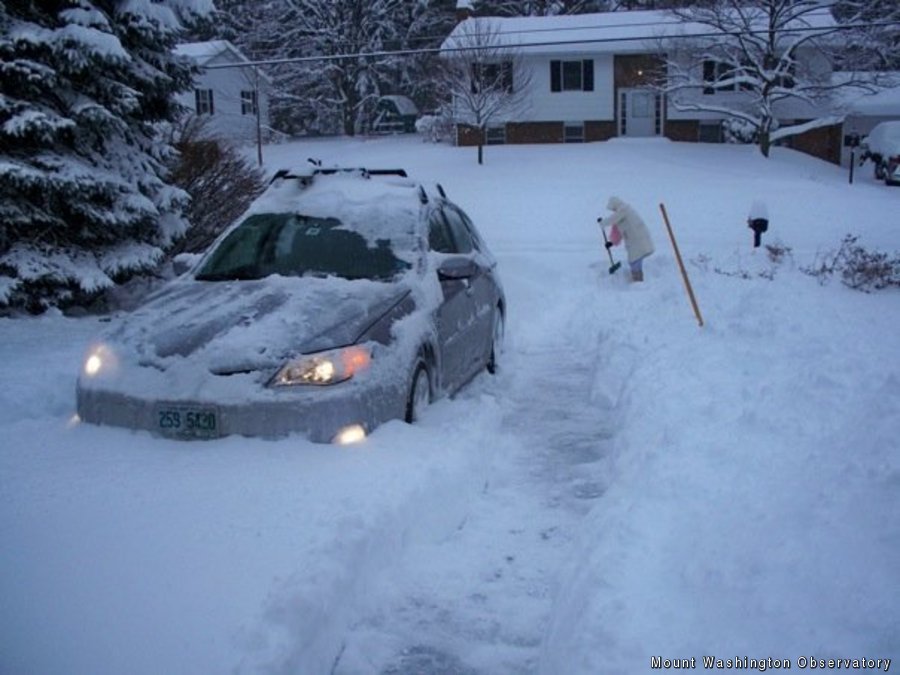 My car, definitely not taken in New England
The week on, week off work schedule that the summit staff operates on has its advantages and disadvantages. I have found that the advantages outweigh the disadvantages, at least at this point in my life. One of the biggest of these advantages I have found is the ability that having six full days off in a row (Thursday to Tuesday) gives me to travel. For instance, I am able to go back "home" to State College, Pennsylvania, also known as Happy Valley, every few months to visit family and friends. In fact this is what I got to do this past week off.
I always try to visit once during ski season so that I can get a chance to head over to my home ski area of Tussey Mountain to visit people I ski instructed with and of course to get some turns in as well. Tussey is a small "mountain" coming in at 500 feet of vertical and boasting the slowest chairlift I have ever ridden in my life (about 7.5 minutes to cover that 500 vertical). Despite the mountain's quirks, it will always be home for me and it is also where I learned the vast majority of what I know about skiing and teaching skiing. For this year's visit I was fortunate enough to be there for the first "Blizzard of 2010" which dropped about a foot and a half of delightfully light and fluffy powder on State College and Tussey last Saturday. It was honestly not only one of the best ski days I have had in 22 years of skiing at Tussey, but also one of the best days I have had skiing anywhere!
Of course it is no secret to residents of the Mid-Atlantic that you have been getting a lot of snow, just like it is no secret to New Englanders that we haven't been getting any at all. It's pretty bad when I have to head back to a place that, on average, sees about 35 inches of snow over an entire winter just to get some good skiing! Heck, even the deep south is getting in on the action right now with a large area of central Arkansas, Alabama, and Georgia forecasted to receive as much as 3-6 inches of snow tomorrow.
Looking into the meteorologist's magic 8 ball, also known as the weather models, it does not look like this very dry pattern we have been stuck in is going to change in the short range. There is some hope however in the longer range. By the middle of next week, the jet stream looks as though it will amplify and take a turn up the east coast. With the jet stream playing a major role in storm tracks, this begins to make it more likely that storms will track up the Atlantic coast rather than heading out to sea.
At this point we can only hope for this change to happen, and also remember that there is lots of winter left to come in New England, especially here on the mountain!
Brian Clark,  Observer and Meteorologist
Ellen Estabrook
Adjusting to Life on the Summit By Charlie Peachey Working on the summit of Mount Washington is not your average job. There aren't too many other places where the employees work and live together for
Ellen Estabrook
A Surprise Aurora By Francis Tarasiewicz After 17 months of working at New England's highest peak, it finally happened. On the night of November 12th, 2023, I was lucky enough to view the famous and
Ellen Estabrook
A Glimpse at METAR Reports By Alexis George, Weather Observer & Meteorologist METAR observations are submitted every hour of every day at Mount Washington Observatory. METAR is a format for reporting weather information that gets