Heat and Humidity on the Rise
2019-07-01 09:20:17.000 – Thomas Padham, Weather Observer/Education Specialist
After a cool and often rainy start to the summer season, it looks like the heat and humidity will be rising across the Northeast to start the month of July. For the summit of Mount Washington we really haven't seen a truly "warm" day yet this summer, with our maximum temperature for the year so far sitting at just 60°F. Most summer seasons we typically reach the mid-upper 60s, with last year reaching 71°F; just one degree shy of our all-time record high of 72°F.
850 mb (roughly 5,000 ft) temperatures across the U.S showing very warm temperatures extending all the way north to near Hudson Bay Wednesday morning. Image courtesy of Tropical Tidbits.
Taking a look at the week ahead, there's a very good chance the summit will see temperatures above 60°F. A ridge of high pressure centered over the center of the country is expected to build into the Northeast following one last shot of cooler air Tuesday, with warm and humid conditions likely lasting into the weekend. As of right now Thursday, July 4th looks to be the warmest day, due to the least amount of cloud cover and lowest rain chances. Temperatures will likely climb into the low to mid-90s for the major cities of the Northeast, including points closer to home like Manchester and Concord, NH. For the summit of Mount Washington this will likely equate to readings in the mid-60s, just a few degrees shy of daily records.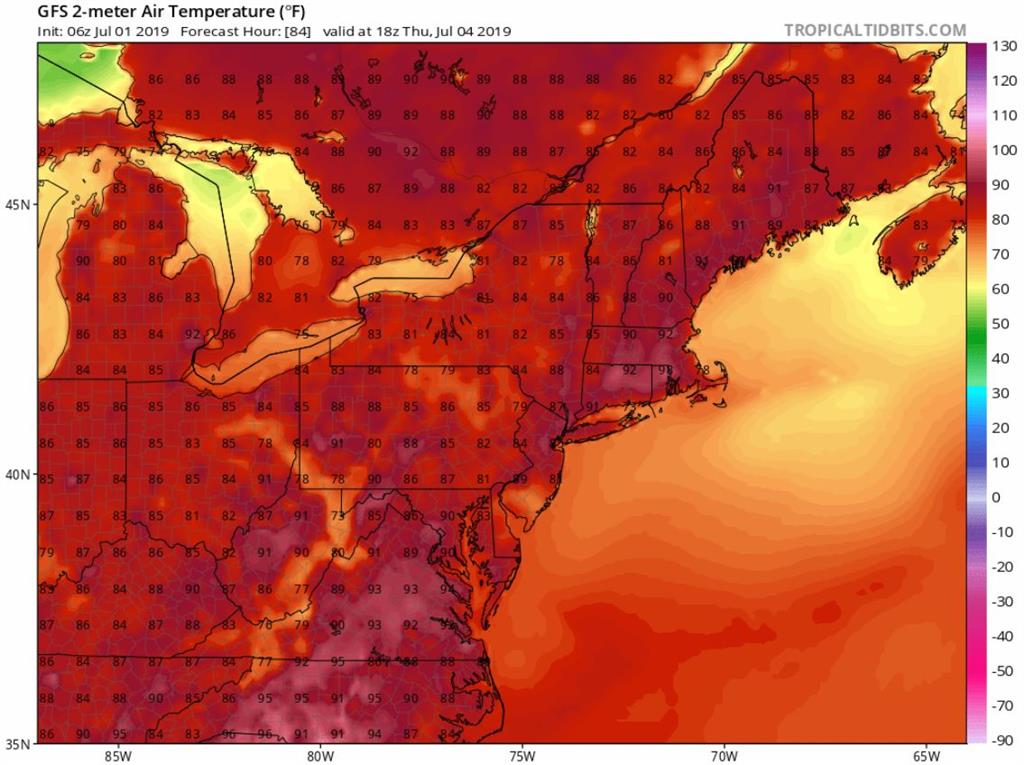 Surface temperatures across the Northeast during the early afternoon Thursday reaching the upper 80s to lower 90s Fahrenheit. Image courtesy of Tropical Tidbits.
The humidity will also be pretty oppressive for the second half of the week and weekend. Dewpoints will climb towards 70°F by Friday and Saturday, providing added fuel for potentially heavy rain with any thunderstorms that develop and at least provide some relief from the heat.
Surface dewpoints across the U.S showing widespread uncomfortable readings in the 60s and 70s Fahrenheit Saturday. Image courtesy of Tropical Tidbits.
For northern New England it looks like more lasting relief from the heat will arrive by Sunday, when a cold front hopefully sweeps out the very warm and humid air mass. Assuming this front makes it through the area, high temperatures will be in the upper 70s across the surrounding valleys, with much lower humidity and plenty of sunshine. Let's hope this holds true, it could be great weather for a tune-up hike before Seek the Peak!
Thomas Padham, Weather Observer/Education Specialist
Ellen Estabrook
Adjusting to Life on the Summit By Charlie Peachey Working on the summit of Mount Washington is not your average job. There aren't too many other places where the employees work and live together for
Ellen Estabrook
A Surprise Aurora By Francis Tarasiewicz After 17 months of working at New England's highest peak, it finally happened. On the night of November 12th, 2023, I was lucky enough to view the famous and
Ellen Estabrook
A Glimpse at METAR Reports By Alexis George, Weather Observer & Meteorologist METAR observations are submitted every hour of every day at Mount Washington Observatory. METAR is a format for reporting weather information that gets