Hide-and-Go-Seek the Peak
2017-04-01 05:56:27.000 – Ryan Knapp, Weather Observer/Staff Meteorologist
This weekend (April 1st/2nd) we will be hosting the 1st annual Hide-and-Go-Seek the Peak event. Starting at 8pm on April 1st, four Observatory staff members labeled as "It" will count down from 43,200. During this time, the handful of participants that signed up earlier this year will scurry out and hide on a peak somewhere within the 750,852 acres that make up the White Mountain National Forest. When those designated as "It" arrive at zero on April 2nd, they will, as loud as possible, yell out from the summit, "Ready or not; here we come!" At this time, the four individuals labeled as "It" will go out by foot and seek the hidden participants. Once someone is tagged as found, they then become part of the "It" party and help look for additional hidden participants. The event will wind down when all participants are found or by sunset on April 2nd; whichever comes first. It should be a lot of fun and we look forward to participating.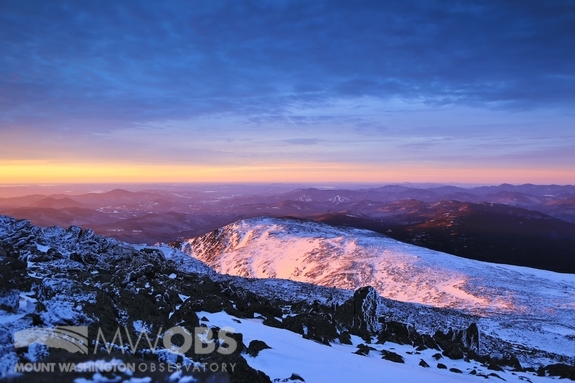 31 March sunrise looking towards Boott Spur and Tuckerman Ravine
If looking for information on future events we will be hosting, you can subscribe to our
newsletter
so you never miss out. However, information about our annual Hide-and-Go-Seek the Peak will likely be hard to come by in the coming months as this particular event is nothing more than an April Fool's joke!
Ryan Knapp, Weather Observer/Staff Meteorologist
Ellen Estabrook
Adjusting to Life on the Summit By Charlie Peachey Working on the summit of Mount Washington is not your average job. There aren't too many other places where the employees work and live together for
Ellen Estabrook
A Surprise Aurora By Francis Tarasiewicz After 17 months of working at New England's highest peak, it finally happened. On the night of November 12th, 2023, I was lucky enough to view the famous and
Ellen Estabrook
A Glimpse at METAR Reports By Alexis George, Weather Observer & Meteorologist METAR observations are submitted every hour of every day at Mount Washington Observatory. METAR is a format for reporting weather information that gets