Paul McCoy guides ice and rock climbing, mountaineering, and ski outings in the White Mountains. He relies on Mount Washington Observatory forecasts to anticipate weather and keep people safe in the backcountry. If you value these forecasts, consider supporting our mission.
Long before reaching treeline, Paul McCoy has a good idea of what to expect from the weather. A climbing school leader in the White Mountains, he takes groups ranging in skill to higher summits throughout the winter climbing season. Harsh weather often comes with the territory. Getting caught off-guard by a storm system, preferably not.
McCoy is on Mount Washington at least once a week, mostly on the Pinkham (eastern) side, guiding ice and rock climbing, mountaineering, and ski outings. Given the many variables of leading groups to elevation in the Whites, anticipating weather systems plays a key part in his backcountry safety plan.
"We don't cancel our trips up there, but it's important to know if it'll be blowing 100 mph," said McCoy, who heads the International Mountain Climbing School (IMCS) of North Conway and their annual Mount Washington Valley Ice Fest.
Just because his guides don't cancel doesn't mean their groups make it to the summit every time. If they have to turn back, that's part of the adventure.
"In 12 years of guiding, I've never had someone on a horrific weather day say, 'Oh man, I'm so disappointed I didn't make it up'," said McCoy, adding, "It's enough just to feel that wind." Hurricane-force winds at 74 mph or greater happen every other day, on average, from November through April on Mount Washington. Weather systems sweeping the mountain have taken many lives and put others perilously close.
McCoy and his guides use the Higher Summits Forecast, published twice daily by Mount Washington Observatory (MWO), to gauge what's ahead and prep clients before they hit the trail.
"It's the most accurate forecast around. I use it all the time, anytime I am going up high," said McCoy, who also volunteers for Mountain Rescue Service, whose technical teams check Observatory forecasts when heading to a rescue.
A core MWO service, the Higher Summits Forecast gives a detailed written and audio summary of current conditions and any expected storm systems in the range's alpine zones. It also provides a quick glance at daily high and low temperatures, wind chill, wind speed, and wind direction.
The MWO night observer/meteorologist on duty at the observatory's summit weather station writes the first forecast before 5:00 a.m. Leading up to that, the observer quality-checks data, analyzes weather patterns, and heads out in the elements every hour, all night, to record conditions and visibility.
The weather is always changing and people's safety can hang in the balance. Knowledge is power. If the wind chill is 40°F below zero, McCoy knows his clients won't likely summit, but they'll give it a go anyway, knowing they can always turn back.
When the sun goes down early in winter, he doesn't have time to play around at higher elevations. The forecast helps him know how to adjust plans to keep people out of harm's way and "make sure they have gas to make it back."
MWO's other forecasts assist with different types of outings. When ice climbing at lower elevations, McCoy monitors the Mount Washington Regional Mesonet to evaluate wind direction. With westerly winds, he knows the east-facing Huntington Ravine will be sheltered. The mesonet, MWO's network of remote weather stations in and around the White Mountains, continuously collects weather data at various elevations, indicating if climbing at 6,000 feet will be different than 4,000 feet, helping McCoy predict difficulty.
"I use all those features to depict what ice climbing will look like," he said. Before heading to lower-elevation spots like Crawford Notch or Frankenstein Cliff, he uses MWO's Mount Washington Valley Forecast. McCoy made sure to point out that while accurate, a forecast is still a forecast, not to be "taken as gospel."
"It's a tool, and the more you climb in the higher summits and the ravine, you can look at past forecasts and the surface of bowls to tell if climbing will be good or not," he said.
In addition to forecasts at mountwashington.org, a quick summary of current Mount Washington conditions is available by texting "weather" to MWO's main number, 603-356-2137. Text "forecast" to get an abbreviated summit forecast. Text "weather forecast" for both.
If you value these services for yourself, outdoor enthusiasts, or the rescue teams who put themselves at risk to help others, consider a donation to Mount Washington Observatory, a private, nonprofit institution. Donations from members and corporations are an important source of funding that directly support the continuation of forecasting, climate data, and educational work at the summit of Mount Washington.
Always keep in mind that mountain weather is subject to rapid changes and extreme conditions. Forecasts are tools to help you plan a safe trip. Travel with adequate clothing, shelter, food, and water, and be prepared to make your own assessment of travel and weather conditions. If in doubt, turn around.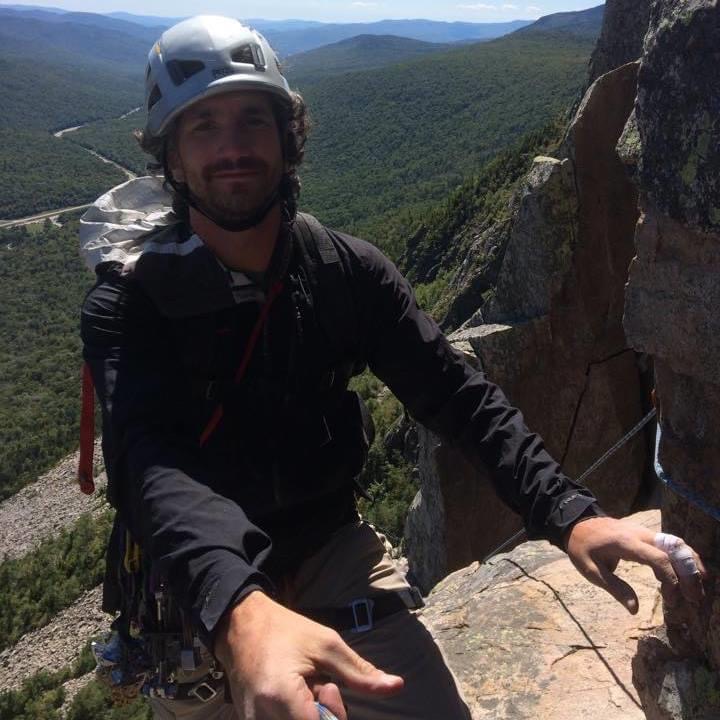 McCoy guiding Whitney Gilman Ridge in Franconia, NH.
Ellen Estabrook
Adjusting to Life on the Summit By Charlie Peachey Working on the summit of Mount Washington is not your average job. There aren't too many other places where the employees work and live together for
Ellen Estabrook
A Surprise Aurora By Francis Tarasiewicz After 17 months of working at New England's highest peak, it finally happened. On the night of November 12th, 2023, I was lucky enough to view the famous and
Ellen Estabrook
A Glimpse at METAR Reports By Alexis George, Weather Observer & Meteorologist METAR observations are submitted every hour of every day at Mount Washington Observatory. METAR is a format for reporting weather information that gets