Hold On To Your Hat!
2015-01-05 18:10:42.000 – Kaitlyn O'Brien, Weather Observer/Education Specialist
As you may have noticed, it's been pretty breezy across much of the state to say the least! Windy conditions are expected to persist overnight before slowly tapering off mid-day on Tuesday. We can thank a strong pressure gradient for this blustery weather. It's actually pressure systems that drive the winds that we feel, both on the surface of the Earth as well as aloft. To briefly explain the dynamics, it's important to think of the atmosphere as a fluid; similar to an ocean. In the Northern Hemisphere, low pressure systems spin counterclockwise (also known as cyclonic flow). Additionally, low pressure systems are associated with rising air. To imagine this, picture a column of air extending through the atmosphere. In a low pressure situation, air converges at the bottom of the column and rises, causing divergence aloft, or at the top of the column. Conversely, areas of high pressure spin clockwise (known as anti-cyclonic flow), and highs are also associated with sinking air. In a high pressure situation, there is convergence aloft (at the top of the column), and divergence below. The sinking air exerts a higher pressure, and the rising air induces a lower pressure, hence "highs" and "lows". But where does the wind come from? One important thing to remember is that the atmosphere is always seeking equilibrium. If we have low pressure over the Canadian Maritimes, and high pressure in the Midwest, the sinking air at the base of the high pressure in the Midwest will seek to fill the void of the rising air at the base of the low over the Canadian Maritimes. This is the main driver for wind! Because we are currently in a similar state of affairs with a high building to our southwest and a low offshore to our northeast, the winds have picked up over much of the state.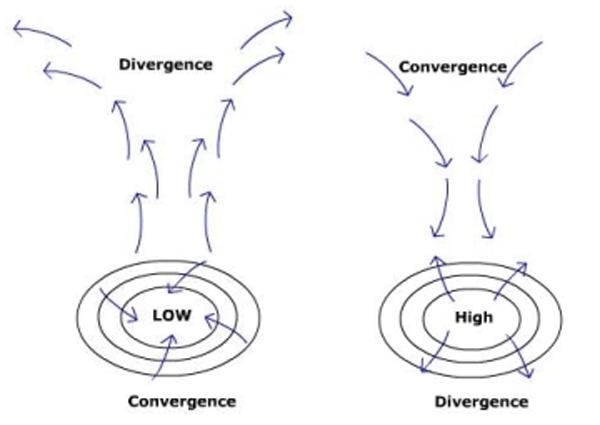 But where is the snow? This last event brought more rain than snow, thanks to a hefty warm front that caused temperatures to reach the upper 30s on the summit! Looking ahead, it appears that a weak disturbance will push through Tuesday evening into Wednesday morning, possibly bringing a few snow showers to the summits, and some flurries to the valley. Until then, hold on to your hat!
Kaitlyn O'Brien, Weather Observer/Education Specialist
Ellen Estabrook
Adjusting to Life on the Summit By Charlie Peachey Working on the summit of Mount Washington is not your average job. There aren't too many other places where the employees work and live together for
Ellen Estabrook
A Surprise Aurora By Francis Tarasiewicz After 17 months of working at New England's highest peak, it finally happened. On the night of November 12th, 2023, I was lucky enough to view the famous and
Ellen Estabrook
A Glimpse at METAR Reports By Alexis George, Weather Observer & Meteorologist METAR observations are submitted every hour of every day at Mount Washington Observatory. METAR is a format for reporting weather information that gets