Icing on the Summit
2013-12-06 17:24:32.000 – Mike Dorfman,  Weather Observer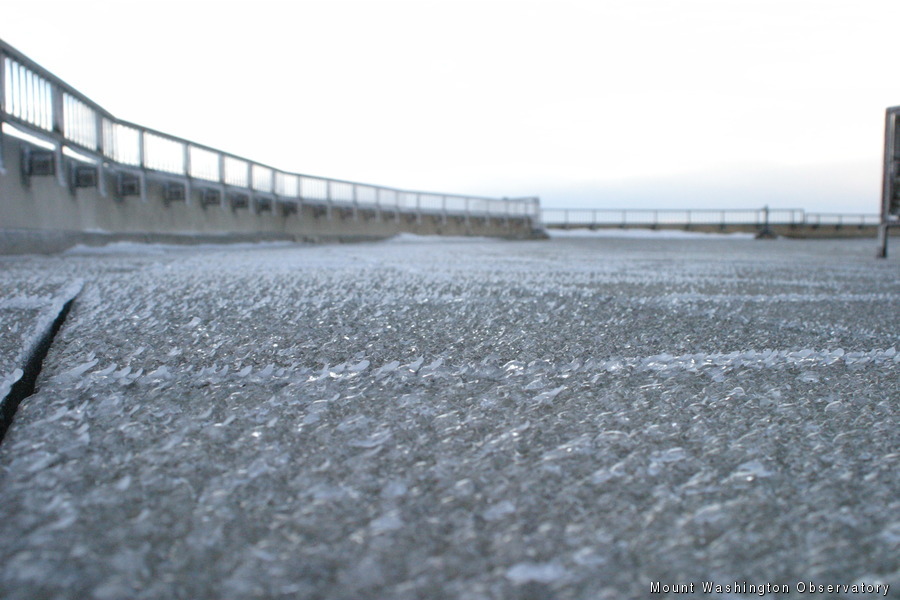 Glaze Ice Covering the Deck
Icing events can occur at any time of the year-if you have read the book "Not Without Peril," you are familiar with one of the stories in which a mid-summer icing event allowed glaze ice to coat the entire range many inches thick. More commonly, however, are shoulder-season icing events, like the one that occurred last night and this morning. The thin coating the summit received, combined with winds that made it feel like gravity had switched directions, was enough to make observations interesting today. Carefully wandering around the deck, the small bits of glaze ice that I kicked up each observation tumbled downwind and through branches of more glaze ice, turning the deck into what sounded like a giant rainstick.
While we enjoy our conditions on the summit, our eyes have been focused on a consistent, large swath of ice over Arkansas and Texas for the past day or so. While glaze ice (or any weather, for that reason) is usually mostly exciting and only a little scary on the summit, it is quite the opposite when it is necessary to travel through an ice storm.
Encountering inclement weather above tree line and coming across inclement weather in your car may seem unrelated, but they both pose a serious risk to the inexperienced or uninformed. Above tree-line, the danger lies within the remoteness of your location, the increased severity of the weather, and the topography of the mountain. Although the weather may be much more mild lower down on a road, the momentum of a vehicle poses a huge risk to the driver. Getting to a destination late by taking it slow or postponing your trip will rarely cost you your life, but pushing through inclement weather may. Whether traveling above tree line or trying to drive through a storm, be sure to take a look at an appropriate forecast and use your best judgment.
Observer footnote: Our year-end fund drive is taking place through December 31, and we need your support. Please make a tax-deductible donation of any amount here. As a nonprofit, people-powered institution since our founding in 1932, we need your help to continue our work! Thank you in advance for your generosity.
Mike Dorfman,  Weather Observer
Ellen Estabrook
Adjusting to Life on the Summit By Charlie Peachey Working on the summit of Mount Washington is not your average job. There aren't too many other places where the employees work and live together for
Ellen Estabrook
A Surprise Aurora By Francis Tarasiewicz After 17 months of working at New England's highest peak, it finally happened. On the night of November 12th, 2023, I was lucky enough to view the famous and
Ellen Estabrook
A Glimpse at METAR Reports By Alexis George, Weather Observer & Meteorologist METAR observations are submitted every hour of every day at Mount Washington Observatory. METAR is a format for reporting weather information that gets