I'm Back and Turning Nocturnal
2016-04-21 20:23:08.000 – Caleb Meute, Staff Meteorologist
It was a down going shift change a little over a year ago when I was loading a box of anemometers onto our snowcat and I felt my ACL pop in my right knee. I wish I had a cooler story as to how it happened like, we were experiencing 200 mph sustained winds and I was outside deicing when a 254 mph gust hit just my right knee and snapped my ACL, but unfortunately that's not a reality. That day, I somberly went down to the base of the mountain, got in my car and drove back to Pennsylvania. At that point, I did not realize that I would be unable to return to working on the summit until I had the ACL repaired. In April, I had the reconstruction surgery and began my rehabilitation process. After a few months I grew restless and got, almost my dream job, as a door knock salesman for an exterior home remodeling company. As it turned out, that wasn't really my dream job, so I started working for the Department of Emergency Services in the County of Chester in southeastern Pennsylvania, as an Emergency Planning Coordinator. That job was wonderful and I am extremely grateful to everyone in that Department for putting up with my weather geekiness for as long as they did. When it came down to it, I seriously missed this place, and no job that I had could compare to working on the summit of this mountain.
When I heard that a position opened up on my old shift as the Night Weather Observer and Staff Meteorologist, I knew immediately that I wanted to go for it. I spent the majority of the year strengthening my knee, and now when I think about it, I realize that I was preparing for this opportunity. Now all of this is old news, and I find myself back here on the summit in awe of everything it has to offer.
My first day back, I was welcomed by 130 mile visibility and clear skies. This beautiful weather has continued into today and now clouds are increasing ahead of an approaching system which will bring rain and possibly thunderstorms to the White Mountain Range.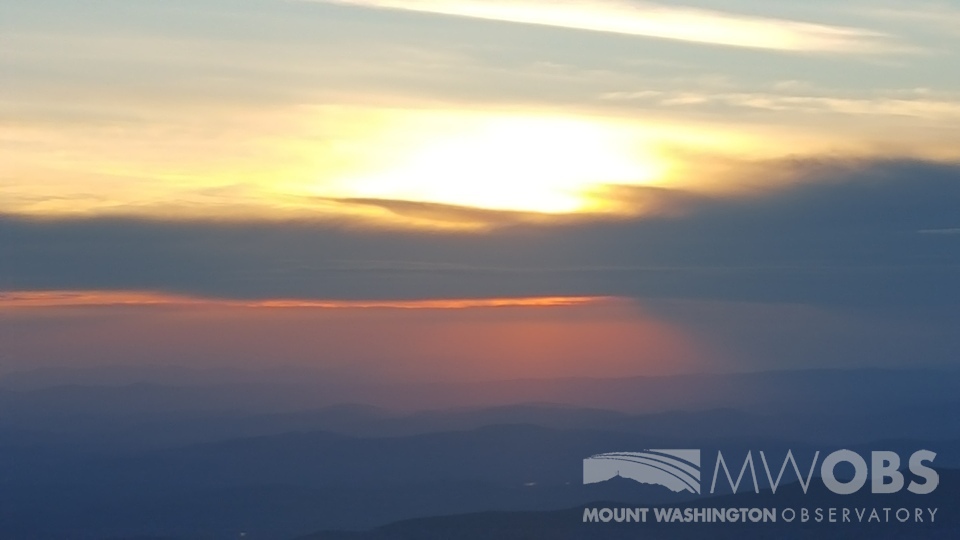 In summary, it sure is great to be back! This time around, I hope I can become a member of the Century Club, and with any luck experience a new record high wind speed. Also, I hope that I can stay awake during the nights. I may become a representative of 5 hour energy shots, Red Bull or Monster.
Caleb Meute, Staff Meteorologist
Ellen Estabrook
Adjusting to Life on the Summit By Charlie Peachey Working on the summit of Mount Washington is not your average job. There aren't too many other places where the employees work and live together for
Ellen Estabrook
A Surprise Aurora By Francis Tarasiewicz After 17 months of working at New England's highest peak, it finally happened. On the night of November 12th, 2023, I was lucky enough to view the famous and
Ellen Estabrook
A Glimpse at METAR Reports By Alexis George, Weather Observer & Meteorologist METAR observations are submitted every hour of every day at Mount Washington Observatory. METAR is a format for reporting weather information that gets