I'm back!
2012-01-11 23:14:11.000 – Mike Carmon,  Weather Observer/Meteorologist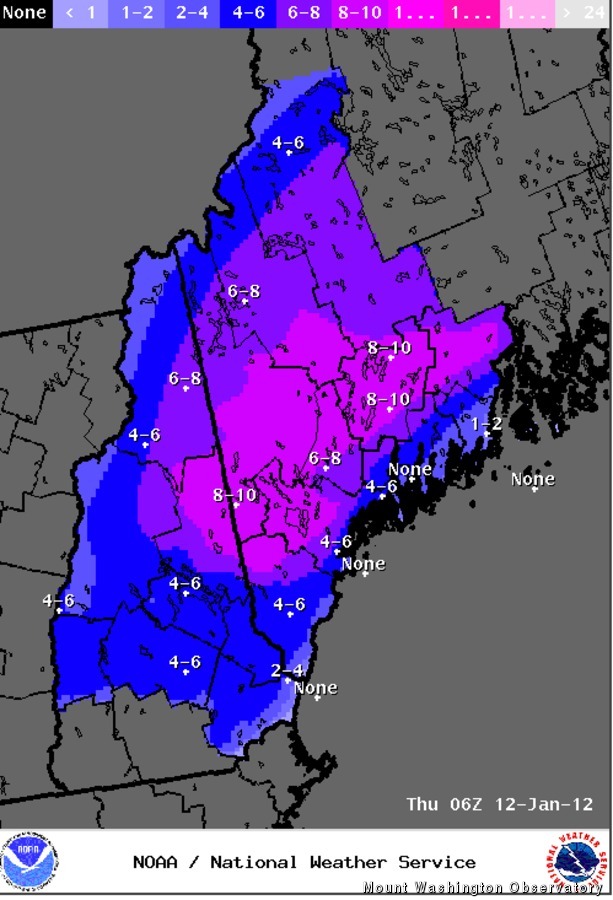 Forecasted Snowfall Totals
Back in business.
It's been a while…three weeks in fact…since I've sat in this chair and at this keyboard to give y'all my mountaintop thoughts and ruminations. As was mentioned in previous comments during my shift's last week on the summit, I was sidelined immediately following Christmas Day with a severe stomach flu that tore its way through my entire extended family. It was a trying week indeed, but I'm fully recovered now, as is the rest of my family back in New Jersey, and moving forward.
Three weeks away from work can seem like an eternity, and it certainly did for me, as I remarked to my co-workers during our ascension to the summit today. It was my first ride in the Snow Cat this season–on the excessively belated date of January 11th. In my three winters past, I'm used to taking the first Cat ride some time in November, with regular Cat trips a part of shift change by mid-December. However, this winter continues to be quite mild, demonstrated by the fact that we are still able to take the truck and van with snow chains two full miles up the Auto Road where the Cat currently resides.
After tomorrow's storm, however, that could all change. An estimated 6-10 inches of snow are being forecasted for the valleys below tomorrow as a winter storm impacts the region, which could translate to upwards of 8-12 inches on the higher summits thanks to orographic effects and colder temperatures. This will most likely render vans and trucks ineffective across the bottom two miles of the Auto Road, bringing quite a tardy onset to top-to-bottom Snow Cat season. And unlike previous winter storms, temperatures are not expected to warm up enough to melt the snow pack, but on the contrary get much colder behind this winter storm. This means the snow should be here to stay for the duration of winter–however, this winter continues to surprise us all, so one never knows.
Mike Carmon,  Weather Observer/Meteorologist
Ellen Estabrook
Adjusting to Life on the Summit By Charlie Peachey Working on the summit of Mount Washington is not your average job. There aren't too many other places where the employees work and live together for
Ellen Estabrook
A Surprise Aurora By Francis Tarasiewicz After 17 months of working at New England's highest peak, it finally happened. On the night of November 12th, 2023, I was lucky enough to view the famous and
Ellen Estabrook
A Glimpse at METAR Reports By Alexis George, Weather Observer & Meteorologist METAR observations are submitted every hour of every day at Mount Washington Observatory. METAR is a format for reporting weather information that gets