In Search of Extreme Weather
2018-12-14 09:51:31.000 – Thomas Padham, Weather Observer/Education Specialist
After a very active (by which I mean snowy and windy) October and November, things have quieted down significantly to start the first half of December here on the summit of Mount Washington. It has been plenty cold enough for snow, with our average temperature so far over the past 13 days of the month at only 8°F, about 3 degrees below average. Upper level high pressure across the Northeast is to blame, keeping cold, but dry air masses in place and the jet stream further south. This set up resulted in a major winter storm for the Southeast just this past weekend, while points north of the Mid Atlantic remained cold, but mostly dry.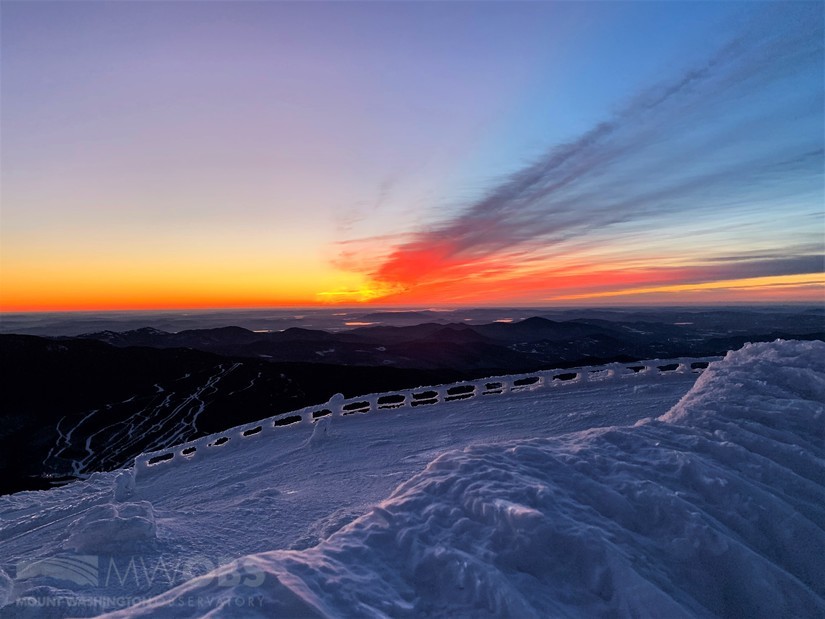 All of this dry weather has led to some pretty great sunrises!
Taking a look at the longer range models, there are some changes on the way over the rest of December, not all of it good if you're a snow enthusiast unfortunately. With a cutoff low currently over the Gulf Coast much more mild air is already beginning to work its way towards New England. Temperatures will be climbing well above freezing for the valleys, with even the summit likely seeing a little melting Sunday. This warm up should come crashing back down by Monday with the passage of a cold front, with temperatures falling back to just below zero (5-10 degrees below average). This will also be our next chance of measureable snow as well, with probably 3-6" looking likely Monday afternoon through Wednesday morning as the summit sees favorable upslope snow conditions. Tuesday, December 18th will also see a very tight pressure gradient as low pressure strengthens offshore and high pressure builds in, with 100+ mph winds looking likely!
So where's the next big storm? Unfortunately there's not much over the next 10 days or so. A clipper like system will bring at least some snow around the 21st-22nd of December to the higher elevations of New England, followed by potentially another clipper nearing Christmas Eve. These systems are typically quick moving and lack enough moisture for substantial snow amounts, but on the positive side for skiers it will be cold enough for snow at most of the major resorts. There is some hints of a more significant Nor'easter-like storm following Christmas and before the new year, but models are often a little erratic and inconsistent two weeks out and details on this system, if it ever comes together, are likely to change.
For fun I thought I'd take a look outside of the U.S to see if there's any other major storms. The UK is bracing for back-to-back powerful storm systems, with heavy rain and very strong winds over the next several days. The first system is already affecting parts of Ireland, with the center of the storm an impressively low pressure at 957 mb. A near identical strength storm will march across the Emerald Isle Monday, with wind gusts near hurricane force possible along the coast. Some of the highest peaks in Ireland, which reach over 3,000 feet, will likely see winds near 100 mph.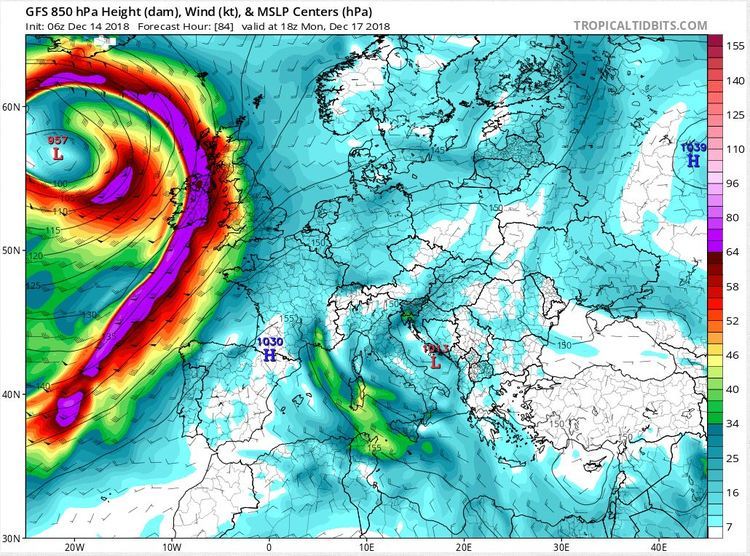 GFS model 850 mb winds showing the second powerful storm to affect the UK Monday. Image courtesy of Tropical Tidbits.
Although we've been seeing some "quiet" weather here at the top of New England, one can always find interesting weather happening somewhere on the planet at the same time. I'm sure it won't be too long until we hear the roar of 100 mph winds or the pelting of heavy snow up here once more!
Thomas Padham, Weather Observer/Education Specialist
Ellen Estabrook
Adjusting to Life on the Summit By Charlie Peachey Working on the summit of Mount Washington is not your average job. There aren't too many other places where the employees work and live together for
Ellen Estabrook
A Surprise Aurora By Francis Tarasiewicz After 17 months of working at New England's highest peak, it finally happened. On the night of November 12th, 2023, I was lucky enough to view the famous and
Ellen Estabrook
A Glimpse at METAR Reports By Alexis George, Weather Observer & Meteorologist METAR observations are submitted every hour of every day at Mount Washington Observatory. METAR is a format for reporting weather information that gets