In Search of Snow!
2018-02-23 16:19:03.000 – Tom Padham, Weather Observer/Education Specialist
With current snow depth reported at zero as of this writing, pretty much all of the summit staff (maybe not Marty) are wishing for some snow! Taking a very extended look out at the beginning of March it does look like there's some hope ahead for snow lovers, at least up here on the summit of Mount Washington.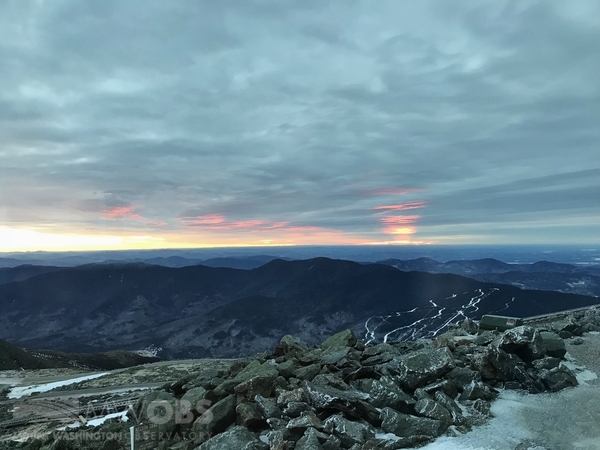 Sunrise on Thursday morning, with only patches of snow currently on the summit
In the near term, tonight snow and light mixed precipitation will fall across the higher elevations lasting into the early morning hours Saturday, with roughly an inch of snow and ice accumulation expected. A more significant system will follow quickly on the heels of the first storm. Enough cold air will be "dammed" or wedged up against the east side of the White Mountains to keep precipitation all snow initially during the day Sunday, with an eventual changeover to sleet, freezing rain, and even plain rain as precipitation tapers off around midnight.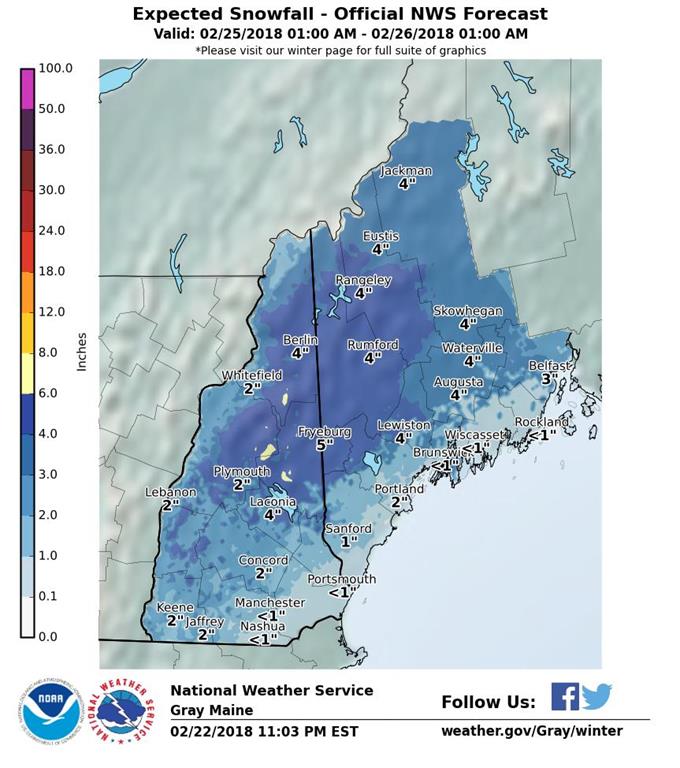 Expected snowfall totals through Sunday night from the National Weather Service in Gray, Maine.
Beyond this things start getting trickier to forecast, and are likely to change at least slightly going forward, but with that said we'll take a look! Prior to next Thursday high pressure will stay in control of our weather across northern New England, with no significant snow on Mount Washington outside of a flurry or two. Thursday a strong storm system will track through the western Great Lakes, pushing a moist air mass and heavy precipitation into New England by late in the day. Once again as of this model run enough cold air remains locked in place across the White Mountains for snow initially, then things get a bet more interesting.
The past few model runs have been a little more consistent in redeveloping the storm in the Gulf of Maine, where it then stalls out from Friday through Sunday, March 4th. The cold air is marginal, especially for the lower elevations, but on the summit at this time precipitation would likely stay snow, with heavy snow Friday and Saturday becoming lighter but still not totally tapering off until potentially Monday morning (March 5th). If this did pan out it would be a very welcome sight for us up here, with a few feet of new snow bringing our snowpack up to a more reasonable level. Here's hoping March comes in like a lion, and gives us some much-needed snow!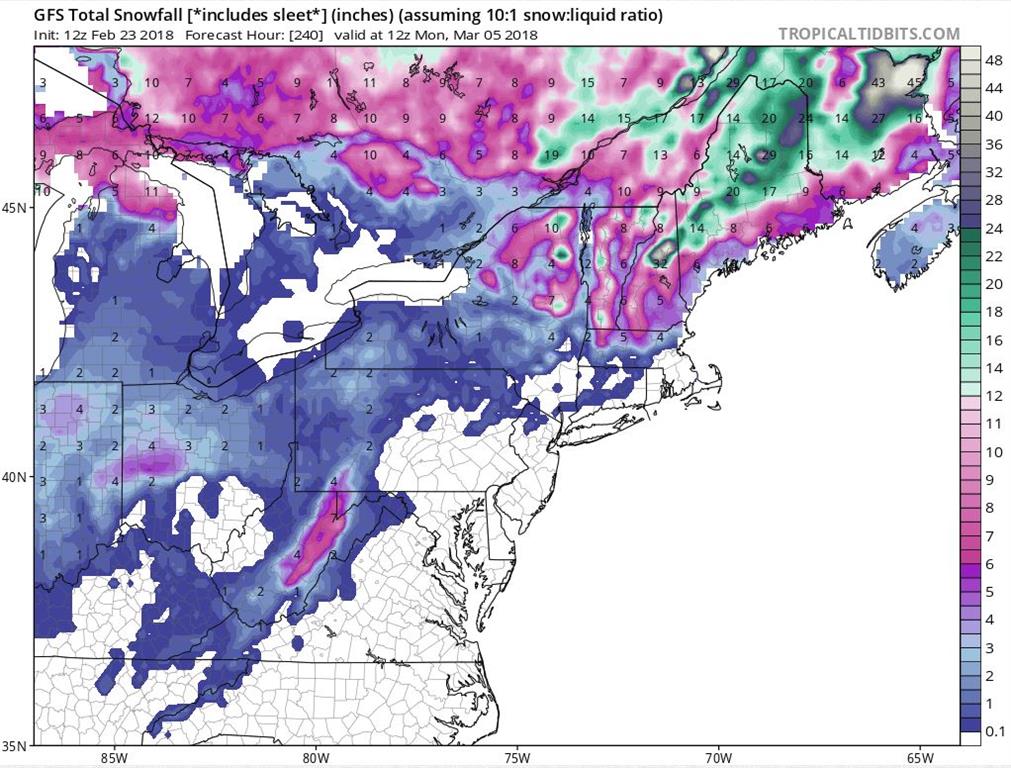 Total snowfall from February 23rd through March 5th. Could we really see 3+ feet of snow on the summit?!
Image courtesy of Tropical Tidbits
Tom Padham, Weather Observer/Education Specialist
Ellen Estabrook
Adjusting to Life on the Summit By Charlie Peachey Working on the summit of Mount Washington is not your average job. There aren't too many other places where the employees work and live together for
Ellen Estabrook
A Surprise Aurora By Francis Tarasiewicz After 17 months of working at New England's highest peak, it finally happened. On the night of November 12th, 2023, I was lucky enough to view the famous and
Ellen Estabrook
A Glimpse at METAR Reports By Alexis George, Weather Observer & Meteorologist METAR observations are submitted every hour of every day at Mount Washington Observatory. METAR is a format for reporting weather information that gets