Interesting Snow (And Lots Of It!)
2015-04-07 21:17:48.000 – Adam Freierman, Summit Intern
What a weekend! Above freezing temperatures and warm wet fog really decimated our snowpack on Friday. The summit cone was showing more sedge than snow and the cols and peaks along the ridgeline were looking pretty rocky. Things quickly got wintery again on the rockpile, however, as we've picked up 22" of snow since Saturday and our snowpack is now deeper than it been for most of the winter. This snowfall has been a bit different than most we have seen this winter as well. Slightly warmer temperatures and relatively light winds mean that instead of watching this snow blow away in giant plumes, it has drifted considerably on the summit. Of course this made for quite a day of shoveling…but what better way to enjoy the sunshine.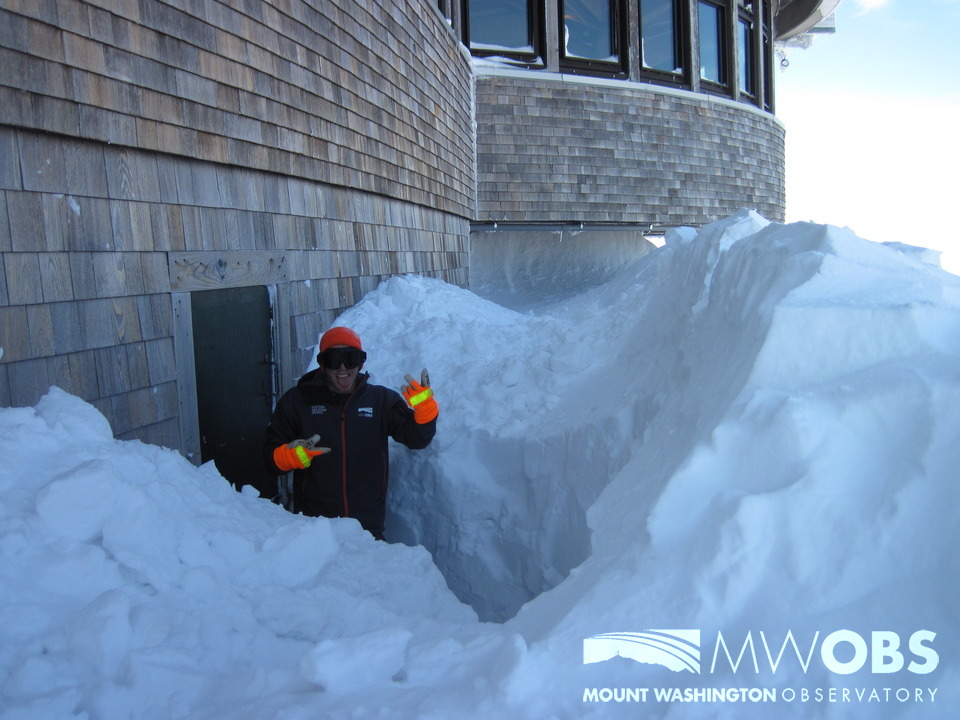 With varying temperatures throughout the weekend we also saw a great variety of snowflake types. Along with the dendrites and needles we collected rimed crystals, spatial dendrites, and these beautiful capped columns that Kyle caught yesterday afternoon.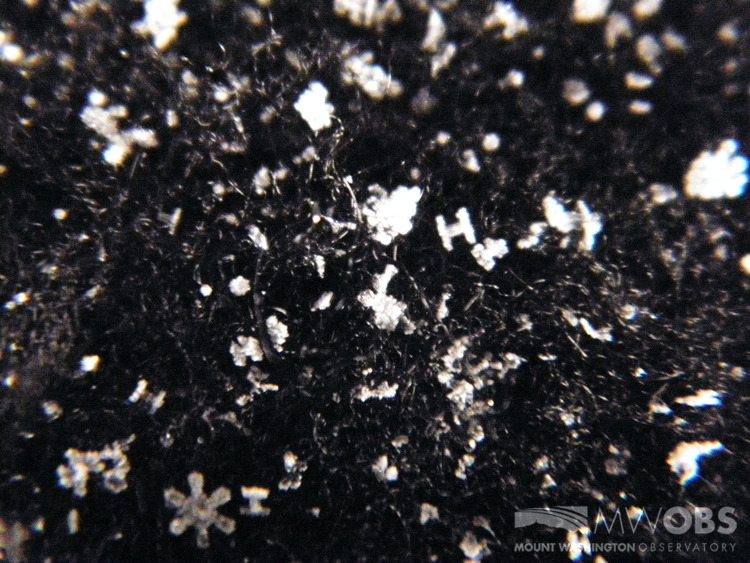 These crystals start by forming as hexagonal columns or prisms, which is a simple and common snowflake geometry. They are then blown into a part of the cloud which is at a different temperature and crystal growth transitions to plates, which grow on each end of the column resulting in a spool-like capped column.
Adam Freierman, Summit Intern
Ellen Estabrook
Adjusting to Life on the Summit By Charlie Peachey Working on the summit of Mount Washington is not your average job. There aren't too many other places where the employees work and live together for
Ellen Estabrook
A Surprise Aurora By Francis Tarasiewicz After 17 months of working at New England's highest peak, it finally happened. On the night of November 12th, 2023, I was lucky enough to view the famous and
Ellen Estabrook
A Glimpse at METAR Reports By Alexis George, Weather Observer & Meteorologist METAR observations are submitted every hour of every day at Mount Washington Observatory. METAR is a format for reporting weather information that gets