Is it still summer?
2007-08-18 01:11:54.000 – Ryan Knapp,  Meteorologist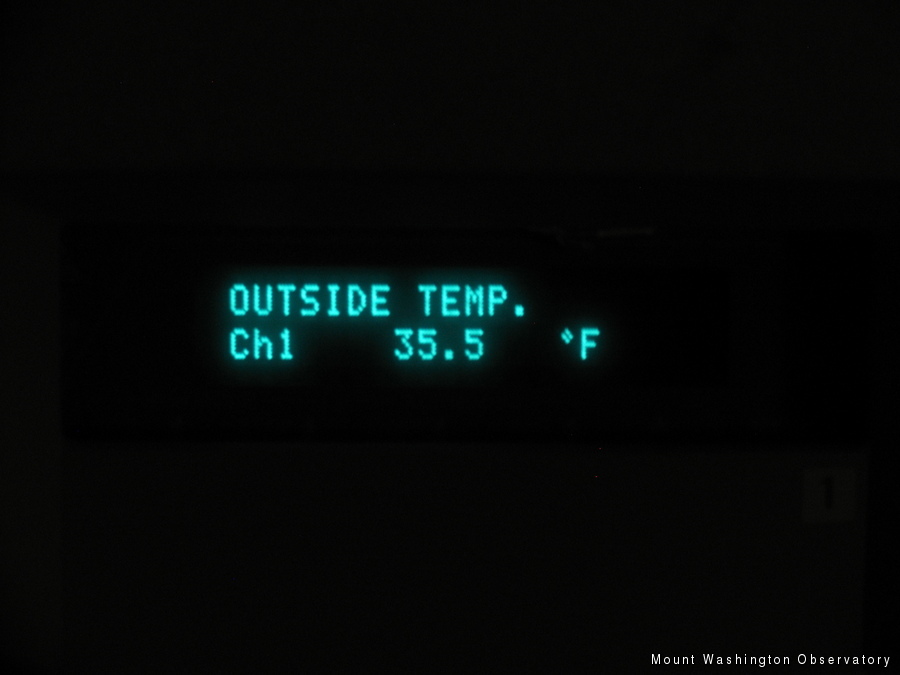 Temperature read out at 2 am EDT
When I look at the forecast for the next 36 hours, I get an unsettled feeling in my stomach. It isn't because I think I did an insufficient job forecasting. It isn't because we have a potent storm forming nearby. It isn't because we are going to break any ground shattering records and have the press swamp us. It is because of the temperatures and winds we will be getting will be creating some wicked wind chills for this time of year and there is bound to be at least one unprepared person out there.
Normally, August is one of our warmer months up here but over the next 36 hours, it will feel more like late fall rather than late summer. While valleys will be getting to temperatures in the mid 60s during the days, summits will be plunging below the freezing mark (32 Fahrenheit) tomorrow and will continue dropping until bottoming out Saturday night in the mid 20s before slowly rising (but still below freezing) on Sunday. Winds will be averaging between 50-70 mph during the day Saturday, 45-60 mph during the night Saturday, and 30-50 mph on Sunday. When you combine these two factors, you get wind chills on the order of 10-20 Fahrenheit Saturday, 0-10 Fahrenheit Saturday night, and 10-20 Fahrenheit Sunday.
For those who don't know what a wind chill temperature is, it is the temperature it feels like to people (and animals). It is based on the rate of heat loss from exposed skin. The faster the wind is, the faster body heat is carried away which in turn lowers the skin temperature and eventually the internal body temperature. This in turn can bring about frostbite to exposed surfaces or hypothermia. Given the conditions this weekend, frostbite will set in to any exposed surfaces in a matter of 30 minutes especially in areas of the body with poor circulation.
So what are some things that you can do to prevent the effects of wind chill and possible frostbite? First, I would encourage hiking another time if possible. If you decide to make a go at it though, first check the forecast to see if anything has changed. Next, with the valleys being so "warm" and the summits so "cold," dress in layers storing the extra layers in your pack, including a warm coat (LL Bean makes a few good ones that we wear). Make sure any clothing you are wearing is either made of wool or synthetic material, cotton is not a viable option. Wear thick wool socks or multiple layers of synthetic socks in good boots. Gloves are a must as well as a cap or balaclava of some sort. Pack plenty of food because you tend to burn more energy when it is colder. Insulate your water so it won't freeze. Let others know of your plans or check in at a Visitor Center at the base of the summits. Some optional items to pack are goggles, hiking poles, crampons, and anything else you would normally pack for a late fall hike because it will definitely feel like it this weekend.
Ryan Knapp,  Meteorologist
Ellen Estabrook
Adjusting to Life on the Summit By Charlie Peachey Working on the summit of Mount Washington is not your average job. There aren't too many other places where the employees work and live together for
Ellen Estabrook
A Surprise Aurora By Francis Tarasiewicz After 17 months of working at New England's highest peak, it finally happened. On the night of November 12th, 2023, I was lucky enough to view the famous and
Ellen Estabrook
A Glimpse at METAR Reports By Alexis George, Weather Observer & Meteorologist METAR observations are submitted every hour of every day at Mount Washington Observatory. METAR is a format for reporting weather information that gets