It's Cold!
2020-02-14 14:53:31.000 – Caleb Buchler, Summit Intern
We experienced a small snow event Wednesday night into Thursday this week where we saw only 2 to 3 inches on the summit. Some models were predicting a much heavier event but with a strong upper-level jet streak hanging out over New England, the system passed through very quickly. By mid-morning Thursday, the low pressure system had already moved Northeast over Nova Scotia. Lingering up-slope snow showers continued on the backside of the storm throughout the day with the heaviest portion of the storm being short-lived. I am still waiting for that major Nor'easter snow event to occur during my shift!
I am also quickly beginning to realize that predicting snow accumulation on a summit with some of the highest winds on earth is quite a challenge. The models will often predict totals higher than what actually occurs because the snow is blown right off the summit before it can even stick! I often like to be cautious with my predictions as I have seen storms scour more snow they actually accumulate on the summit. I hope to improve my snowfall forecasts with my new project measuring snow pack. This way, I can compare the projected additional snowfall with the actual snowfall after a storm. Bring on the snow!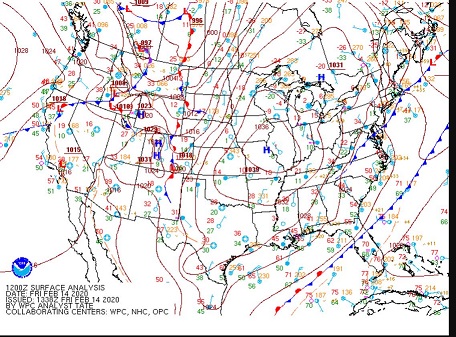 An Arctic cold front followed by strong Northwest winds on Friday morning.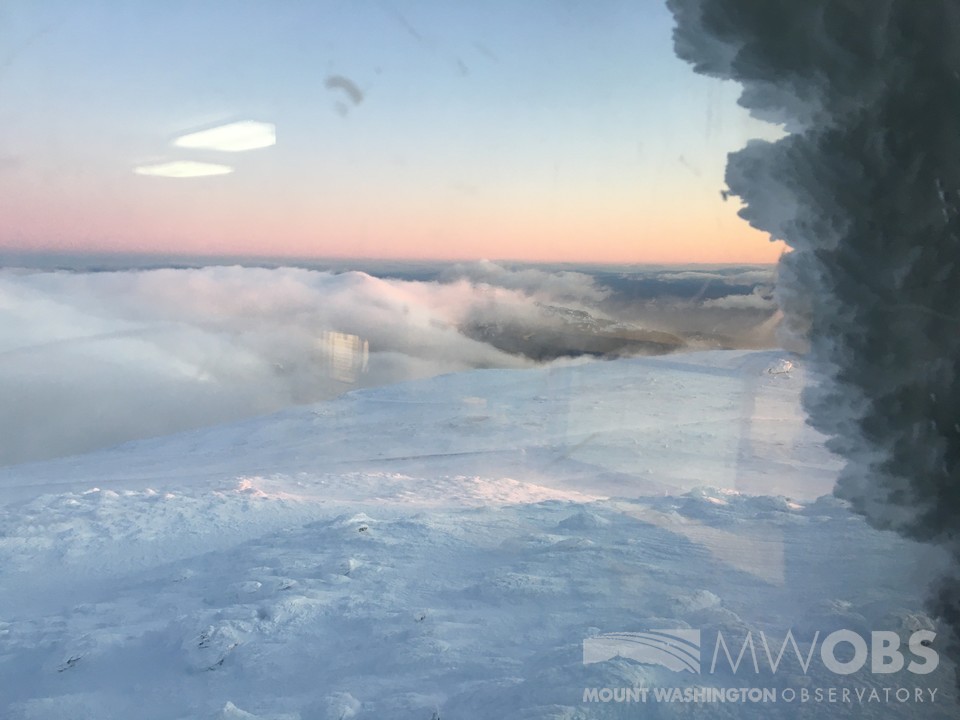 Some undercast from this morning at sunrise.
While this Friday into the weekend will be quiet in terms of clouds and precipitation, it is looking to be possibly the coldest conditions since I have been up here. Wind chills today have hovered around 50 degrees below with temperatures in the mid-teens below! A strong high pressure moving east is drawing arctic air down from Canada causing temperatures to plummet today. Radiational cooling for everyone in the valley tonight could cause temperatures to drop to as low as 20 degrees below! Luckily, the rest of your weekend outlook is looking very mild in comparison to today into tonight.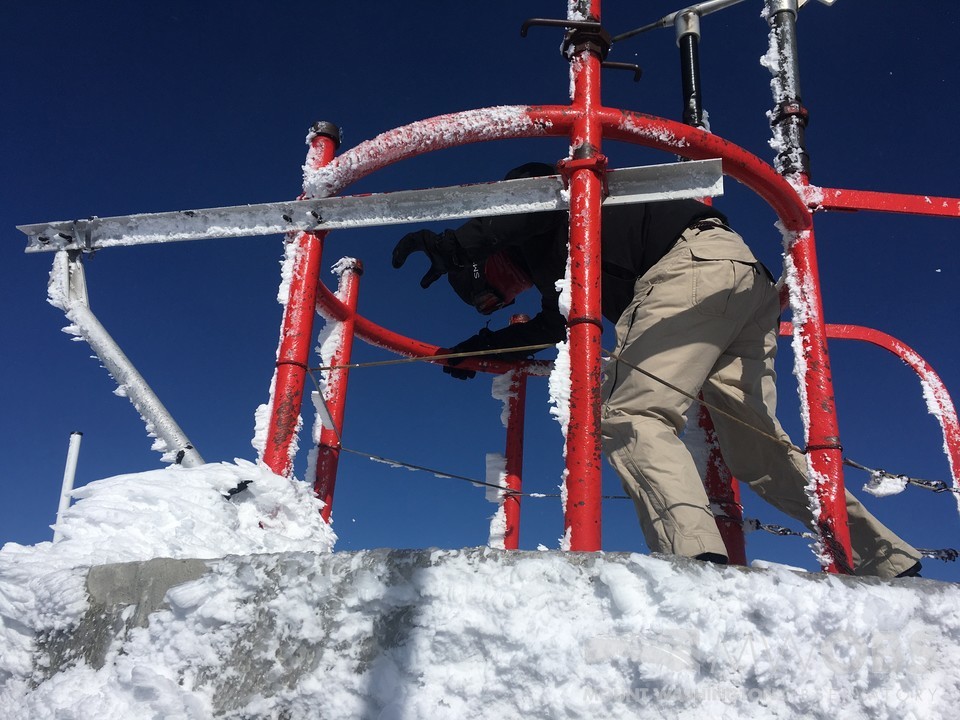 Day Trip visitor fighting powerful winds with wind chills at 50 degrees below zero.
This weekend we expect two Day Trips along with an overnight EduTrip. Today's Day Trip successfully took on 60 mph winds with some gusts over hurricane force and wind chills at 50 below! I snapped one photo from my phone on the parapet of one of our visitors fighting the winds and my exposed hand was numb after 30 seconds. We should continue to see plenty of clear skies for some great views along with some strong winds providing the ideal experience for visitors this weekend. Check out our trip availability to get an opportunity for the full summit and observatory experience!
Caleb Buchler, Summit Intern
Ellen Estabrook
Adjusting to Life on the Summit By Charlie Peachey Working on the summit of Mount Washington is not your average job. There aren't too many other places where the employees work and live together for
Ellen Estabrook
A Surprise Aurora By Francis Tarasiewicz After 17 months of working at New England's highest peak, it finally happened. On the night of November 12th, 2023, I was lucky enough to view the famous and
Ellen Estabrook
A Glimpse at METAR Reports By Alexis George, Weather Observer & Meteorologist METAR observations are submitted every hour of every day at Mount Washington Observatory. METAR is a format for reporting weather information that gets