It's Great To Be Back On the Summit!
2015-01-27 18:57:30.000 – Jan Berriochoa, Summit Volunteer/Former Museum Attendant
How I longed to once again have my morning Adventure Joe's coffee while overlooking the snowcapped mountains at sunrise, only to end my day with a magical sunset with gleaming stars overhead. Coming to the summit to prepare food for my friends at the Mount Washington Observatory is pretty awesome and getting caught up on the newest weather trends is a real bonus.
So many changes have transpired on the summit since my last shift as Summit Museum Attendant in October. It was exciting to see the new entrance to the New Hampshire State Park Sherman Adams Building done. I watched it evolve over the summer months and yet I did not see the finished product until now. I know all the visitors will appreciate the shelter from the high winds and heavy precipitation we see up here year round. It was great to see the New Hampshire State Park staff as well and share stories of life on the summit.
As I wandered down to the museum, it was somewhat surreal to see the museum and gift shop lying dormant only to waken come spring by hundreds of visitors. The bunk rooms have also been remodeled in the living quarters. They truly enhance the experience of living on the summit, with beautifully crafted wooden bunk beds with matching walls, state of the art lighting and usb outlets for each bunk.
It's always an honor and pleasure to volunteer to cook for the summit crew. It is truly commendable what these young men and women do on the summit. To live eight days on /six days off the summit does not make for an easy lifestyle. Yet they do it to carry on the legacy of research and data collection in such an extreme environment that few people will ever get to experience.
My co-volunteer Jeff Swanson and I were quit busy this week. We had a group of six for an overnight that EMS guided to the summit, two day trips of eight came for lunch, and we had two extra Observatory staff that came up to do work. Jeff is an extraordinary cook and I know the guys couldn't wait to sit down to the family style meals. That's my favorite part of the trip up here when you really get to know the guys.
This trip was everything I'd hoped it would be. We had four straight days of seeing the sunrise and sunset, with various cloud formations and some precipitation. Then Saturday night a cold front came in and BANG. Wind gusts reaching 99 mph and sustained at 87, and snow causing zero visibility. We were advised that we may not be heading down on Wednesday due to the severity of what will now likely be referred to as the Blizzard of 2015 over New England. We saw winds gusting up to 111 mph today, along with over a foot of snow. Honestly, I can't think of a cooler place to be stuck during a storm. This was my second Nor'easter on the summit. My first one was Nemo back in February 2013. It's amazing to see the guys do their job during this time as if is it isn't extreme enough up here try throwing in a Nor Easter into the mix.
People say that I have to be a thrill seeker to become a Winter Summit Volunteer for the Mount Washington Observatory. I'd have to agree, and when you've had a week like I have its hard not to be hooked!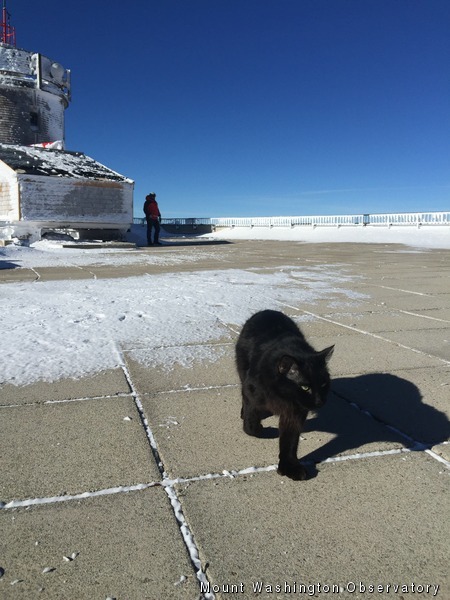 Marty on the prowl outside on a nice day this week.
Jan Berriochoa, Summit Volunteer/Former Museum Attendant
Ellen Estabrook
Adjusting to Life on the Summit By Charlie Peachey Working on the summit of Mount Washington is not your average job. There aren't too many other places where the employees work and live together for
Ellen Estabrook
A Surprise Aurora By Francis Tarasiewicz After 17 months of working at New England's highest peak, it finally happened. On the night of November 12th, 2023, I was lucky enough to view the famous and
Ellen Estabrook
A Glimpse at METAR Reports By Alexis George, Weather Observer & Meteorologist METAR observations are submitted every hour of every day at Mount Washington Observatory. METAR is a format for reporting weather information that gets