Jack Frost Is On The Way To The Area
2013-01-22 23:39:25.000 – Roger Pushor,  Weather Observer/IT Specialist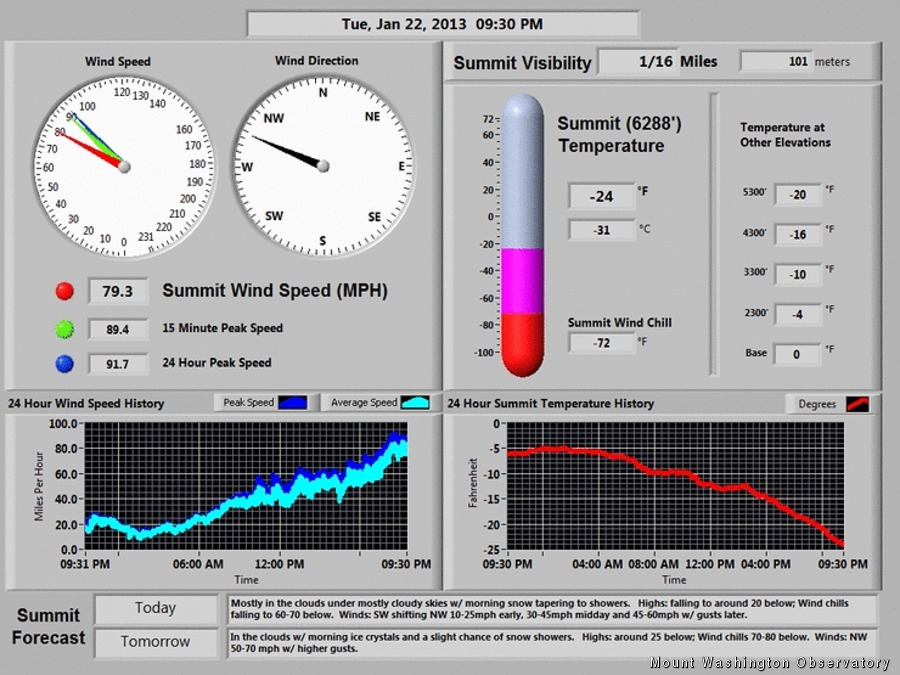 Current conditions at 9:30pm EST.
As I write this, we're already at -24F and falling rapidly while winds are howling outside at 79 mph and gusting to nearly 90. I just looked at the models with fellow Observer, Ryan Knapp, and the models are predicting a range of -32F to -35F for the overnight lows and winds are expected to be in 50 to 70 mile per hour range; which they've already exceeded with higher gusts. Right now we're seeing wind chills of -72F degrees. If the winds continue where they are now in the 80 mile per hour range and temperatures get to around -30F, we'll be seeing a wind chill of 80F below zero or more.
If you want to watch how the winds, temperature and wind chill play out hour by hour, you can visit our Current Summit Conditions Web page.And to do your own wind chill calculations, you can go here.
If you're in the Mount Washington Valley, don't think you're going to get away without feeling the chill of Old Man Winter; Thursday night is predicted to be 20F below at the lower elevations. As the Summit's temperatures rebound a bit during the day on Wednesday, the warmer air aloft will actually be holding the cold air down in the valleys through Thursday night. This is what the Meteorologists have told me is called a temperature inversion, where the valleys are colder than the higher elevations.
Roger Pushor,  Weather Observer/IT Specialist
Ellen Estabrook
Adjusting to Life on the Summit By Charlie Peachey Working on the summit of Mount Washington is not your average job. There aren't too many other places where the employees work and live together for
Ellen Estabrook
A Surprise Aurora By Francis Tarasiewicz After 17 months of working at New England's highest peak, it finally happened. On the night of November 12th, 2023, I was lucky enough to view the famous and
Ellen Estabrook
A Glimpse at METAR Reports By Alexis George, Weather Observer & Meteorologist METAR observations are submitted every hour of every day at Mount Washington Observatory. METAR is a format for reporting weather information that gets