January Thaw: Statistical Event or Folklore?
2017-01-23 16:13:25.000 – Nathan Flinchbaugh, Summit Intern
A few short days ago, the summit of Mount Washington popped above the freezing mark for two straight days. January 20th, the first of these two, was a day in which sunshine soaked the Presidential Range and the highest wind gust for the day reached an extremely modest 37 mph. The observers compared it to a typical mid-May afternoon. While I was outside in the mild conditions, I couldn't help but think about the so-called "January thaw," a heavily used term to describe a brief period of noticeable warmth that occurs during the coldest month of the year.
The January thaw refers to a brief rise in temperatures during the mid-winter in mid-latitude North America. This weather phenomenon has been frequently mentioned in publications such as the Farmer's Almanac, and even sometimes comes up on the evening news and various other media outlets. But is the January Thaw an actual statistical event, or just a popular piece of folklore that has survived the test of time?
Researchers have looked into this phenomenon to see if records do indeed indicate some sort of noteworthy thaw in the middle of winter. For example, the National Weather Service analyzed daily average temperatures in January for the East Coast cities of Washington and Baltimore.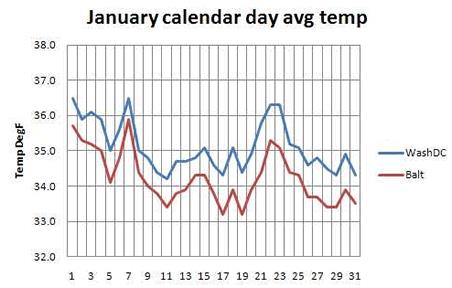 The average daily temperature for January in Washington D.C. (blue), and Baltimore (red) using 138 years of data. Courtesy Steve Zubrick, National Weather Service.
Using data dating back 138 years, two distinct maximums were found during the month, the first of which around January 7th, and the second in the January 21-25 timeframe. Similar patterns could likely be found in other East Coast cities as well, but the general consensus amongst most is that although common and curious, a January thaw is never a complete lock by any means. While many winters will see this brief rise in temperature during the month of January, it is not significant enough to be represented in daily average high and low temperatures you typically see on the news. Those averages are "smoothed" and outliers are given much less weight, so that normal max/mins don't jump more than a degree from one day to the next, or erratically go up and down during the transition seasons.
But how about Mount Washington? Despite its location in the mid-latitudes, does its subarctic climate and alpine environment play a role in altering this bizarre pattern? As it turns out, the month of January on Mount Washington follows a mysteriously similar pattern to Baltimore and the District of Columbia, some 600 miles away.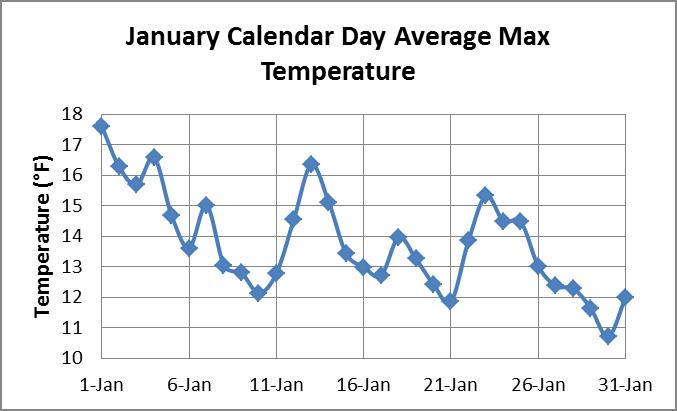 The average daily maximum temperature for January on Mount Washington using 81 years of data.
Again, these are not smoothed averages like the ones seen on television or in the daily newspaper. Outliers are considered in the data set to see when anomalously warm and cold periods tend to take place. The first noticeable spike is found January 12-14, mirroring a minor increase at both D.C. and Baltimore. The second one falls between January 22-25, just one day shy of matching the exact same five day stretch discovered in the National Weather Service summary! A strange peak is also found on January 7th in all three locations.
It should be noted that records used to obtain the Observatory graph only went back 81 years, compared to 138 years in the other study. Either way, it appears that a January thaw is a real statistical phenomenon, even at 6,288 feet. And with temperatures expected to possibly get back above freezing again on Tuesday, it looks like we are in the midst of it now!
Nathan Flinchbaugh, Summit Intern
Ellen Estabrook
Adjusting to Life on the Summit By Charlie Peachey Working on the summit of Mount Washington is not your average job. There aren't too many other places where the employees work and live together for
Ellen Estabrook
A Surprise Aurora By Francis Tarasiewicz After 17 months of working at New England's highest peak, it finally happened. On the night of November 12th, 2023, I was lucky enough to view the famous and
Ellen Estabrook
A Glimpse at METAR Reports By Alexis George, Weather Observer & Meteorologist METAR observations are submitted every hour of every day at Mount Washington Observatory. METAR is a format for reporting weather information that gets