'January Thaw'
2014-01-12 11:02:41.000 – Samuel Hewitt,  Summit Intern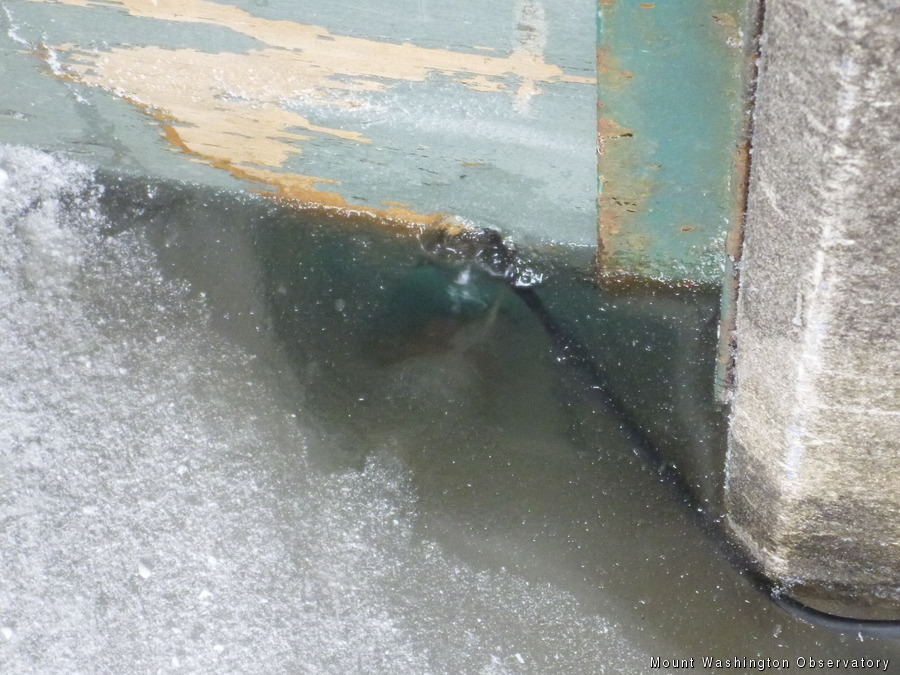 Water Continues To Drain From Yesterday's Rain
Some meteorologists refer to weather phenomenon that occur on or near a certain date as a 'singularity'. The most common temperature singularity is known to most as the 'January Thaw', a period of anomalous warming in the northeastern United States which normally occurs from mid-to-late January. What sets this singularity apart from most is that it occurs during the second coldest month of year for this region. An article by Godfrey et al. 2002 investigated the thaw, performing a statistical analysis in order to try and disprove its existence. They concluded that the warming spells occurred by chance and were not statistically significant. The authors noted that it is important to recognize that they did not prove, and cannot prove, that the 'January Thaw' does not exist.
In January of 2013, the summit either set or tied the daily record high temperatures for three consecutive days. Temperatures of 40 (tied record from 1975), 48 (new record), and 43 (tied record from 2005) degrees were set on the 12th, 13th, and 14th respectively. The mark of 48 is the highest temperature the summit has recorded during the month of January since at least 1932. The previous monthly record of 47 degrees was set back on January 19th, 1995. A strong area of high pressure allowed for southwesterly winds to advect the unseasonably warm air into the region.
Yesterday, a new daily record high temperature of 40 degrees was set. This breaks the old record of 36 degrees, which was set back in 1980. Similar to last year, southwesterly winds transported warm air from the southeastern states into New England. This year however, the wind direction was the result of our position within the 'warm sector' (region behind the warm front, but ahead of the cold front) of an intense area of low pressure moving northeastward across the upper Great Lakes.
The 'mild' temperatures were short lived however, as westerly winds behind last night's cold front are ushering much cooler air into New England.
Samuel Hewitt,  Summit Intern
Ellen Estabrook
Adjusting to Life on the Summit By Charlie Peachey Working on the summit of Mount Washington is not your average job. There aren't too many other places where the employees work and live together for
Ellen Estabrook
A Surprise Aurora By Francis Tarasiewicz After 17 months of working at New England's highest peak, it finally happened. On the night of November 12th, 2023, I was lucky enough to view the famous and
Ellen Estabrook
A Glimpse at METAR Reports By Alexis George, Weather Observer & Meteorologist METAR observations are submitted every hour of every day at Mount Washington Observatory. METAR is a format for reporting weather information that gets