Just Keep Shoveling
2017-02-16 05:19:27.000 – Ryan Knapp, Weather Observer/Staff Meteorologist
As I walked outside my home in Berlin (NH) Monday to start digging out from the storm earlier this week, I was confronted with 20 inches of new snow. This new snowfall was on top of everything else that had fallen this season. It was a bit overwhelming at first but with any task, I kept thinking, the only way I am going to get through this is by just diving into it. So I started scooping it up one shovel amount at a time. When the snow is an inch or two, it takes about an hour to do everything I normally clear. However, with the amount of snow with this storm, I wound up digging for four hours. After that amount, most would hang up their shovels and call it good, but apparently I am a glutton for pain. After a short lunch break I was back at it for six more hours as I went around my neighborhood helping shovel out fire hydrants and helping others dig out too.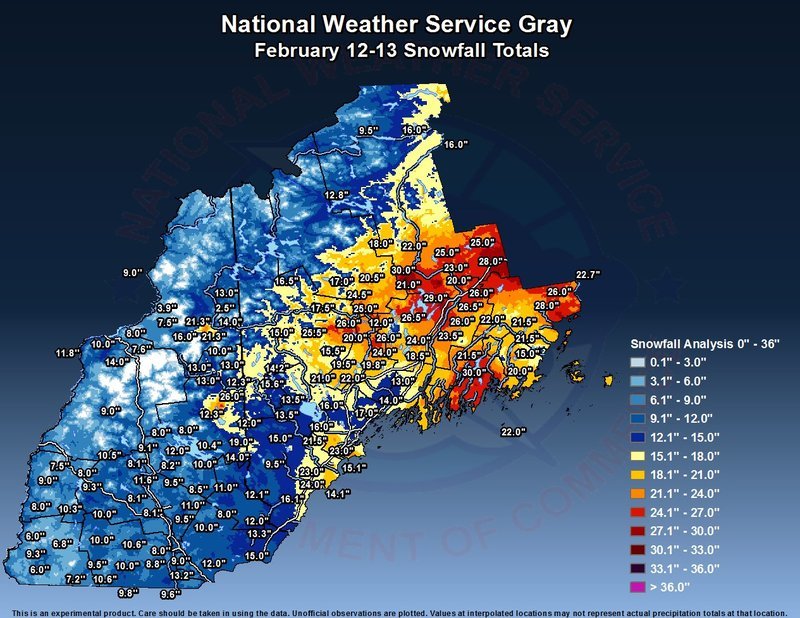 February 12/13 Snowfall Map from NWS Gray, ME Twitter (@NWSGray)
While I was out digging, I kept feeling my phone buzzing as messages were coming in stating we would be moving shift change up to Tuesday in anticipation of Wednesday's storm. Exhausted from 10 hours of shoveling, I scrambled to get packed and ready for the next day. After what felt like a short nap, I was up and departing for the base an hour early before scheduled departure to dig out the cars of the staff coming down that day. As I was digging out their cars, flashbacks to big storms like this reminded me of something else needing to be dug out – our
Auto Road Vertical Profile Mesonet
stations. Sure enough, before heading up, our Director of IT called asking to take photos and check the mesonet sites (glad I wasn't the only one thinking about them).
First up – our 2300 ft site. As we approached it, we could see that it was half buried in snow. Not the worst I have seen it, but still in need of digging out. I grabbed a shovel and without thinking anything about it, stepped off the snowcat packed auto road into loose soft snow. As soon as I stepped off, I immediately sank into chest deep snow. So I slowly waded my way over to the site and started digging snow away from head level then slowly but surely digging downward until I cleared out a nice snow platform around the site. Following my semi-packed trail back out, it was onward and upward.
3300 ft – having learned my lesson from the first site, I threw my shovel up to the site and dove in feet first. Again I was confronted with chest deep snow as I scrambled my way up to the site and did my head level digging and compacting until once again I created a nice little platform around the site. Once again I followed my tracks out and we loaded up and continued upward.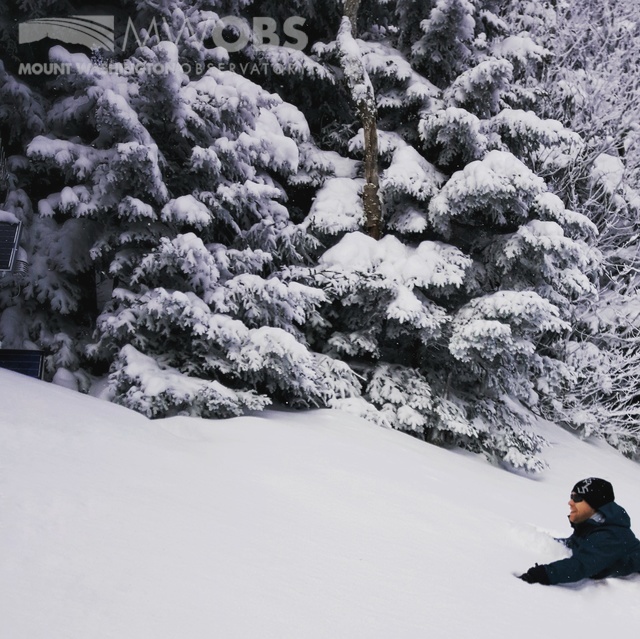 Observer/Meteorologist Ryan Knapp in chest deep snow
4000 ft – luckily this site gets scoured by the winds, so I knew before we got there that we would only have to (likely) deice the rime ice and move on. Luckily this played out so "clearing" this site was easy-peasy. Having been here long enough though, I knew we still had the hardest site coming up.
4300 ft – As we rounded the bend, the top of the site was poking through, but not much else. Getting up to the site was the first challenge. Stepping off, the snow was up to my chin and difficult to compact; it was like quicksand. Bit by bit though, Tom and I dug and grape-stomped our way up a little forged path to the site and begun digging down and out. Digging out had mixed stratus layers of wind blown slabs and soft fluffy snow. The entire time I was digging it out, I kept thinking, please don't slide/avalanche on us. All ended well though and it was once again onward and upward to the last site.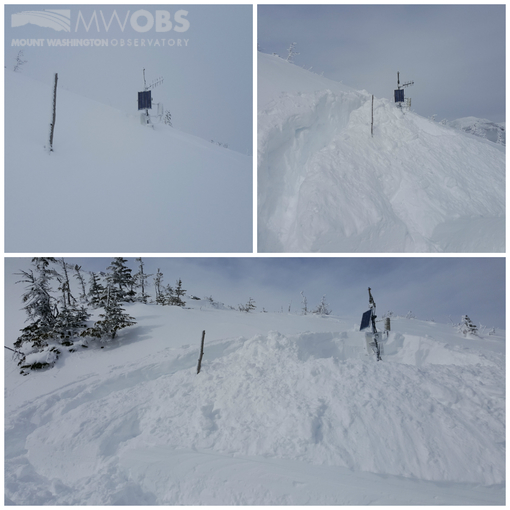 Before and after shots of 4300 ft ARVP Mesonet site
5300 ft – this site also gets pretty scoured but other times it has been a bit buried. After digging out three sites and all the other shoveling prior, my fingers were crossed that it would only be lightly rimed up and not buried. As it came into sight, I was relieved that all I needed was a brush and an ice scraper. After a short deicing stop, I was finally done with shoveling…at least until later today when we have to dig out our fire exits from the 12+ inches of new snow on the summit. Bring it on!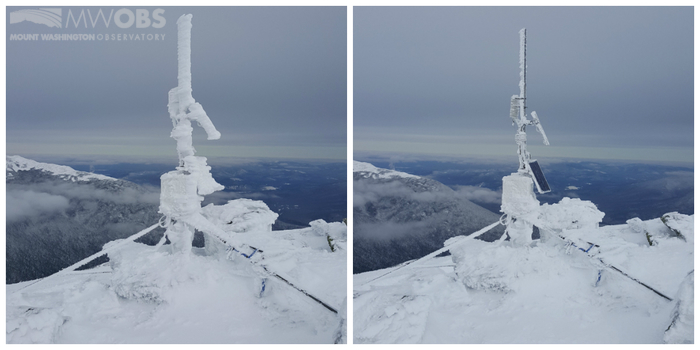 Before and after shots of 5300 ft ARVP Mesonet site
Ryan Knapp, Weather Observer/Staff Meteorologist
Ellen Estabrook
Adjusting to Life on the Summit By Charlie Peachey Working on the summit of Mount Washington is not your average job. There aren't too many other places where the employees work and live together for
Ellen Estabrook
A Surprise Aurora By Francis Tarasiewicz After 17 months of working at New England's highest peak, it finally happened. On the night of November 12th, 2023, I was lucky enough to view the famous and
Ellen Estabrook
A Glimpse at METAR Reports By Alexis George, Weather Observer & Meteorologist METAR observations are submitted every hour of every day at Mount Washington Observatory. METAR is a format for reporting weather information that gets