Let it Snow!
2017-12-08 08:04:56.000 – Tom Padham, Weather Observer/Education Specialist
With the first full week of December almost behind us it looks like winter has finally set in across Mount Washington and the White Mountains, and that means plenty of snow on the horizon! Two storm systems are set to affect the area over the next several days, resulting in the first widespread snowfall for much of the Eastern Seaboard.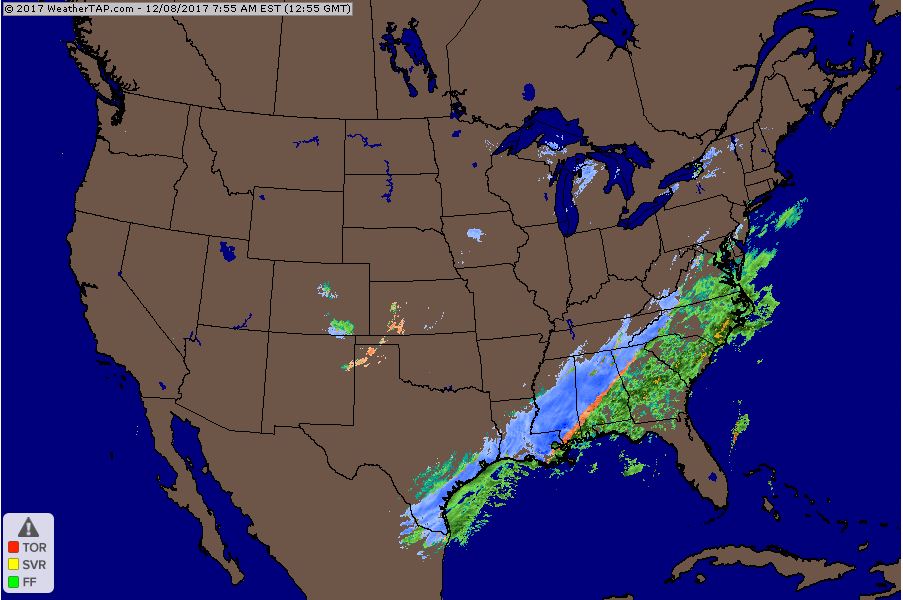 National radar mosaic showing snowfall occurring along the Texas-Mexico border. Image taken with permission from Weathertap.com
The first system has already produced a rare snowfall for portions of far southern Texas and the Gulf Coast. Areas like Corpus Christi, TX haven't seen an event like this in over a decade, with the last snowfall occurring in 2004. Low pressure developing over the northern Gulf of Mexico will track along the east coast overnight Saturday, with upper level low pressure over the Great Lakes helping to pull the storm closer to the coast. Snow will fall from the southern Appalachians and piedmont area of North Carolina all the way north through Maine, with snow likely starting during the early afternoon hours Saturday across New Hampshire. 4-6" of snow is likely for most of the surrounding region by the time precipitation winds down Sunday around noon, with closer to 6" of snow falling on the summit of Mount Washington.
Snow showers on the back side of this storm will likely bring another 1-3" or so of snow through the day Monday on the summit before another storm system looks to affect the area Tuesday. This system will start as a clipper dropping south out of Saskatchewan before picking up steam as it crosses the Great Lakes. Typically storms that take the track of a clipper (tracking southeast through Canada into the U.S) have limited moisture but this storm will likely be able to tap into moisture off the Atlantic and Gulf of Maine, resulting in enhanced snowfall especially in the mountains. Although this storm is still several days away and things could change, there has been enough consistency between model runs to see 6-12+ inches of additional snow as a distinct possibility for Mount Washington and the surrounding peaks with this storm.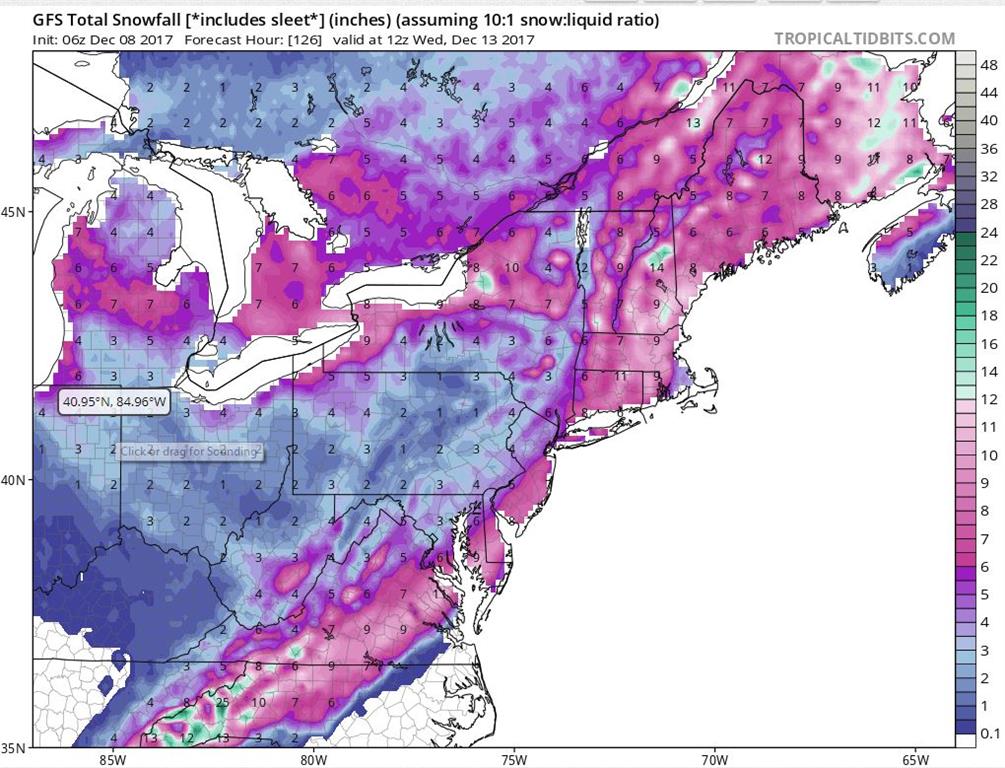 Total snowfall through 7AM EST Wednesday, December 13th across the Northeast.
By the time my shift is over next Wednesday we could see 1-2 feet of new snow, something I'm very much looking forward to!
Tom Padham, Weather Observer/Education Specialist
Ellen Estabrook
Adjusting to Life on the Summit By Charlie Peachey Working on the summit of Mount Washington is not your average job. There aren't too many other places where the employees work and live together for
Ellen Estabrook
A Surprise Aurora By Francis Tarasiewicz After 17 months of working at New England's highest peak, it finally happened. On the night of November 12th, 2023, I was lucky enough to view the famous and
Ellen Estabrook
A Glimpse at METAR Reports By Alexis George, Weather Observer & Meteorologist METAR observations are submitted every hour of every day at Mount Washington Observatory. METAR is a format for reporting weather information that gets