Making Friends Across the Pond
2015-10-09 22:30:09.000 – Kaitlyn O'Brien, Co-Director of Summit Operations
We had some special visitors at the Observatory today! Three gentlemen from the Meteorological Service of Catalonia, Spain came up to the summit to tour the facilities.
Interestingly enough, there is an abandoned observatory in the Montseny Mountains that they are hoping to restore. In fact, Mount Washington Observatory and Turó de l'Home Observatory share a few things in common. Not only was the Turó de l'Home Observatory founded in 1932, but it's also the highest mountain in Montseny Natural Park with an elevation of 1,705 meters. Sound familiar? Mount Washington is the tallest peak in the White Mountains (and the Northeast) and just a bit taller at 1,917 meters! There is also a wealth of history surrounding the Catalonian observatory. In 1876, a group known as the Catalan Association of Scientific Excursions emerged from Barcelona. One of the members, Mr. Artur Osona proposed the idea of building an observatory in 1881. Unfortunately, due to lack of funding and adverse weather conditions, the project did not take off as expected.
It wasn't until the formation of the first Meteorological Service of Catalonia in 1921 did the idea for an observatory in the Montseny Mountains resurface. As a result of the second International Polar Year (IPY) in 1932 – 1933, the construction of Turó de l'Home Observatory was made possible. Despite the conclusion of the IPY in 1933, the Observatory remained open until 1938 when the impacts of the Spanish Civil War ceased operations.
Two short years later, the Observatory was reoccupied and observations continued until 2003 when it was shut down once again.
That brings us to today. The desire to reinstate Turó de l'Home Observatory has never been stronger. It was our pleasure to host employees of the Meteorological Service of Catalonia to offer advice and answer questions about our own operations here at 6,288 feet. We are looking forward to watching the project unfold and we hope to continue to offer support to our new friends across the pond!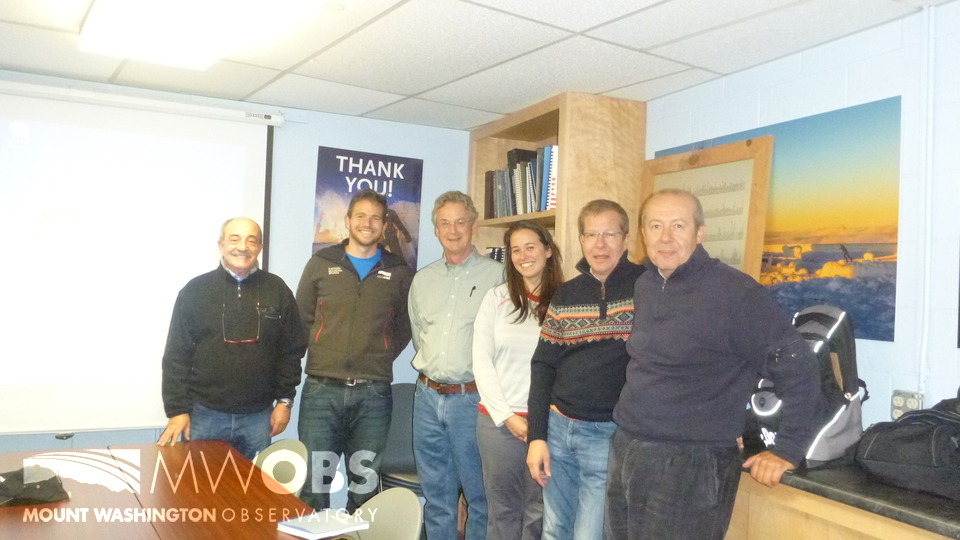 Kaitlyn O'Brien, Co-Director of Summit Operations
Ellen Estabrook
Adjusting to Life on the Summit By Charlie Peachey Working on the summit of Mount Washington is not your average job. There aren't too many other places where the employees work and live together for
Ellen Estabrook
A Surprise Aurora By Francis Tarasiewicz After 17 months of working at New England's highest peak, it finally happened. On the night of November 12th, 2023, I was lucky enough to view the famous and
Ellen Estabrook
A Glimpse at METAR Reports By Alexis George, Weather Observer & Meteorologist METAR observations are submitted every hour of every day at Mount Washington Observatory. METAR is a format for reporting weather information that gets