March – In Like a Lion…
2018-03-10 15:25:18.000 – Taylor Regan, Weather Observer
As I write this blog post, winds outside are howling at hurricane-force, whipping up nearly a foot of newly fallen (and still falling) snow and hurling it through the air, just one element of the summit milieu that both deprives and overstimulates the senses. The ground rumbles underfoot and cold seeps in relentlessly through even the warmest layers. The ground and sky cease to maintain their autonomy and blend seamlessly into an ever constricting blanket of milky white: visibility is down to inches. Tumultuous eddies of broken snowflakes sandblast any and all surfaces, including myself, as I step outside for a routine weather observation. In like a lion, the saying goes, and yet, conditions like this are what the summit of Mount Washington routinely delivers on a mid-March day.
With an average temperature of 12.8°F, March is the 4th coldest month on the summit of Mt. Washington. In terms of temperature swings, the month sports a record high of 54°F, and a record low of -38°F! It is also the second snowiest month of the year averaging 45.1 inches: just December's average 45.5 inches. Winds blast the summit with an average velocity of 40.3 mph over the month, and have gusted as high as 180 mph (1942). Make no mistake, March atop the Northeast's highest peak is fierce, and while winter may begin to relax its grasp on the remainder of the region around this time of year, it remains firmly entrenched atop the Rockpile for many weeks to come.
Only ten days into March, and the summit has already picked up nearly 30 inches of snow. This trend doesn't look to slow down any time soon, with another potential Nor'easter on the way to usher in the work week. For comparison, at this time last year, the summit had recorded only about 12 inches of snow for the month of March to-date. What a difference a year makes!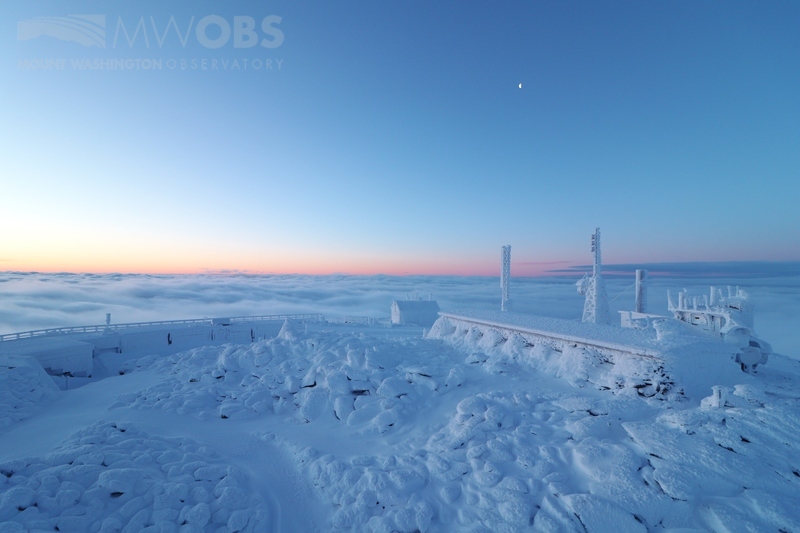 Figure 1. Sunrise with calm winds, undercast, and several inches of freshly fallen snow blanketing a sleepy summit.
Figure 2. Footprints in several inches of freshly fallen snow, illuminated at sunrise.
For those of you interested in experiencing winter weather on the summit firsthand, I encourage you to check out winter daytrips. Four spots have recently become available, but they probably won't be available for long. Winter daytrips include transportation to the summit in our SnowCat, as well as lunch on the summit and a tour of our weather station, plus the opportunity to chat with weather observers about life and work atop this storied place. More details are available on our website at mountwashington.org/trips.
Taylor Regan, Weather Observer
Ellen Estabrook
Adjusting to Life on the Summit By Charlie Peachey Working on the summit of Mount Washington is not your average job. There aren't too many other places where the employees work and live together for
Ellen Estabrook
A Surprise Aurora By Francis Tarasiewicz After 17 months of working at New England's highest peak, it finally happened. On the night of November 12th, 2023, I was lucky enough to view the famous and
Ellen Estabrook
A Glimpse at METAR Reports By Alexis George, Weather Observer & Meteorologist METAR observations are submitted every hour of every day at Mount Washington Observatory. METAR is a format for reporting weather information that gets