Marty, in the Fur
2012-12-02 23:40:59.000 – Marty,  Summit Cat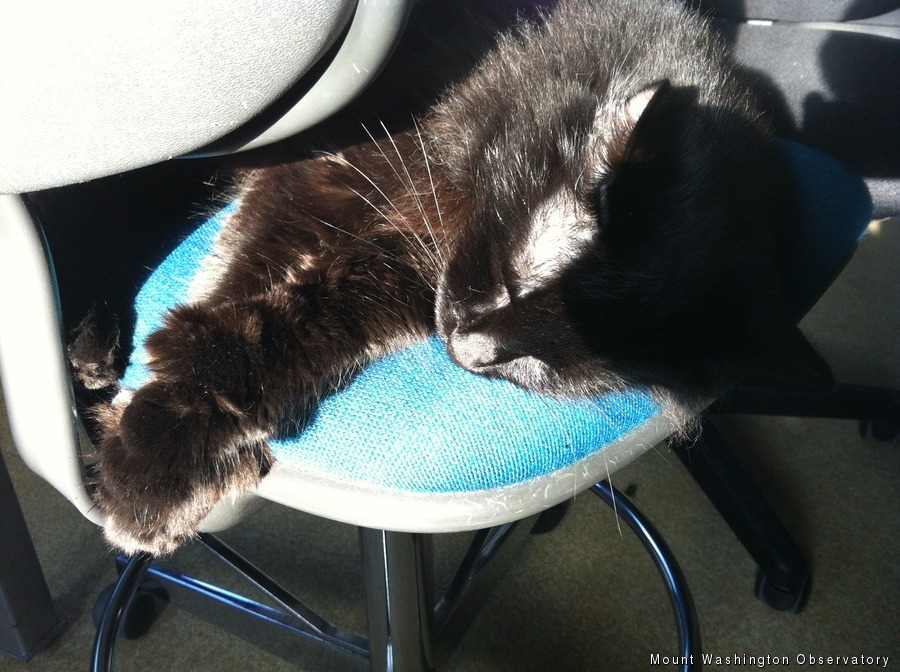 Catchin' some rays during the short days
Things have been a lot quieter up on the summit over the last few weeks.
I've had the observers all to myself, and haven't had to share them with any tourists, guests, volunteers, etc. This is important, because I need quite a bit of attention for all of my kitty needs.
That's right, you guessed it, friends! It is I, Marty, the one and only, awake and risen for a few fleeting moments to grace you all with the most important purr-spective on the rockpile-MINE!
This summer was certainly a busy one, with lots of activity happening all around me. I've remained strong and largely silent, though, observing through all of the hustle and bustle. It is only when one of my observers forgets to fill my dish promptly, or fails to leave a door open that I desire to utilize, that I'll communicate verbally. My words are few, yet important. So, listen up!
With winter fast approaching, I'd like to tell you all about a once-in-a-lifetime opportunity.
The chance…
The honor…
The privilege…
…to meet yours truly, Marty, the Observatory Mascot (or, should I say, Mas-Cat?) in the flesh and fur!
How is this possible? By taking advantage of the Winter Day Trips and Edu Trips offered by the Mount Washington Observatory! You can come up and visit us for the day, or even overnight if you wish, and experience my incredible domain that is Mt. Washington in the winter. But the best feature will be waiting for you on the inside: ME! You may have to wait in (fe-)line to catch a glimpse of my nighttime coat of fur, but I promise you, it will be worth it.
And, ok, the weather is purr-tty cool too.
To find out more about our day trips, go here.
For the heartier souls that wish to endure an overnight trip, take a look.
That's all from me(-ow).
Now, I shall return to my slumber atop the weather room stereo.
Marty,  Summit Cat
Ellen Estabrook
Adjusting to Life on the Summit By Charlie Peachey Working on the summit of Mount Washington is not your average job. There aren't too many other places where the employees work and live together for
Ellen Estabrook
A Surprise Aurora By Francis Tarasiewicz After 17 months of working at New England's highest peak, it finally happened. On the night of November 12th, 2023, I was lucky enough to view the famous and
Ellen Estabrook
A Glimpse at METAR Reports By Alexis George, Weather Observer & Meteorologist METAR observations are submitted every hour of every day at Mount Washington Observatory. METAR is a format for reporting weather information that gets