Memories of Marty
2020-11-30 17:54:20.000 – Ryan Knapp, Weather Observer/Staff Meteorologist
This blog post is one of the hardest ones I have had to compose in my 15 years here. Since I was here for the entirety of Marty Kitties life, I was asked if I'd like to write a post about his time on the summit. I started then deleted what I had about a dozen times. Where do I begin? What do I include? What do I write about? I guess I will just start from the beginning and let things flow from there.
When I started working on the summit in December 2005, the resident cat at the time was Nin. Nin was a white cat with a few black blotches. Nin was a lap cat and if you took a seat near him, he would take that as an invite to snuggle up regardless of who you were. He loved attention almost as much as he loved food and would commonly be seeking people to mind him attention and if he was lucky enough, provide him treats. And he loved his cat nip. Overall, he was an awesome kitty-coworker. However, by the time I had the luck of meeting him, he was getting up there in age in kitty years. By summer 2007, we started to draw up Nin's retirement plan since he was about 17 to 18 years old and while still in good health, we wanted him to enjoy his remaining time in a more relaxed environment. Diane Holmes and Mike Pelchat, both rangers at Mount Washington State Park at the time, volunteered to take him in and we settled on the shift change after Christmas 2007 so we could have one last Christmas with our little buddy.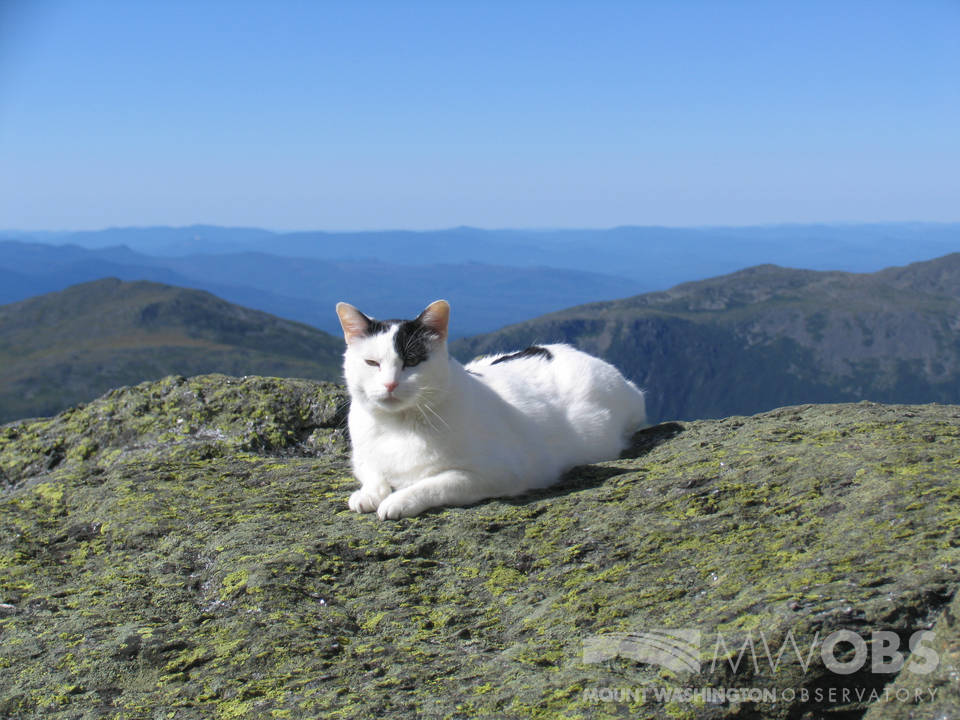 Nin
Parallel to Nin's retirement plans, we had several discussions on what to do moving forward with the key topic being, should we get another cat? Eventually we all agreed on getting another feline friend and we started to think of how to go about choosing. With the political primary for Republican and Democratic candidates approaching in January 2008, we thought, why not have a cat primary at the same time? We contacted the
North Conway Humane Society
and worked with them in choosing three candidates that would fit well with our summit environment and crews. Three cats were chosen – Sarah, a white and black splotched short-haired kitty, Wilson, an orange and white short-haired kitty, and Marty, a black with hints of dark brown long-haired kitty.
Ahead of the cat primary, the various candidates released campaign videos and posters trying to capture the public's attention and in turn, their votes. Leading up to the election, Marty had the edge in a poll
we conducted
but there were still a lot of undecided voters at the time, so it was too hard to call. The summit staff swung by the shelter during their respective off-time to meet each candidate so that if the popular vote was too close to call, they could choose who they wanted. But we all remained mum on who we wanted to avoid swaying the vote. At the same time, we were conducting a separate poll on the new cats name – should they remain as chosen or did people want something else?
On the day of the cat primary, over 8000 people logged on and cast their vote and
the winner
by a landslide was – MARTY! The "electoral college" of observers met and cast their votes and Marty was called the winner with us as well. On Wednesday, January 16, 2008, Marty met us at the base of the mountain for his inaugural trip up to his
new home
at Mount Washington Observatory. On January 18, 2008 polls on whether to keep Marty or change it to something else closed. The polls and voices of the forums said to keep Marty as he was named in honor to WMTW Channel 8 TV engineer/reporter
Marty Engstrom
, who worked for WMTW on the summit from 1964-2002.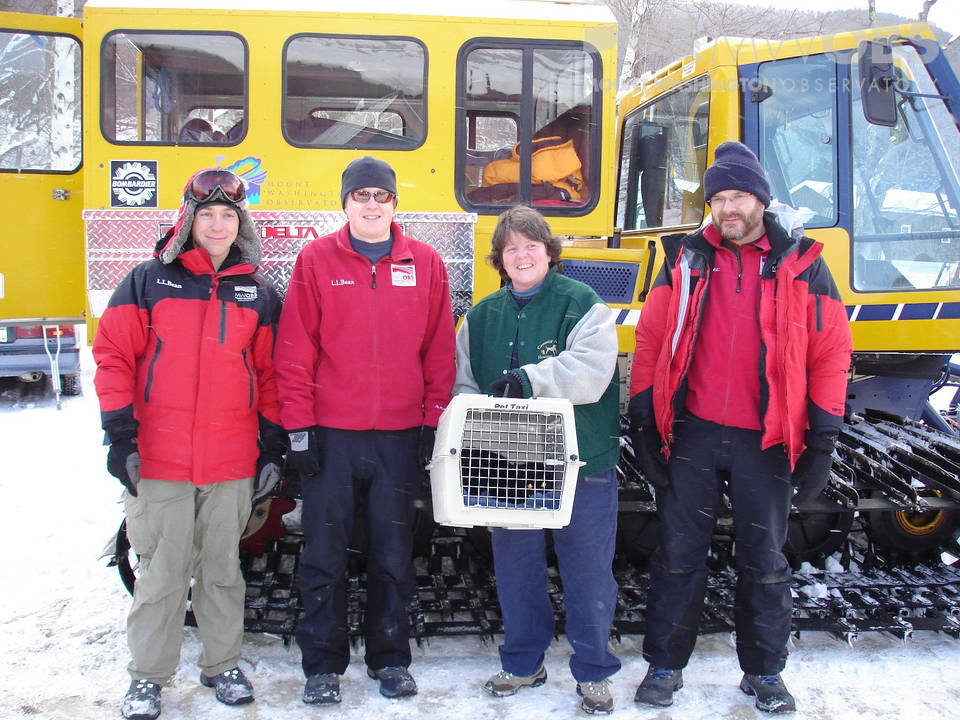 Marty meeting us at the base for his first trip up. Pictured left to right: Ryan Knapp, Brian Clark, Virginia Moore, Marty Kitty, and Steve Welsh
When Marty Kitty first arrived on the summit, he was estimated to be about 2 years old. While he had a bit of maturity to him (vs that of a kitten) he was by no means a mature, or calm kitty. He was high energy springing from any and all objects around the summit like he was playing a game of "The Floor is Lava" or parkour. If you opened a door to a bedroom, all you would see is a black blur as he rushed by and scaled the beds to the top bunks. He would then rollover and demand a belly rub. He LOVED belly rubs. I was not used to petting a kitties belly but eventually gave into his demands.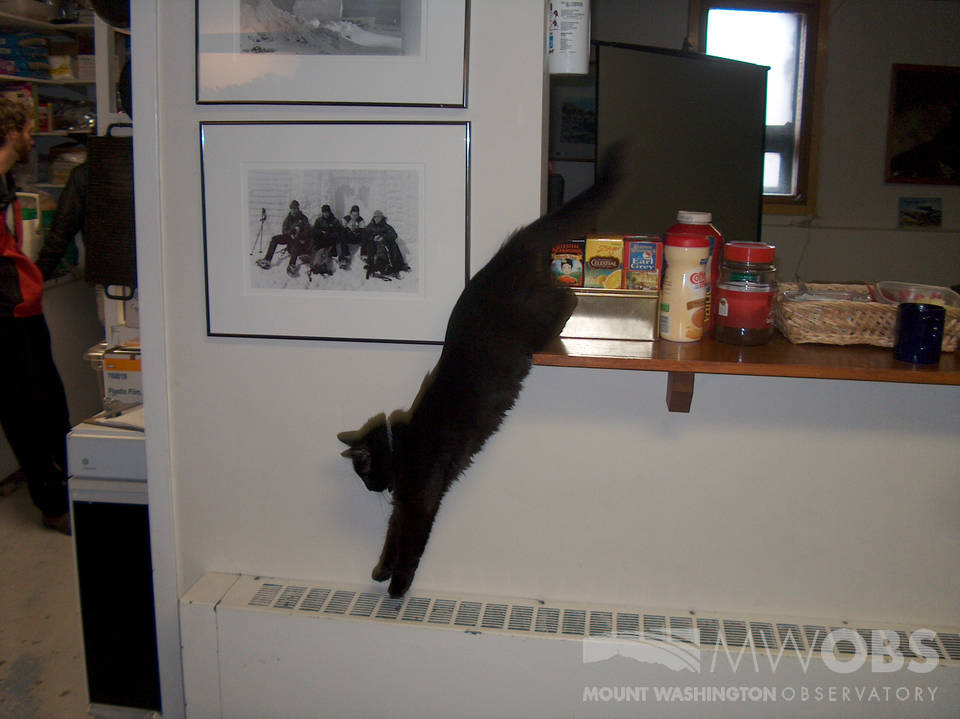 Marty exploring the MWO living quarters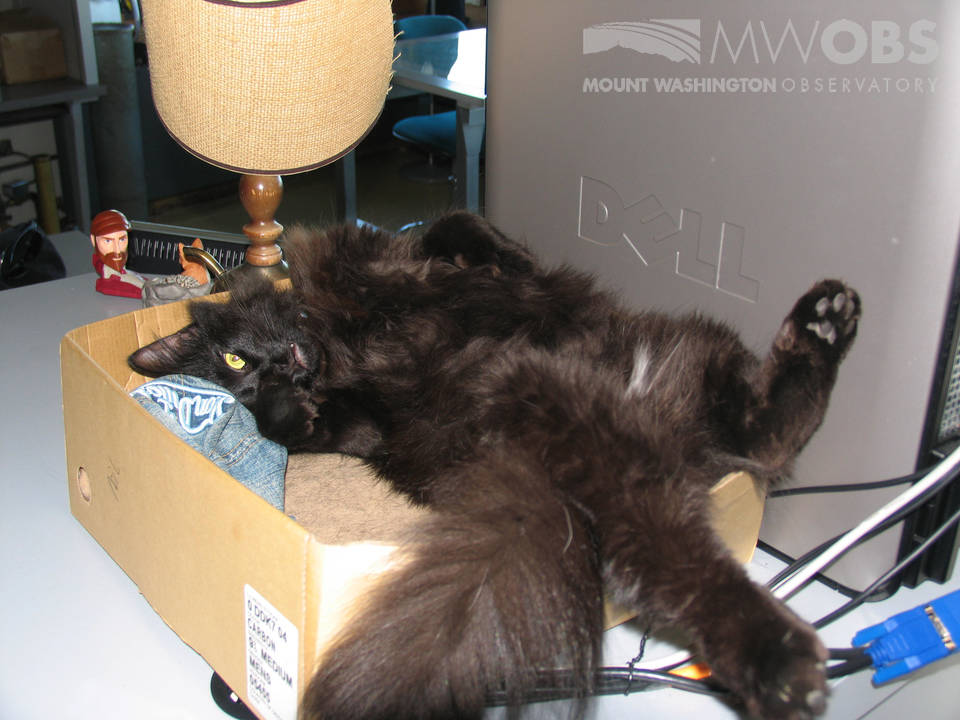 Marty waiting for a belly rub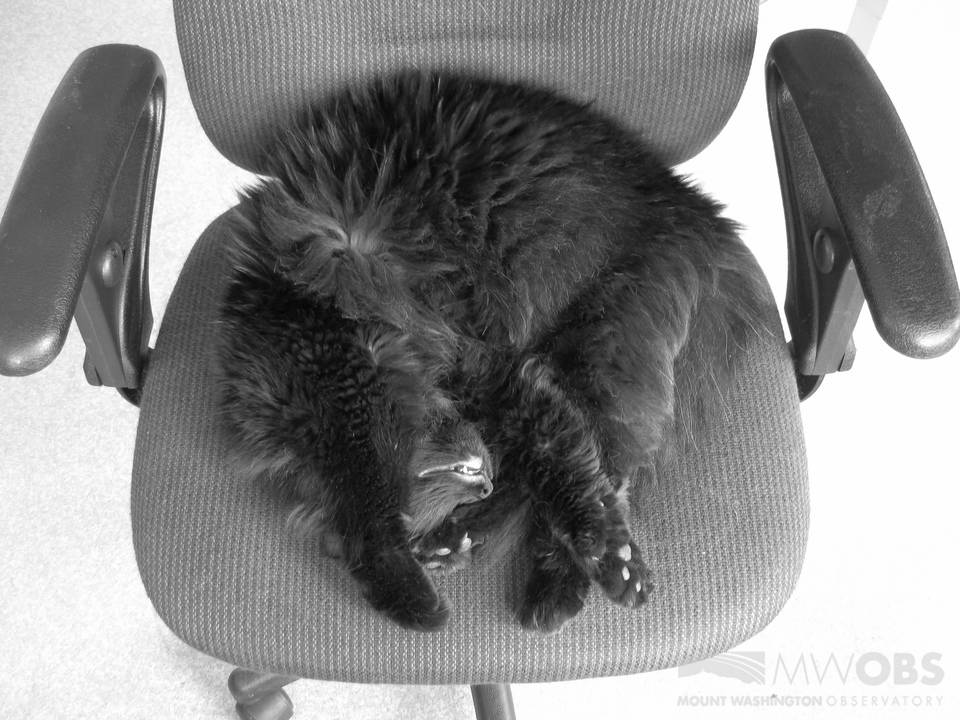 Marty sleeping on a chair
We also learned early on that he loved water. He would splash in any water he could find. If he could, he would overturn smaller bowls and play in the newly spilled water. He would look into water buckets and splash around. He would go out into summer rain and come back with big black spikes of fur looking like he was ready to appear on MTV's "Jersey Shore". However, while he loved playing in water and getting wet, he only enjoyed such activity when it was on his terms. If he needed a bath, he was not having it. This was rough because for the first few years, we learned he had a genetic disorder which was causing his teeth to rot and as a result, when he groomed, he would smell really bad and a bath would be necessary. Eventually the decay resulted in him losing his teeth in the initial years he was with us and after that, he was able to groom and not smell. As a result, the bath times we gave Marty were luckily short-lived.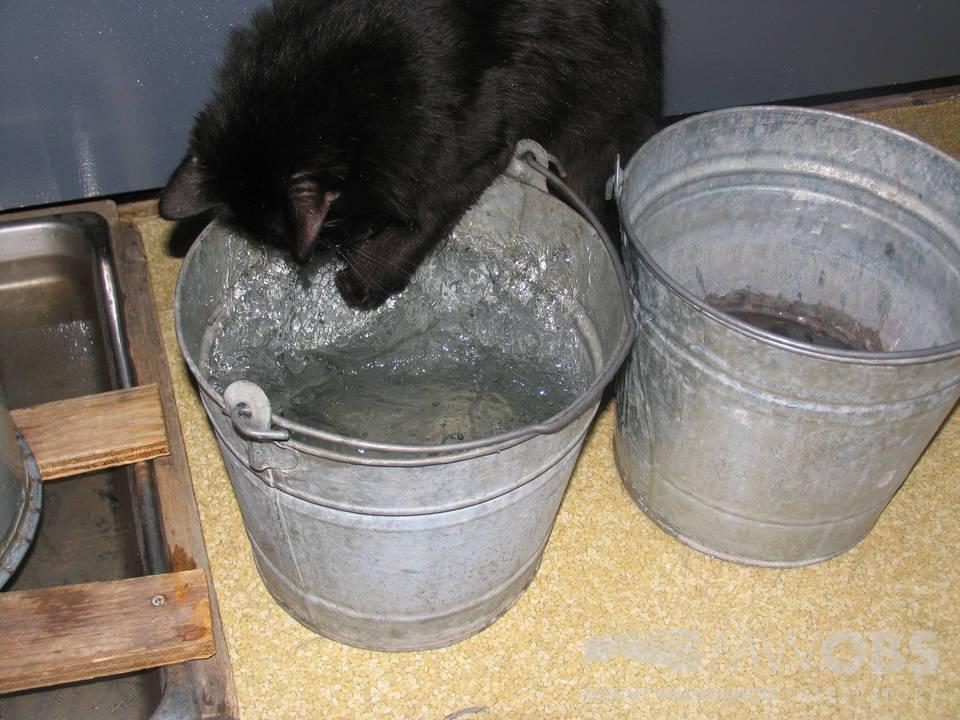 Marty playing with the water in buckets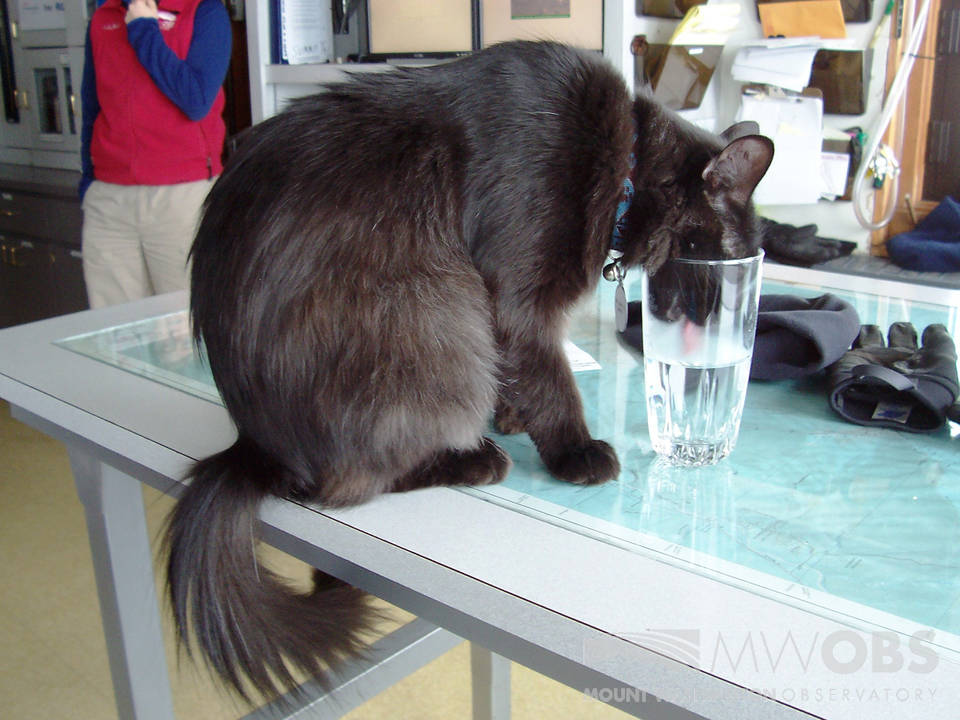 Marty getting a drink out of a glass
While he was toothless, that didn't stop him from being a mouser. What he lacked in the teeth department, he more than made up for in the claw department. He loved to catch and bring us various… "gifts." Sometimes his gifts were alive and he'd toy around with them in front of us leaving us to dispose of the present, sometimes his gifts were dead and he would leave the remnants for us to "enjoy". Other times though, he would get distracted and the gifts would scurry back to temporary safety.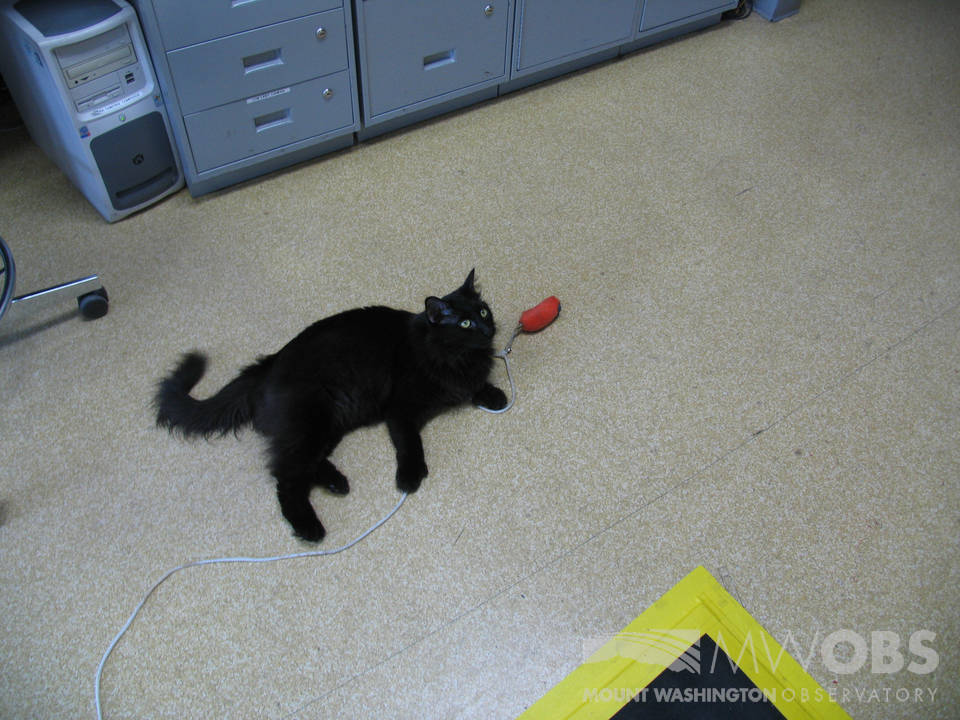 Marty and one of his many toys that helped him train for catching mice
In his time on the summit he met plenty of dogs; met but never befriended. He met a camel that came up during the Mt Washington Auto Roads "Hump Day" and I didn't think a cat could provide a "what the…" face but Marty certainly expressed it that day. He met a skunk, luckily though it was a Pepé Le Pew type moment and they were friendly and we were able to get him without incident and thus avoiding a tomato bath. He chased down a fox which provided the answer to "What does the Fox say?" (it makes a weak, pitchy yelp/bark noise). He would watch the Ravens through the windows frequently.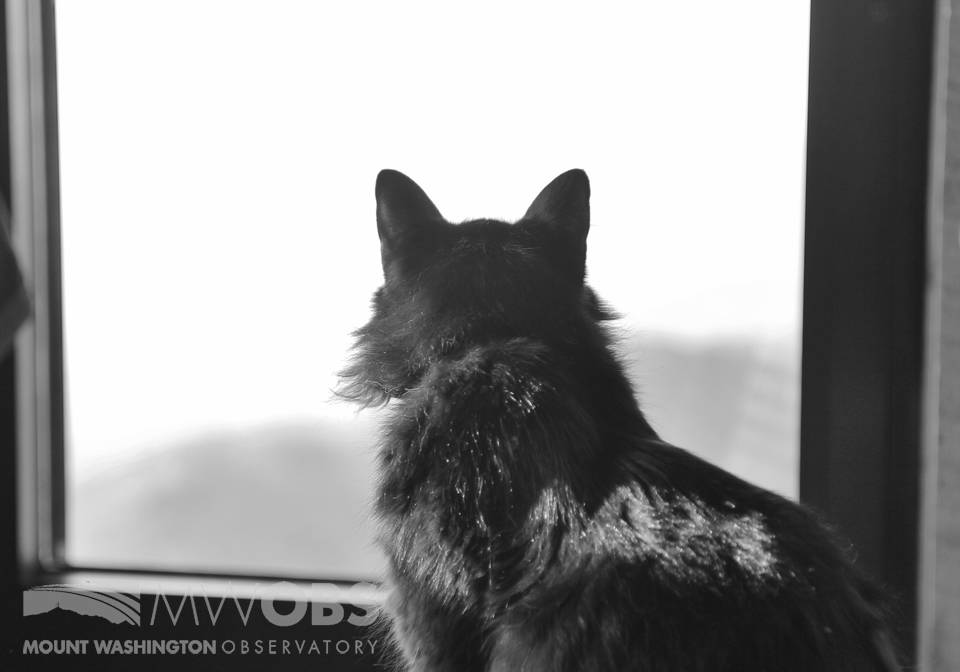 Marty looking out at the passing Ravens
He loved to follow his friends/coworkers around. During the mornings, he would follow us on walk around and eventually learned our routine and would run ahead and wait for us to catch up. At night, he would follow us out to/from the precipitation can. On fair weather days/nights, he would follow us around the deck on weather observations. He even made it up our ladders to the parapet a few times. He loved going outside and somehow always knew when it was safe to go out; not sure if it was the noise or pressure or what, but on fair weather days/nights he would bound up the stairs and wait to go outside, play around for hours then return to the same door to come in. Or if it was summer and we had doors and windows open, he would go in and out as he pleased.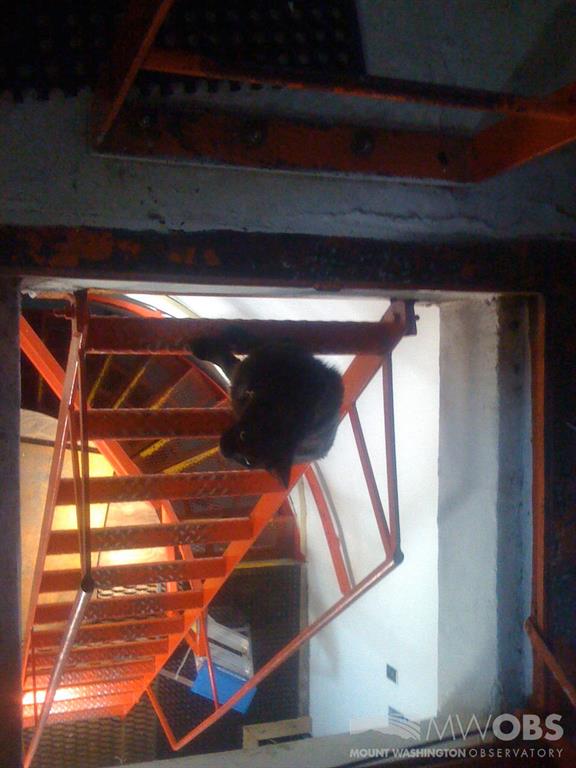 Marty climbing the ladder to meet us at the top of the instrument tower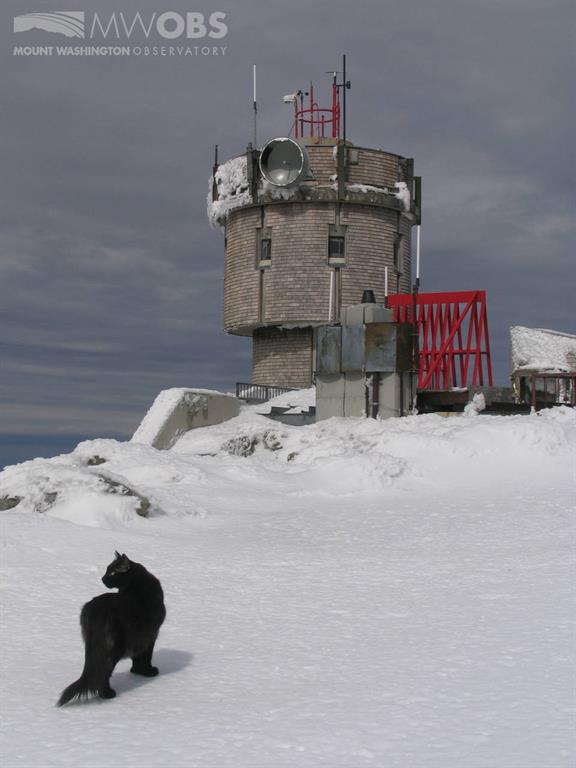 Marty exploring the summit on a nice winter day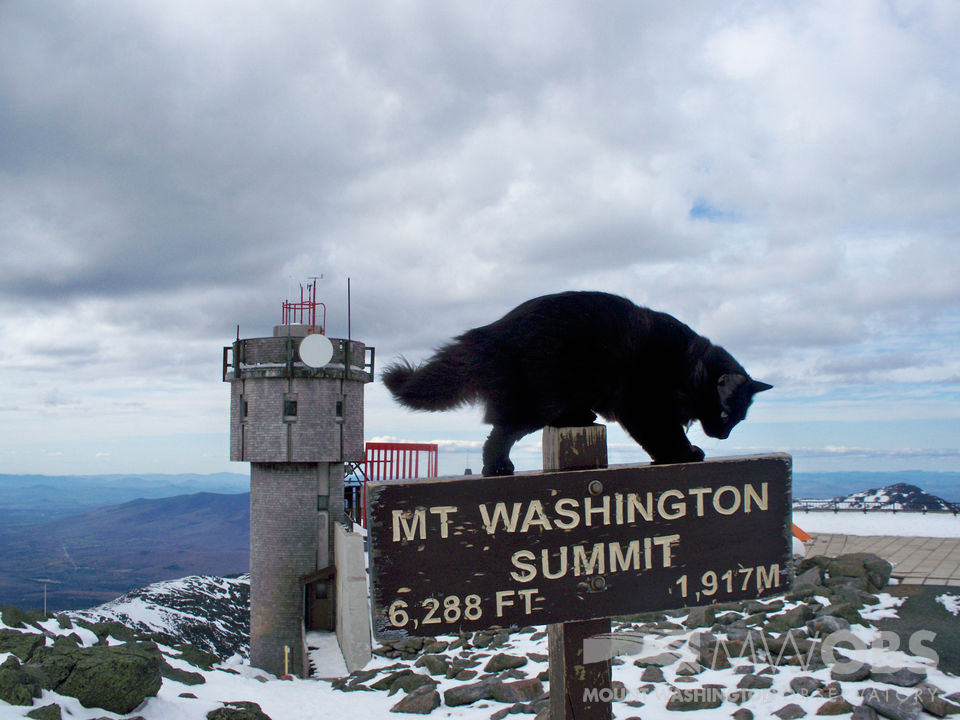 Marty on the Mt Washington summit sign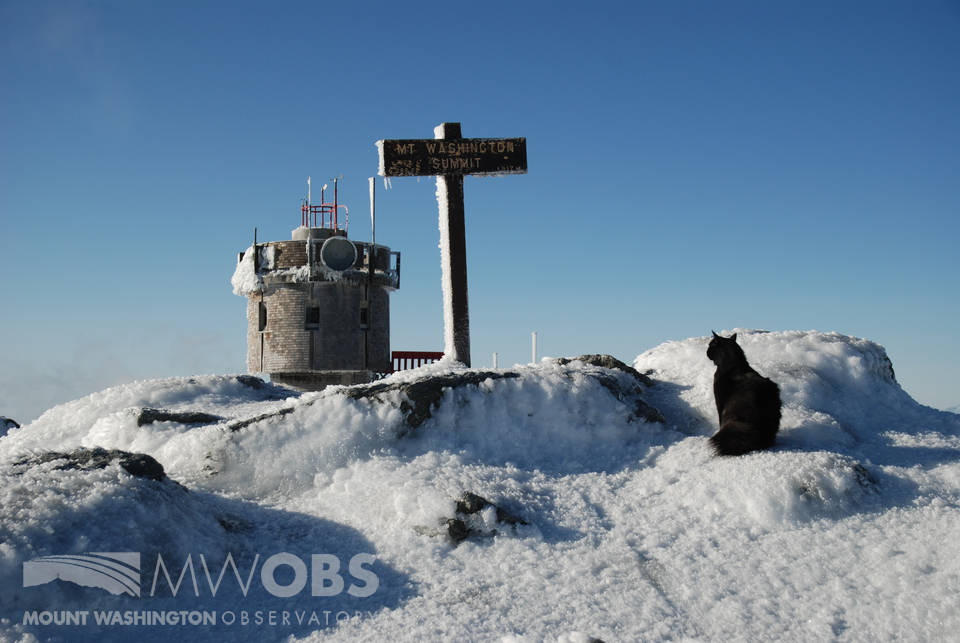 Marty by the summit sign, winter 2009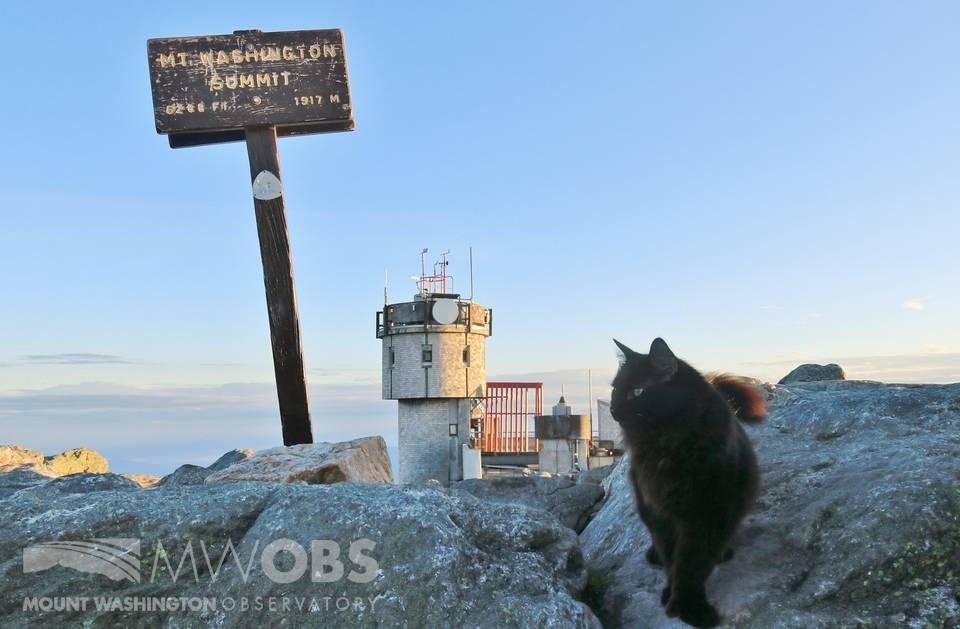 Marty by the summit sign, summer 2020
In his early years with us, he was quite the hiker. He followed us down to Lakes of the Clouds once. On a separate hike, he followed us down to Mt Clay. And on another hike, he followed us down to the Alpine Garden. He would start to follow us back up but would get tuckered and just lay down. So we'd have to make a makeshift cat carrier with our daypack or cradle him in our arms as we slowly walked back up together as he slept or lazily looked around at the world.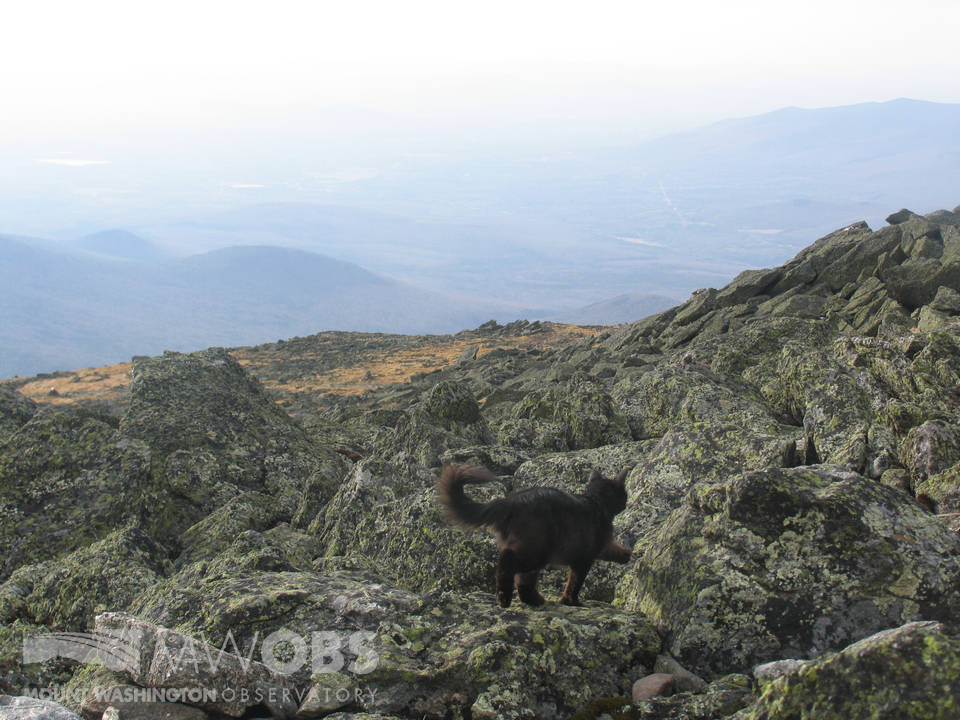 Marty on a summer hike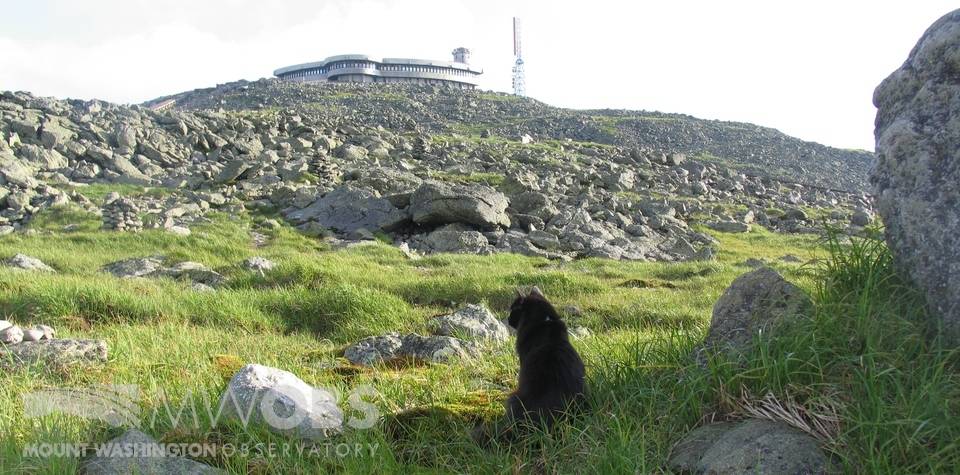 Marty on a hike down to Ball Crag
He was difficult to photograph. Sometimes he would cooperate and strike pose after pose with great lighting. Other times though, if it wasn't a particularly bright scene, any subtle movement and he would become a giant blur or smudge in the scene. Other times he would pose and you'd get ready to photograph him and he'd dart off just before the shutter. Yes, we have posted several great shots over the years, but those were after countless ones that were right-clicked into oblivion.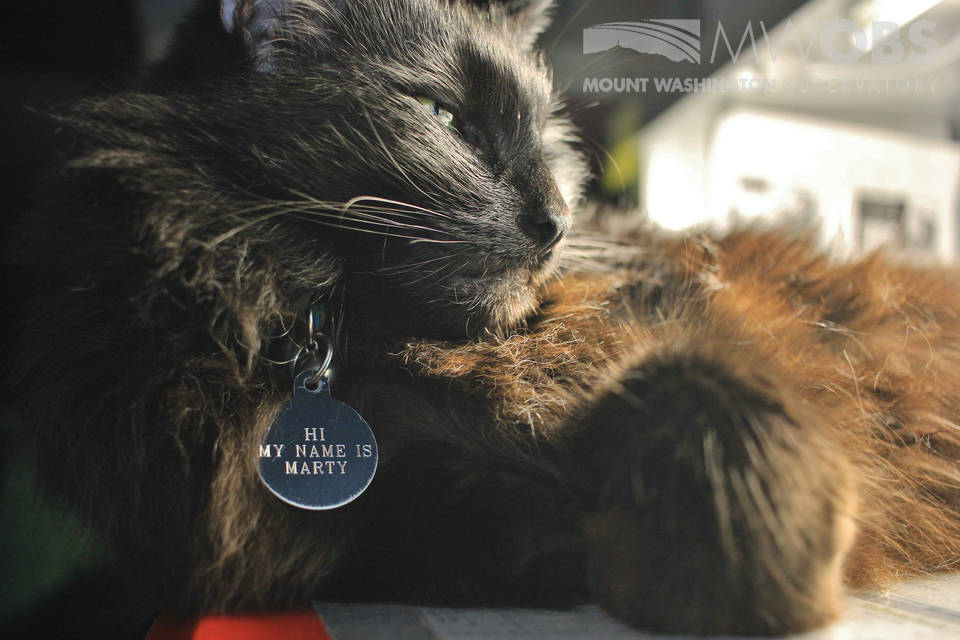 Marty Kitty striking a pose for me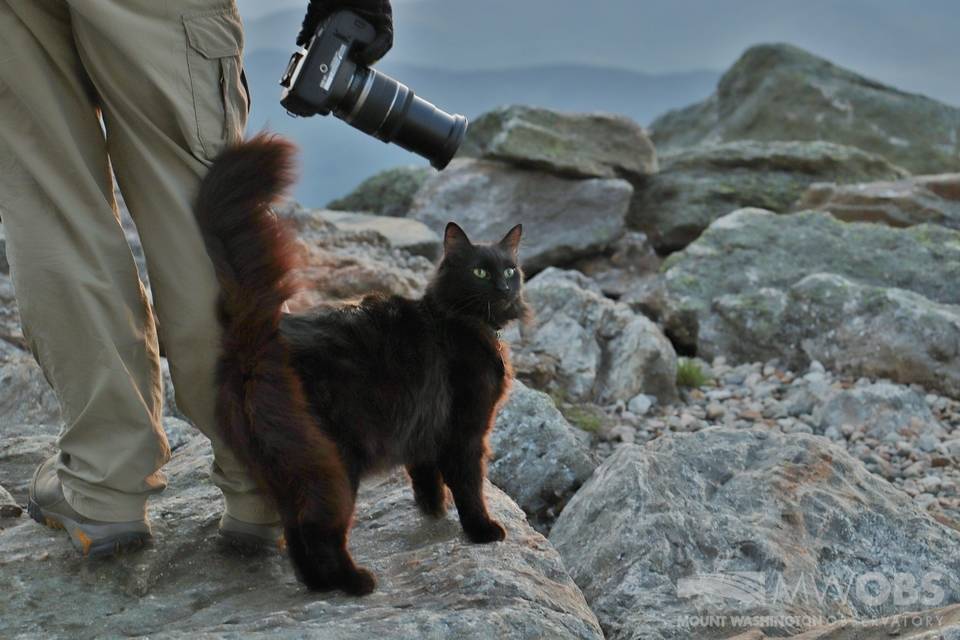 Marty standing next to me while I was out photographing sunset
When we first got him and for several years, he rarely meowed or made normalized cat noises. Eventually though, he found his voice and then we couldn't get him to stop "talking" as he would meow, purr, etc. at any chance.
He was not a fan of strangers most days. Some days he'd let strangers pet and photograph him but other times he'd see an unfamiliar face and dart away. He was the same way with us initially but over time, he learned which faces were familiar and friendly and would warm up to us. Initially, he was not a lap cat but year by year he slowly became more and more comfortable in jumping into laps. He preferred some laps over others so he might start with yours but if he saw a better lap offer come along, he would be up in a flash and in that "better" lap in a heartbeat.
He would frequently sleep in the weather room. Most of the time he would choose to sleep in his bed but he would also choose to sleep on our arms while typing or sleep between us and the keyboard, or on the keyboard. He also knew where his treat drawer was located and would frequently sit on the desk above it trying to use some Jedi-mind tricks on us to get us to open the drawer and give him treats. Some of us were an easier target than others (he knew better than to try it on me as he only got treats from me when he did something deserving of them).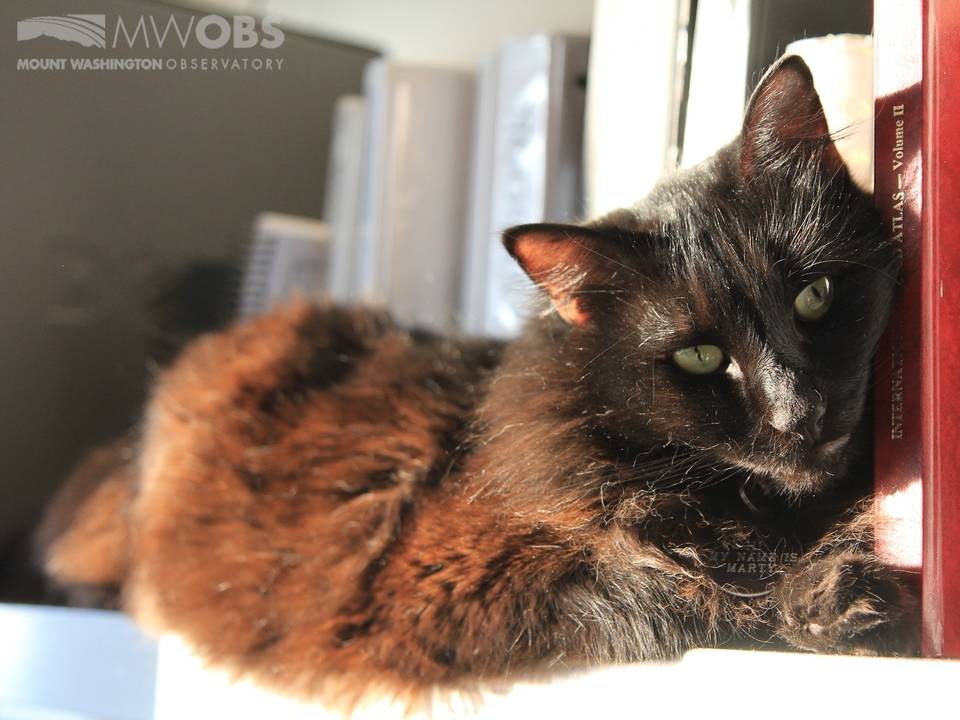 Marty sleeping on the bookshelf in the weather room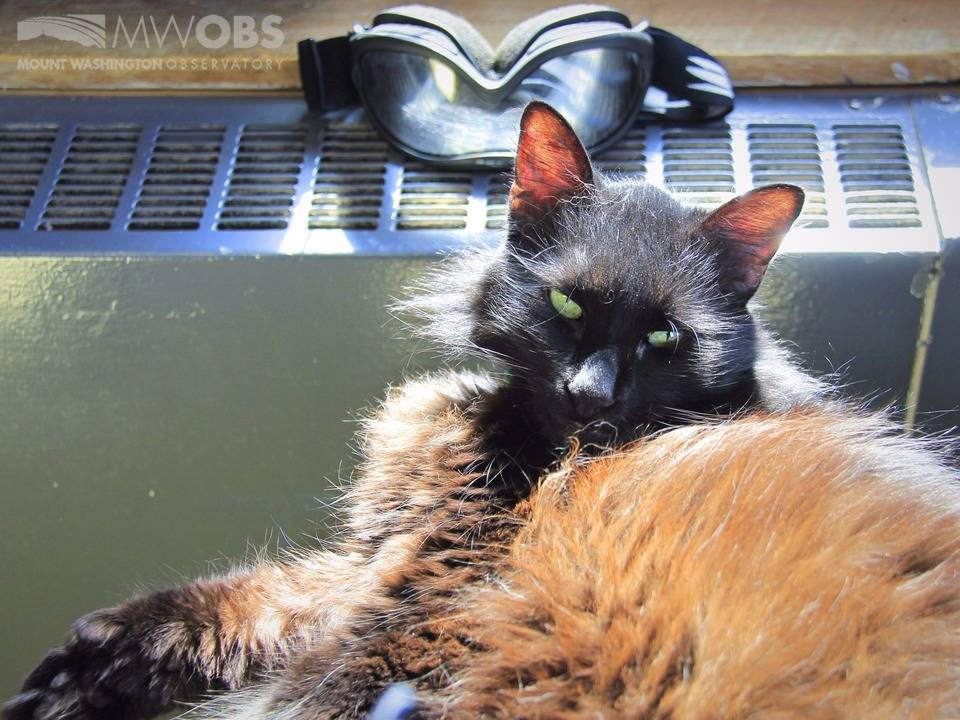 Marty enjoying the warmth of the sun in the weather room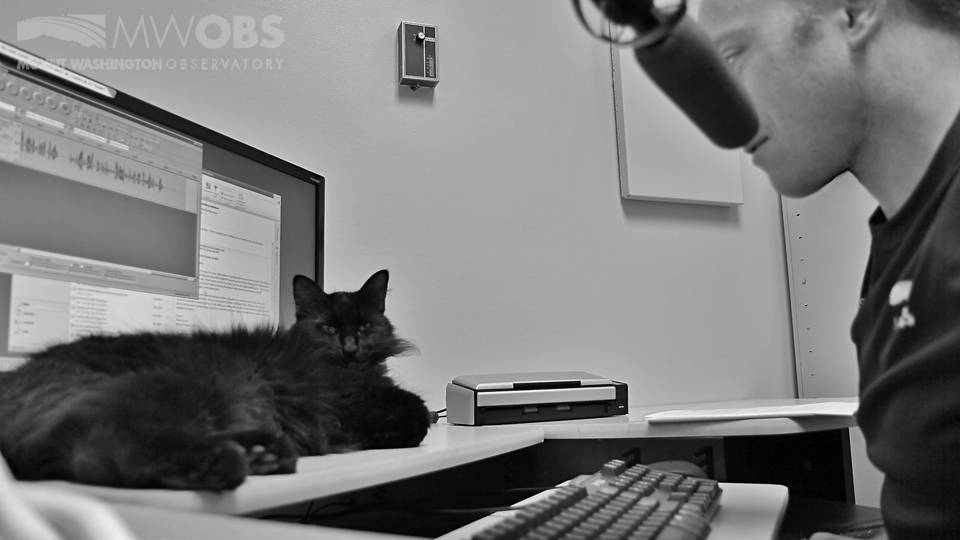 Marty hanging with me while recording morning radio clips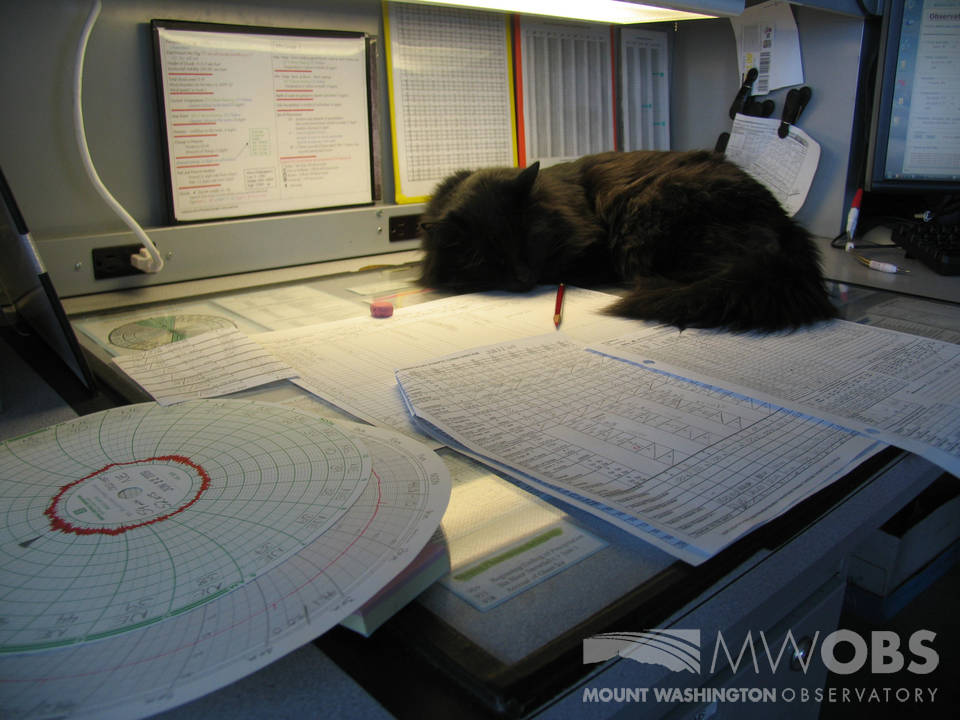 Marty sleeping on the weather desk and keeping me company overnight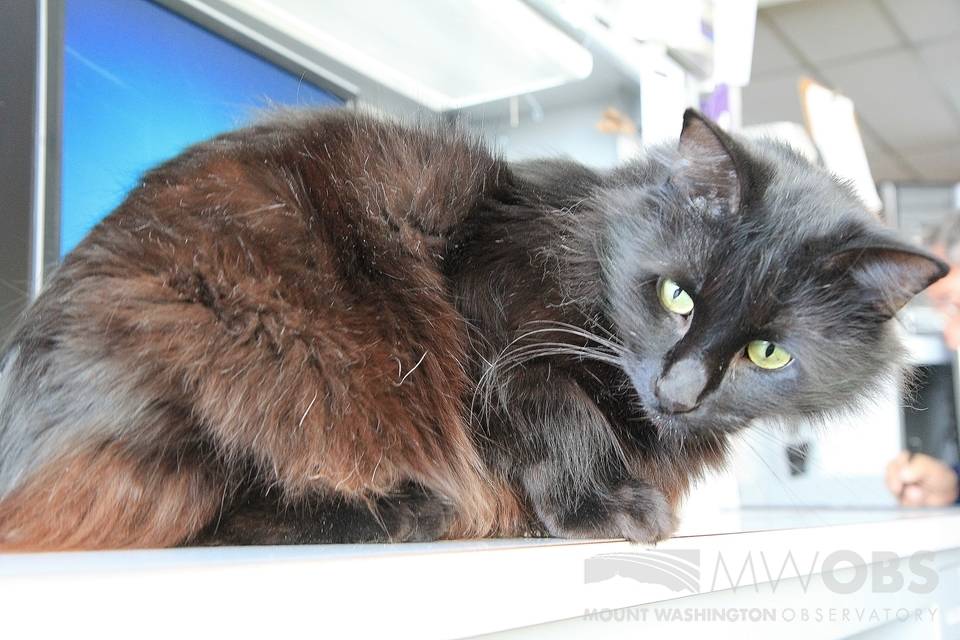 Marty keeping a close eye on the treat drawer
On his vet visits, he would depart the summit for the day. It was always fun to watch him stare out the windows at the trees and views from the valley. Having lived the bulk of his life above treeline, seeing such leafy objects was probably pretty interesting. Add in all the new noises and scents and it was likely a little vacation to a foreign land for kitty. His vet checks always went well, including this years visit. However, I had been living/working with Marty all his life and the past two years, I was starting to see him exhibit older age behavior like I saw in Nin and my cat I had as a kid. He would still follow me and others around but at a more laid back pace. Heights he used to easily jump to and from he'd hesitate or avoid doing unless you offered an alternative height. That "lap cat life" became something he looked forward to more and more. And he started to snore on occasion as he drifted into his deeper naps. Similar to Nin, we started to consider his retirement plans so he could enjoy a calmer and quieter life off the summit. We collectively settled on the end of 2020 so we could all have one last Christmas together. However, as the saying goes, "Life is what happens to us while we are making other plans."
Earlier this month I was just starting my time off when I received a call from my manager, Rebecca, informing me that the cat had passed away. It was startling news and difficult to process. I flashed back to him cuddling up in my lap like usual Tuesday afternoon and now, just like that, he was gone. Over the course of the weekend I privately cycled through the various stages of grief as I processed the news. I wanted to tell my family, friends, and various former coworkers but in an era where news can spread like a wildfire, I kept mum until a formal announcement was made. News finally broke and I started to share. It was surreal then and it still feels so surreal now. I returned from my break on Saturday and several times I momentarily lapsed and caught myself seeking out Marty – when I arrived, when I first woke up in the afternoon, at dinner, and during my overnight shifts. Each time though, I was met with silence and no kitty.
While Marty wasn't my first summit cat while working at MWO, he was definitely the one I bonded more with. With our work schedule and living alone, I am unable to have a pet during my off-summit time. So Marty was the closest thing to having a pet. A little buddy I could hang with, care for, and watchover when on the summit then I could leave and someone would watchover and care for him until I returned. I have worked with several coworkers over the years that all have since moved on to other things, however the one constant I could return to each week was Marty and now that constant is gone. While Marty is no longer by my side though, he will always be in my heart and his memories will live on through those that were lucky enough to have met him in his time here with us.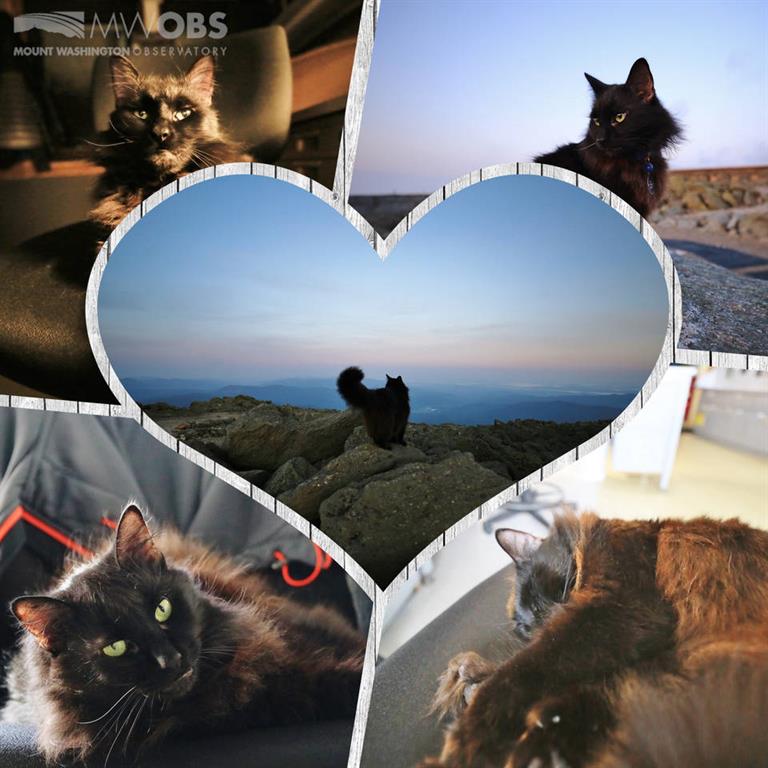 Marty Kitty, forever in our hearts
Ryan Knapp, Weather Observer/Staff Meteorologist
Ellen Estabrook
Adjusting to Life on the Summit By Charlie Peachey Working on the summit of Mount Washington is not your average job. There aren't too many other places where the employees work and live together for
Ellen Estabrook
A Surprise Aurora By Francis Tarasiewicz After 17 months of working at New England's highest peak, it finally happened. On the night of November 12th, 2023, I was lucky enough to view the famous and
Ellen Estabrook
A Glimpse at METAR Reports By Alexis George, Weather Observer & Meteorologist METAR observations are submitted every hour of every day at Mount Washington Observatory. METAR is a format for reporting weather information that gets