Messy Summer Days
2012-06-28 14:18:21.000 – Mike Carmon,  Weather Observer/Meteorologist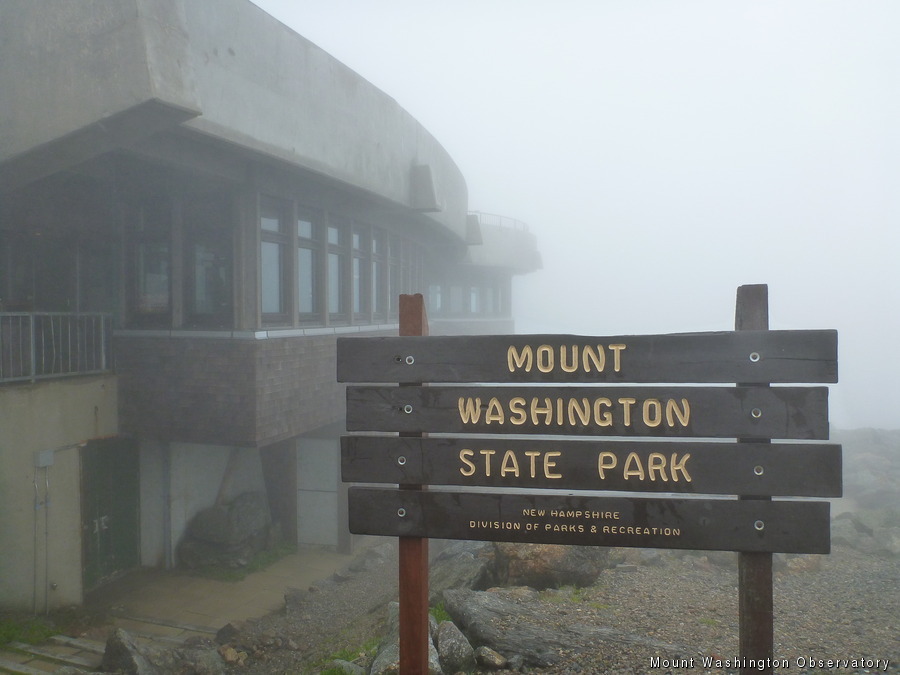 Foggy Summit
Messy.
That's the best way I can describe the first 24 hours or so of our shift week. Since we arrived yesterday morning, the fog on the summit has been thick, rain has been falling on and off, winds have been fairly breezy for summer, and temperatures have hovered in the lower 40s. I had a feeling that we would all be quite spoiled after our last shift week, where sun and calm winds were the headliners.
However, this is Mt. Washington, and this is summertime typical: fog, fog, and more fog. We've measured over 2 inches of rain over the past 24 hours, and nearly 6 inches of rain over the past 3 days. This has made for not only a messy summit, but a messy Auto Road, which is closed above the tree line to private vehicles yet again today (stages are now running, though). We're hoping for some clearer weather over the next couple days to help out our Auto Road friends, but the low pressure system currently sitting and spinning overhead, along with some approaching fronts, may have something to say about that.
An important reminder to anyone planning on visiting the summit, particularly hikers:
Despite the calendar, which now reads late June, conditions on top of Mt. Washington can still be dangerous. Temperatures over the past few days have struggled through the 40s, and combining this with wet fog and occasional rain showers leads to the still-very-present-danger that is hypothermia. Don't let the weather in the valley fool you, especially with the anticipated warm weekend in the forecast; conditions at 6,288′ (and lower) can be very much different. Keep an eye on our summits outlook, always be flexible with your plans, and don't hesitate to turn around if conditions worsen unexpectedly. Remember: it only gets worse as you ascend!
Mike Carmon,  Weather Observer/Meteorologist
Ellen Estabrook
Adjusting to Life on the Summit By Charlie Peachey Working on the summit of Mount Washington is not your average job. There aren't too many other places where the employees work and live together for
Ellen Estabrook
A Surprise Aurora By Francis Tarasiewicz After 17 months of working at New England's highest peak, it finally happened. On the night of November 12th, 2023, I was lucky enough to view the famous and
Ellen Estabrook
A Glimpse at METAR Reports By Alexis George, Weather Observer & Meteorologist METAR observations are submitted every hour of every day at Mount Washington Observatory. METAR is a format for reporting weather information that gets