METAR Code: How it led to a Unique Social Distancing Selfie
2020-03-23 21:08:24.000 – Rebecca Scholand, Summit Operations Manager
METAR: Meteorological Terminal Aviation Routine Weather Report
Every hour of every day the Mount Washington Observatory issues a METAR observation from the summit. It is these observations that get disseminated through the Aviation Digital Data Service. Yesterday was like any other day on the summit, but the weather being recorded precipitated into one of the more unique social distancing selfies. Let me explain…
Aviation and weather have been a large part of my life since I was a child. My father got his pilot's license when I was only a few years old and I fondly remember flying with him. Being so young in an airplane, my Dad found cleaver ways to involve me in the process. I would walk beside him while he did the preflight inspection of the aircraft and read operations checklists out loud with him. However, my favorite thing we did together was de-code METAR and determine what the weather would be. The best of those weather days were called "CAVU" – Clear Above Visibility Unlimited. Between my Dad and I, "CAVU" became our little secret way of saying "have a good day" to one another. Written on the top of a napkin in my lunch box or scribbled on a note stuck in his briefcase. It was our little bonded message to each other. Needless to say it was through these interactions I developed a love for flying and a passion for the weather that has stuck with me to this day.
My junior and senior years in high school I was fortunate enough to attend BOCES Aviation Vocational Technical School where I inevitably earned my own pilot's license. During this time my love of weather only grew as we learned about the atmosphere we flew through and the weather conditions that would influence our flights. This streamlined educational path fueled my passion and upon graduation I enrolled at Embry-Riddle Aeronautical University where I studied meteorology at a highly focused aviation institution.
I quickly found my groove within the program and began working as a Tutor in the Aviation Lab teaching weather. Here I helped follow pilots understand the concept of weather patterns and their operational significance. In the lab a favorite station to pull the METAR from was KMWN – Mount Washington. With weather so unlike that found at an airport it was a great way to practice de-coding METAR out of the ordinary. Eventually when it came time apply for internships, Mount Washington was at the top of my list. The summer of 2010 I began an internship which would turn into so much more in my life.
After all the years of de-coding METAR with my Dad, using it for my own flights, and teaching it to other students, I finally arrived on the other side of the fence, coding METAR. Ten years later I find myself on the summit of Mount Washington recording the weather during a tough time in our existence. Feeling more isolated that usual I stepped out onto the observation deck to record the hourly observation.
KMWN 221949Z 00000KT 90SM SKC
KMWN: Station Identifier (Mount Washington)
221949Z: Date and Time (March 22nd 1949 ZULU)
00000KT: Wind Direction and Speed (Calm Winds)
SKC: Sky Condition (Clear)
This folks, is what a "CAVU" weather report looks like! Not to mention it being observed at the "Home of the World's Worst Weather"! So once the observation was submitted, I called my Dad to share this "CAVU" day and this is where the Self Distancing Selfie was conspired.
Now my Dad lives just a few miles south of North Conway in an aviation community. One where everyone has their plane in their yard and all the streets are taxi ways lead to the central runway. I told my Dad about the "CAVU" weather and suggested he come for a visit. He could safely leave the house, get in the plane, and fly up to circle around the summit. Thirty minutes later, that's just what he did!
I stood at the top of New England on a "CAVU" day while my Dad circled overhead rocking his wings at me. It was a once in a lifetime special moment bonded by four simple letters that made us feel closer than ever despite the distance we are all feeling. And this is how a METAR code turned into a unique social distancing selfie.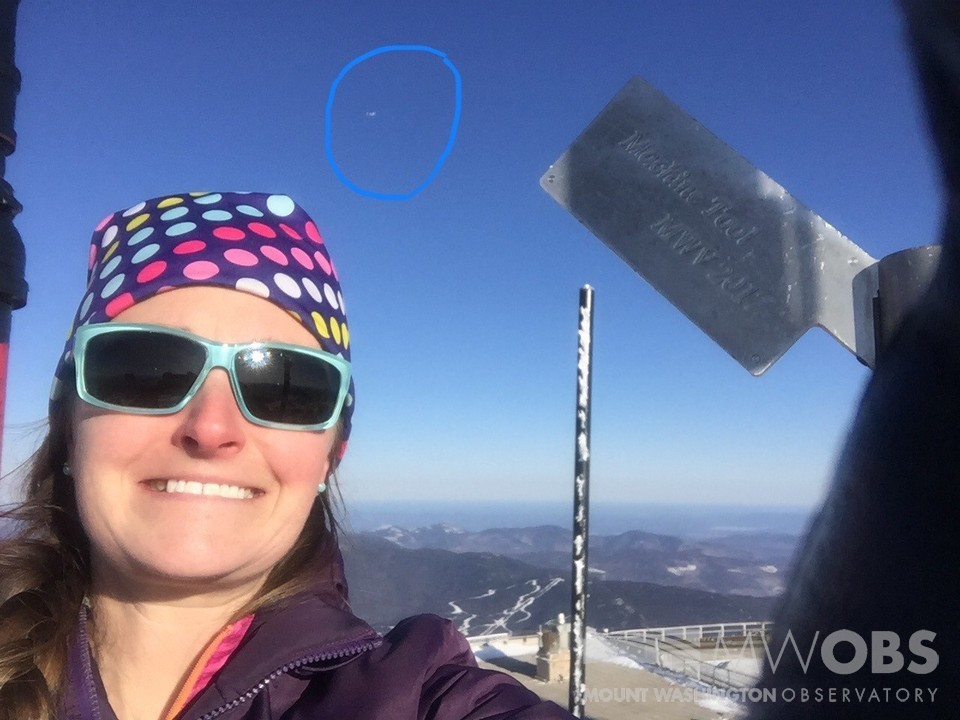 My Selfie With My Father Flying Overhead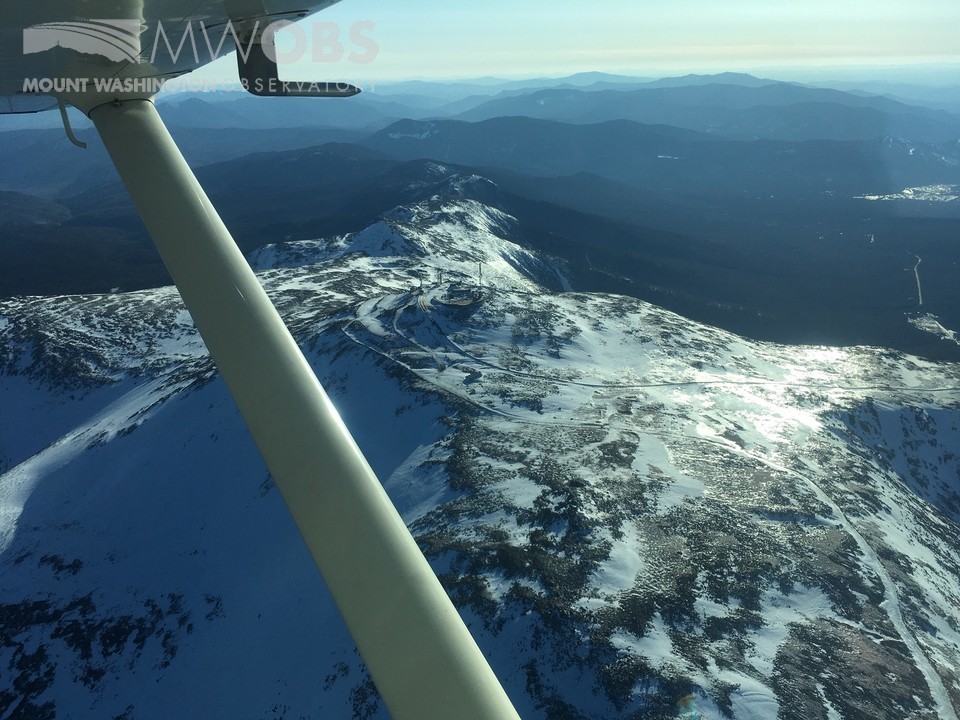 My Father's Point of View as He Flew Overhead
Rebecca Scholand, Summit Operations Manager
Ellen Estabrook
Adjusting to Life on the Summit By Charlie Peachey Working on the summit of Mount Washington is not your average job. There aren't too many other places where the employees work and live together for
Ellen Estabrook
A Surprise Aurora By Francis Tarasiewicz After 17 months of working at New England's highest peak, it finally happened. On the night of November 12th, 2023, I was lucky enough to view the famous and
Ellen Estabrook
A Glimpse at METAR Reports By Alexis George, Weather Observer & Meteorologist METAR observations are submitted every hour of every day at Mount Washington Observatory. METAR is a format for reporting weather information that gets