Meteorological Awe-tumn
2022-09-20 15:08:56.000 – Sam Robinson, Weather Observer/Engineer
September marks the beginning of meteorological autumn, which is my favorite season, especially on the summit. Variety is the theme for this season with a little bit of everything to be expected! We are just over half way through the month and we have already experienced a couple days reaching 60 degrees and a couple falling below freezing, with plenty of in between.
Up on the summit, I have been lucky enough to already get a little taste of winter on two separate occasions. Very fittingly on the first day of meteorological autumn,  September 1, we experienced strong cold air advection from the west/northwest which funneled in sub-freezing temperatures. We saw the first icing event of the season and I had to change out of my pajamas to take the RM Young propeller driven anemometer down at night. Definitely a bittersweet moment!
A more significant cold snap came this shift on Sept. 14-15, where we got down to 27 degrees and had glaze icing which shifted to riming and lasted for many hours, spanning two days. Read my interview with WBUR for more about this storm.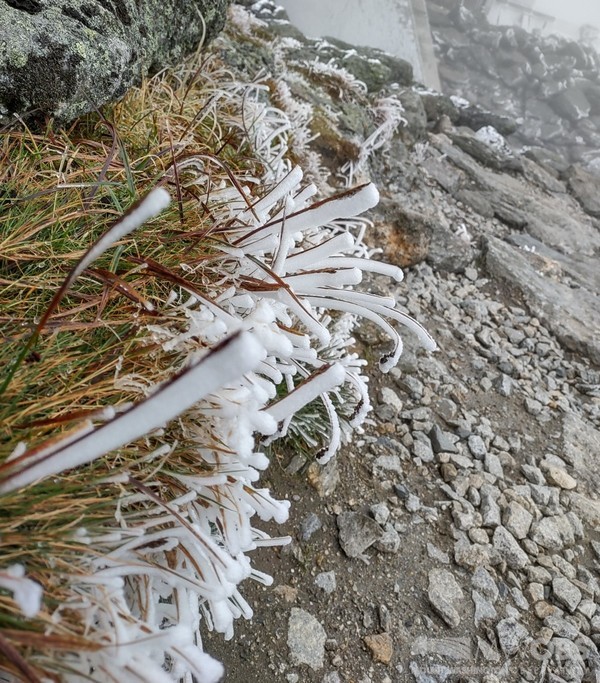 We had the heat on in the office during the day along with a "Red Apple Wreath" candle burning, and it certainly felt more like December than September coming inside and shedding our winter gear after de-icing. The following day, high pressure built in which allowed winds to relax, skies to clear, and temperatures rose to 44 degrees. Quite the change from days prior!
This season combines my favorite aspects of New England weather, while also not usually being too extreme in one direction or the other, at least not at lower elevations. Thunderstorms are not uncommon at the beginning of autumn, with summer-like stretches still happening in September, and snow is possible at both high and low elevation as we near the end of the season (November). Most of the weather in between tends to be comfortable and enjoyable with cool nights and mild days. Foliage is just beginning to poke out, mainly around swamps, but I am expecting to be surprised at the progression when I head back down on Wednesday.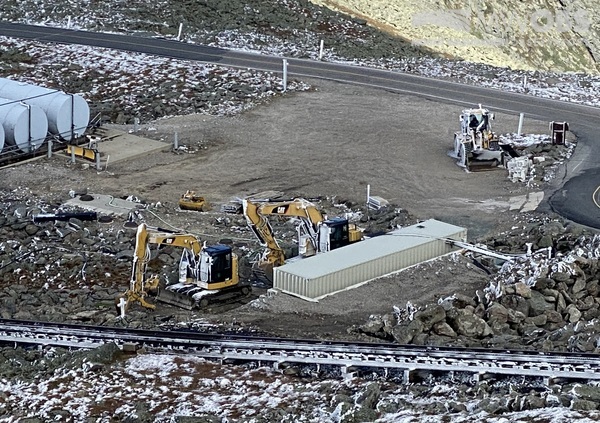 Autumn is my favorite time of year to get out and hike as well because it tends to be more comfortable, less buggy, and have plenty of natural beauty to take in. On my last off week, I hiked my local ski mountain with my pup after dropping my new skis off at the ski shop for a mount. Something about hiking the ski mountain, after dropping off the new skis, with the crisp fall air around, that really got me excited and itching for ski season! I bought a pair of powder skis this year, 117mm underfoot, so if we end up with a low snow season, I am definitely the one to blame. Anyways, here's to a snowy winter!!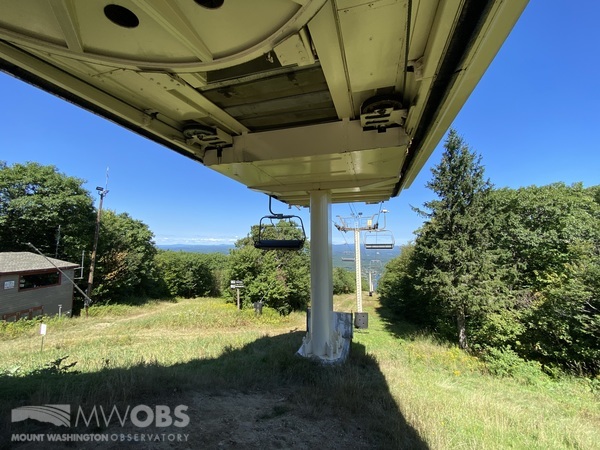 I will wrap up this blog with the veteran Weather Observer in me… I'd like to remind all of those who like to recreate in the White Mountains that we are heading into the fall shoulder season and conditions in the alpine zone will almost always be drastically different than conditions at trailheads. Remember to check
our 48-Hour Higher Summits Forecast
when heading up and out! I hope you enjoyed reading this blog, I enjoyed writing as always.
Sam Robinson, Weather Observer/Engineer
Ellen Estabrook
Adjusting to Life on the Summit By Charlie Peachey Working on the summit of Mount Washington is not your average job. There aren't too many other places where the employees work and live together for
Ellen Estabrook
A Surprise Aurora By Francis Tarasiewicz After 17 months of working at New England's highest peak, it finally happened. On the night of November 12th, 2023, I was lucky enough to view the famous and
Ellen Estabrook
A Glimpse at METAR Reports By Alexis George, Weather Observer & Meteorologist METAR observations are submitted every hour of every day at Mount Washington Observatory. METAR is a format for reporting weather information that gets