Mountains aren't funny…
2021-05-17 12:20:59.000 – A.J. Mastrangelo, Summit Intern
Greetings all and now that that's out of my system, my name is A.J. Mastrangelo and I could not be more excited to be a summit intern with the Observatory for this summer! Although I am originally from Massachusetts, I'm no stranger to the White Mountains as I have spent a great deal of time in the region year-round since I was a kid. Currently a rising senior at Penn State University, I am a meteorology major with a concentration in weather forecasting and communications. Some of my favorite hobbies include Skiing, Boating, Hiking, Photography and Storm Chasing. Hailing from New England, I am also a diehard Boston sports with a soft spot for Tom Brady and his Buccaneers squad.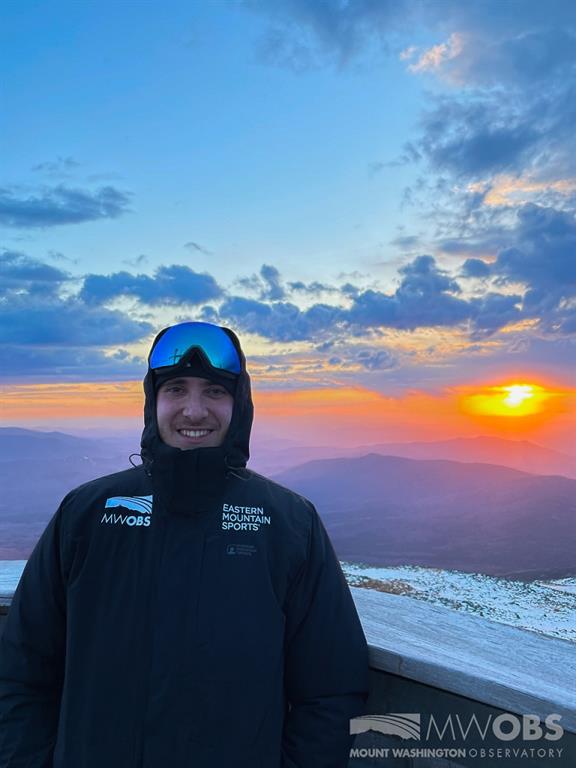 Intern A.J. Mastrangelo on the observatory tower
Ever since I was a young kid, I have wanted to work on the summit of Mount Washington. As it does for many, I was drawn by the extreme weather and incredible scenery that accompanies the summit. Although clouds and fog may be more prevalent in the summertime up here, I look forward to the clear days and observing the unique meteorological phenomena that occur at the summit. So far on the summit I have been learning the basics about taking meteorological observations here at the summit and there is definitely a lot more to it than I had originally thought. Becoming familiar with the nearby mountains and ridges to determine visibility is just one of the aspects unique to the observation process up here and something that I will have to become more familiar with. I have also been working with fellow observers to create forecasts and discussions for both the summit and valley. While my workload has
not been too bad during my first week here, I appreciated the time to get used to living in this unique environment.
I look forward to the projects to come, in addition to the visitors coming in the next few weeks once the Sherman Adams State Park building and our Extreme Mount Washington Museum open to the public.
While I was greeted by blowing snow and foggy conditions for my first day on the summit, skies cleared the following morning revealed a picturesque sunrise. I took this picture just as the sunlight began to clear the horizon as virga (precipitation that doesn't reach the ground) fell from distant altocumulus cloud. The sight was truly spectacular for me… but only registered as a 3/10 event for fellow veteran observer Ryan Knapp. I guess that means there is a lot more to see here on the summit and I can't wait!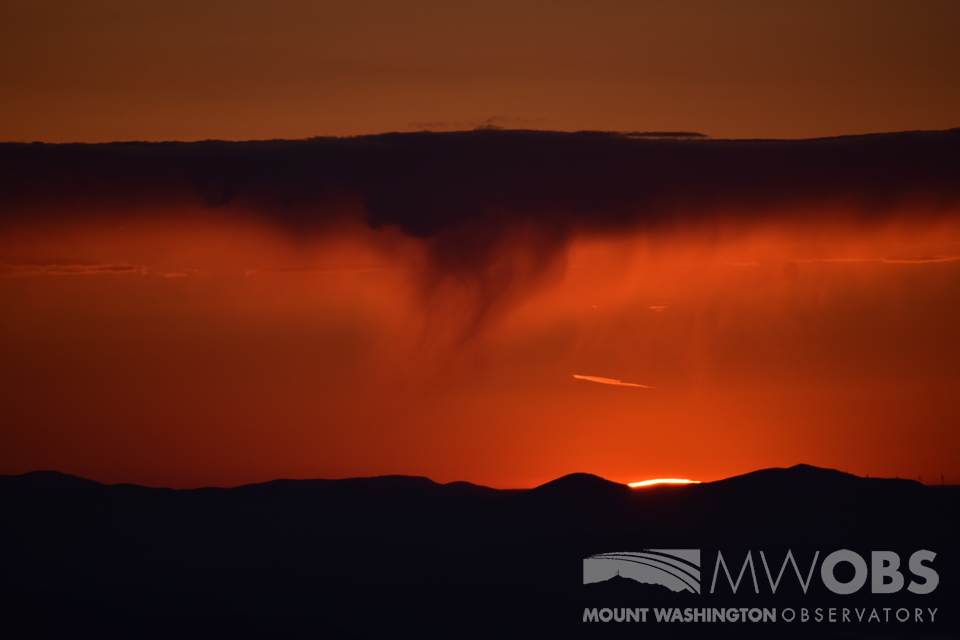 Distant virga as the sun begins to rise
A.J. Mastrangelo, Summit Intern
Ellen Estabrook
Adjusting to Life on the Summit By Charlie Peachey Working on the summit of Mount Washington is not your average job. There aren't too many other places where the employees work and live together for
Ellen Estabrook
A Surprise Aurora By Francis Tarasiewicz After 17 months of working at New England's highest peak, it finally happened. On the night of November 12th, 2023, I was lucky enough to view the famous and
Ellen Estabrook
A Glimpse at METAR Reports By Alexis George, Weather Observer & Meteorologist METAR observations are submitted every hour of every day at Mount Washington Observatory. METAR is a format for reporting weather information that gets