My First Ride Up in the MWO Snow Cat
2018-01-19 06:09:41.000 – Jillian Reynolds, Summit Intern
Although I have traveled up to the summit many times, Wednesday was my first time taking a ride up in the Snowcat.
The Snowcat is primarily used in the winter time as it is equipped with a plow and tracks that allow it to go through the snow more easily. The enclosed cab in the back can fit up to 12 people. When you and the other travelers are wearing winter weather gear, the inside of the cab can be a tight fit. The driver will ask if anyone would like to stop at various turnouts so everyone can go outside, grab some fresh air, and take in the views. Depending on the weather and how many stops they take, the trip up to the summit in the Snowcat can take anywhere from one to six hours. The trip up Wednesday took us around two hours. The road conditions were not too bad, but we had to make one stop in order to de-ice one of our wind instruments.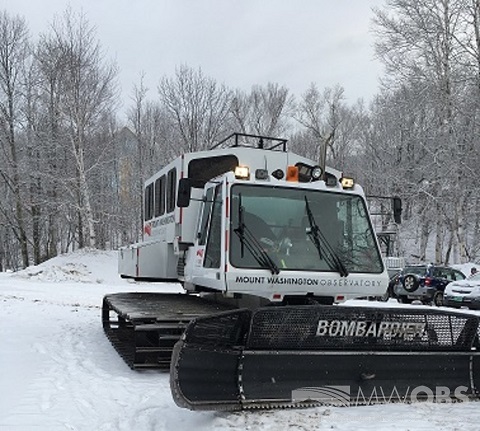 Caption: The MWO Snow Cat.
The Snowcat also has several windows that you could look out of as you continue up the mountain. The vans that you would take during the warmer months have windows as well, but I had a different feeling inside when I looked out the Snowcat window. The views are pretty nice when you can see various locations covered in snow.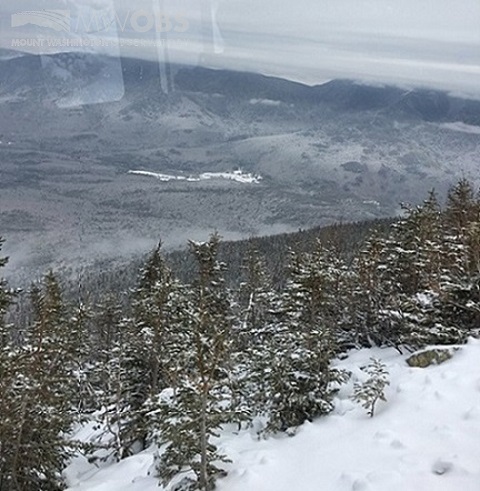 Caption: View from the Snow Cat drive on Wednesday. Check out that snow!
If you ever have the chance to take the Snowcat up Mount Washington, take it! It will be an exciting experience!
Jillian Reynolds, Summit Intern
Ellen Estabrook
Adjusting to Life on the Summit By Charlie Peachey Working on the summit of Mount Washington is not your average job. There aren't too many other places where the employees work and live together for
Ellen Estabrook
A Surprise Aurora By Francis Tarasiewicz After 17 months of working at New England's highest peak, it finally happened. On the night of November 12th, 2023, I was lucky enough to view the famous and
Ellen Estabrook
A Glimpse at METAR Reports By Alexis George, Weather Observer & Meteorologist METAR observations are submitted every hour of every day at Mount Washington Observatory. METAR is a format for reporting weather information that gets