My Summit Vices Part 2: Walks, Plants, and Reddit
2017-12-04 20:54:59.000 – Adam Gill, Weather Observer/IT Specialsit
I have some similar vices up on the summit as Mike like Coffee but since that has already been stated, here are a few that I enjoy in my free time.
Walks
I will usually wake up an hour before my shift and go for a walk while listening to music. Usually I will do laps around the Rotunda because the sun has not come up yet and usually the weather is not too great outside to go wandering around in the dark. In the summer when the sun comes up early and there is a calm, nice morning, I will go out on a few of the trail loops around the summit. My goal is to get about a mile and a half of walking in before I start work for the day. Throughout the day, if I am stumped on a coding project and need to think of a new solution, I will take a small walk around the summit cone. And then if I have not reached my step goal by the time I am done with my shift, I will usually spend the last 30 minutes before bed back out in the rotunda doing laps.
Plants
A unique vice that I have is growing plants, specifically carnivorous plants. I have grown these plants for years and since most of the plants on the summit are dormant for 9 months of the year, there isn't too much greenery up here. I have had a plant terrarium for years to grow some of the tougher species that can't grow outside or need higher humidity. Last winter, I finally brought the terrarium up to the summit along with a few test plants to see if it was even feasible. Luckily it is quite feasible, even in the incredibly dry air that can happen up here. I do have to keep the grow lights on longer on the terrarium due to the lower lights from being socked in the fog for most of the year.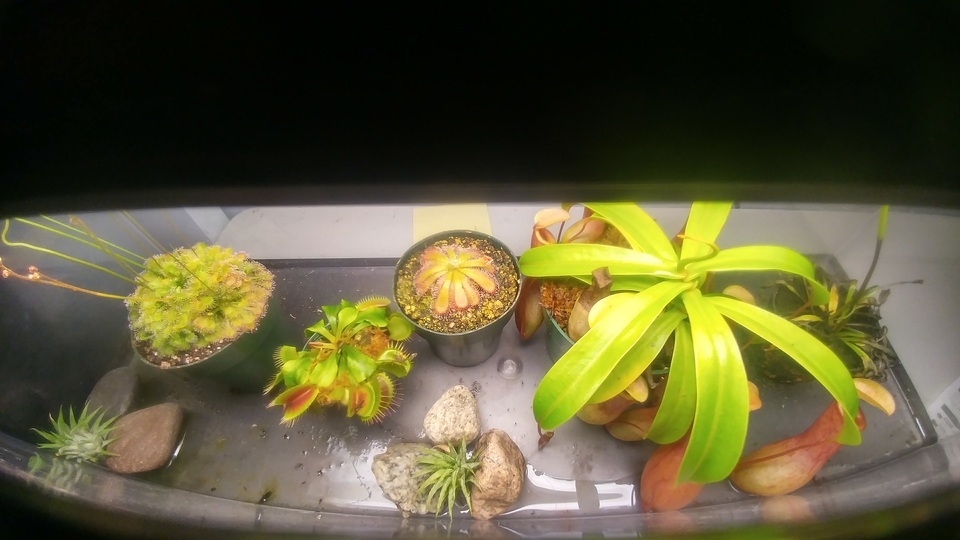 Finally Reddit
Reddit is a website that is made to waste time for the most part. The thing that I like about it is that I am able to follow specific forums with other people that have similar hobbies as me. I get my daily dose of pictures of carnivorous plants from people who grow them around the world. I also get to follow some of the coding languages that I use up here for my projects to get a head on updates as well as see some cool projects that other people have accomplished, learning from their skill. Lastly, I follow a lot of weather pages as well to be able to see all the interesting weather that is occurring all over the world and share exciting weather that is happening up here! This site is something I force myself to limit to just lunch break or the time between the end of the shift and dinner so I don't waste too much of my time!
Adam Gill, Weather Observer/IT Specialsit
Ellen Estabrook
Adjusting to Life on the Summit By Charlie Peachey Working on the summit of Mount Washington is not your average job. There aren't too many other places where the employees work and live together for
Ellen Estabrook
A Surprise Aurora By Francis Tarasiewicz After 17 months of working at New England's highest peak, it finally happened. On the night of November 12th, 2023, I was lucky enough to view the famous and
Ellen Estabrook
A Glimpse at METAR Reports By Alexis George, Weather Observer & Meteorologist METAR observations are submitted every hour of every day at Mount Washington Observatory. METAR is a format for reporting weather information that gets