New Year's Eve on the Summit
2016-01-01 11:20:40.000 – Krissy Fraser, Director of Marketing & Events
We rang in the New Year in fine fashion here on the summit of Mount Washington kicking off our winter trips season. Friends joined us from near and far including Idaho, Texas, Connecticut, New Hampshire and Maryland to celebrate the New Year.
We started the day with a smooth snowcat ride piloted by operator extraordinaire Slim Bryant along with Co-Pilot Elissa Gramling. Some of the guests weren't quite sure what they were getting themselves into as we wound our way up the Auto Road driving into far worse weather than we had left behind at the base. Once on the summit Observer Adam Gill took us for a tour outside where all quickly grew to appreciate what fun it is to experience hurricane force winds and bitter cold temps (especially with the luxury of ducking inside once it got to be too much). The evening had more in store as we sat for a 3-hour 7 course dining experience presented by Chef John Bauhs and volunteer Dennis Vienneau….with each course being followed by "that was the best food I have ever had…" After this incredible evening of adventure, exquisite food and lively conversation we all joyously toasted to the New Year ahead!
Thank you to our gracious hosts Mike Carmon, Tom Padham and Adam Gill. Best to all and Cheers to a Happy and Healthy 2016!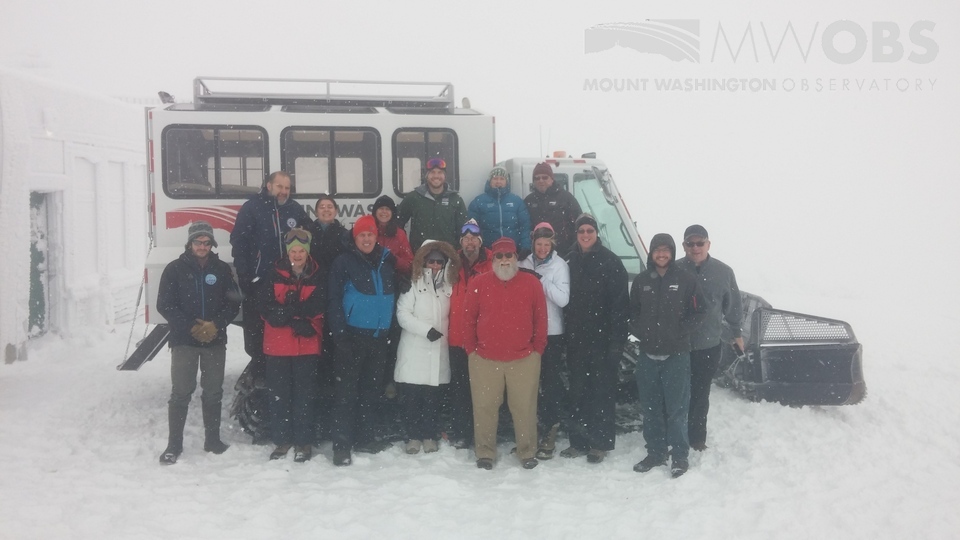 Krissy Fraser, Director of Marketing & Events
Ellen Estabrook
Adjusting to Life on the Summit By Charlie Peachey Working on the summit of Mount Washington is not your average job. There aren't too many other places where the employees work and live together for
Ellen Estabrook
A Surprise Aurora By Francis Tarasiewicz After 17 months of working at New England's highest peak, it finally happened. On the night of November 12th, 2023, I was lucky enough to view the famous and
Ellen Estabrook
A Glimpse at METAR Reports By Alexis George, Weather Observer & Meteorologist METAR observations are submitted every hour of every day at Mount Washington Observatory. METAR is a format for reporting weather information that gets