Novemburrrrr!
2014-11-21 15:45:06.000 – Ryan Knapp, Weather Observer/Meteorologist
One month from today (Sunday, December 21), astronomical winter begins for the Northern Hemisphere. However it seems winter didn't look at the calendar this year and decided to jump the gun bringing winter a month early for most of the country including the summit of Mount Washington. Take today for instance, we are seeing temperatures hovering around -3F (-19C), winds averaging 60-80 mph, light snow showers, blowing snow, and dense fog. It certainly looks and feels more like mid-January than mid-November. With mid-January like conditions, we have to take mid-January like precautions before heading outside. This means taking some extra time to bundle up before heading outside because exposed skin can take as little as 10 minutes to start seeing frost nip or frost bite possibly setting in. Therefore, before we head out, we have to ensure we don't have any gaps in our layers especially around our goggles or where our balaclavas meet our beanies.
During the day, we can have a fellow observer look us over before heading out. However, working alone at night, I have to be a little more creative. If it is a quick trip outside, I use the touch method feeling around for any exposed patches of skin. If I am going to be outside for a longer period though, I will use either a mirror or my cell phone (with a front-facing camera in video mode). By using the mirror or a cell phone, I can self-inspect to look for any gaps I might have. While I usually go with the cell phone as a quick and easy check I always fear that someone is going to walk in on me and think I am trying to take a selfie. But if that is ever the case, I would probably just shrug it off and roll with it saying, "…but first, lemme take a selfie!" After all, I'd rather look like a goober for a second than possible receive damage to my skin that could potentially stay with me forever.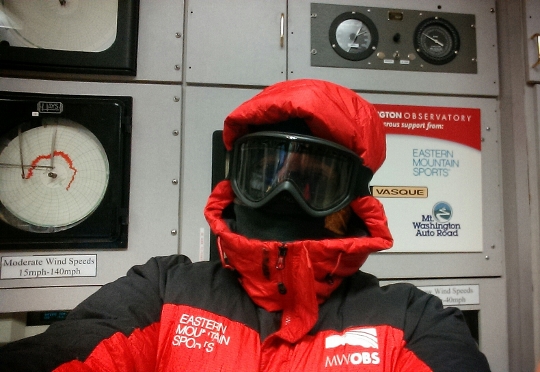 Ryan Knapp, Weather Observer/Meteorologist
Ellen Estabrook
Adjusting to Life on the Summit By Charlie Peachey Working on the summit of Mount Washington is not your average job. There aren't too many other places where the employees work and live together for
Ellen Estabrook
A Surprise Aurora By Francis Tarasiewicz After 17 months of working at New England's highest peak, it finally happened. On the night of November 12th, 2023, I was lucky enough to view the famous and
Ellen Estabrook
A Glimpse at METAR Reports By Alexis George, Weather Observer & Meteorologist METAR observations are submitted every hour of every day at Mount Washington Observatory. METAR is a format for reporting weather information that gets