NULL
2010-10-07 16:18:42.000 – Stacey Kawecki,  Observer and Meteorologist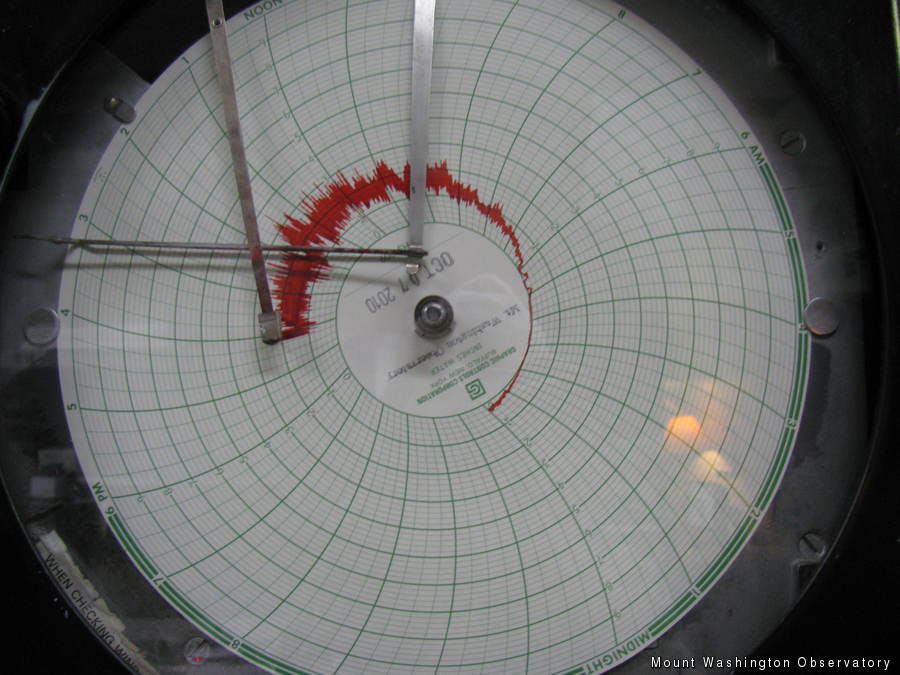 That's my kind of Hays Chart!
The most notably consistent variable on this mountain is change. That may sound oxymoronic, but allow me to explain. The most obvious is that the weather is constantly changing from one minute to the next. It could be foggy and clear fifteen times within five minutes. It's something that all who are familiar with the mountain expect. It's a constant. The landscape is always changing; wind blows the snow around creating drifts and dunes, the snow accumulates and melts, the color go from brown to green to vibrant oranges, reds, yellows, and purples, and back to brown. If change were absent from Mount Washington, indeed something would be wrong.
The change today is a change for, what many summit dwellers think, the better! The weather has taken a decidedly wintry turn, with winds regularly gusting over hurricane force and temperature below the freezing point. This means that when the summit emerges from the fog, all the valley dwellers might get to look upon one of my absolute favorite views – a wintry, gleaming, White Mountain in the background of vibrant fall foliage. Every hour the tower rings with the dulcet tones of metal upon metal. The cold wind kisses our faces and we come inside rosy-cheeked and bubbling with excitement.
Nothing comes close to the exhilaration felt on the tower during a strong wind! And, according to our trusty meteorologists, the wind is supposed to last through tomorrow! Why all the wind? Well, a coastal low pressure system that dominated yesterday's weather is moving north into Canada, where it will continue to deepen. High pressure will build from the southwest, tightening the pressure gradient. Wind blows from high pressure to low pressure. So, if a strong high pressure and a strong low pressure are relatively close together you better watch out! Thar! She blows! On this shift, we are desperately hoping to hit the century mark, so we can be labeled as the 'bad weather' shift.
Keep your fingers crossed for us! The first 100 mph wind of the season may be just around the corner!
Stacey Kawecki,  Observer and Meteorologist
Ellen Estabrook
Adjusting to Life on the Summit By Charlie Peachey Working on the summit of Mount Washington is not your average job. There aren't too many other places where the employees work and live together for
Ellen Estabrook
A Surprise Aurora By Francis Tarasiewicz After 17 months of working at New England's highest peak, it finally happened. On the night of November 12th, 2023, I was lucky enough to view the famous and
Ellen Estabrook
A Glimpse at METAR Reports By Alexis George, Weather Observer & Meteorologist METAR observations are submitted every hour of every day at Mount Washington Observatory. METAR is a format for reporting weather information that gets