NULL
2010-05-01 14:31:18.000 – Stacey Kawecki,  Observer and Meteorologist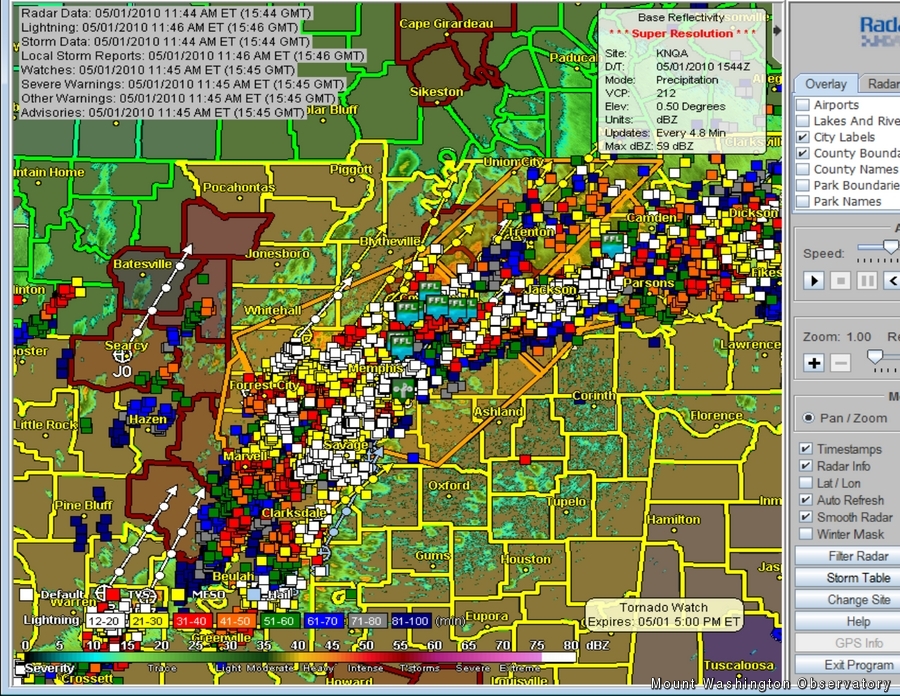 That's a good-looking radar!
Happy May Day Observatory website visitors! The summit is celebrating in a rather quiet fashion. Temperature is a balmy 38 degrees, winds are a merely 35-40 mph and the violently blowing snow…well there's not much left. The intense winter-storm is over, and we can see rocks and sedge again. In fact (even though I'm not the gambling type), I'll wager that by the time we leave the mountain (in a week), most of the snow will be gone. According to the models, we'll dip below freezing on Wednesday, but should be in the clear for that. Not until next Saturday are temperatures forecast to drop below the freezing mark with fog.
In my relentless weather vigilance, I have been keeping an eye on the storms in the mid-west. There is some incredible convective action centered around the junction of the Ohio and Mississippi River valleys. The Storm Prediction Center claims there is a high risk for severe weather in this area. The atmospheric variables favor the creation of supercell thunderstorms with rotation. There are more than a few ingredients in the recipe for severe weather and a lot of them are in the mixing bowl: moisture, warmth, lifting mechanism, vertical wind shear (directional and velocity). Right now moisture is being funneled into the Gulf States and northward by a fairly strong wind at the 850 mb level. In addition to the moist air, the Gulf of Mexico is warm! So, warmth and moisture are flowing along this wind. To the west, there is a slow-moving frontal system, characterized primarily by a much cooler and drier air mass. That advancing cold air will push the warm, moist air up, creating convective clouds. That is the lifting mechanism. Add a dash of vertical wind shear: at 850 mb, winds are from the south, at 500 mb winds are from the southwest. Also, the radar looks amazing.
As that low slowly makes its way east, the northern New England area could be seeing some leftover thunderstorms tomorrow! 2 feet of snow followed quickly by the chance for some rumbles? Mount Washington sure does keep its weather observers on their toes!
Stacey Kawecki,  Observer and Meteorologist
Ellen Estabrook
Adjusting to Life on the Summit By Charlie Peachey Working on the summit of Mount Washington is not your average job. There aren't too many other places where the employees work and live together for
Ellen Estabrook
A Surprise Aurora By Francis Tarasiewicz After 17 months of working at New England's highest peak, it finally happened. On the night of November 12th, 2023, I was lucky enough to view the famous and
Ellen Estabrook
A Glimpse at METAR Reports By Alexis George, Weather Observer & Meteorologist METAR observations are submitted every hour of every day at Mount Washington Observatory. METAR is a format for reporting weather information that gets