NULL
2011-01-31 06:07:48.000 – Stacey Kawecki,  Observer and Meteorologist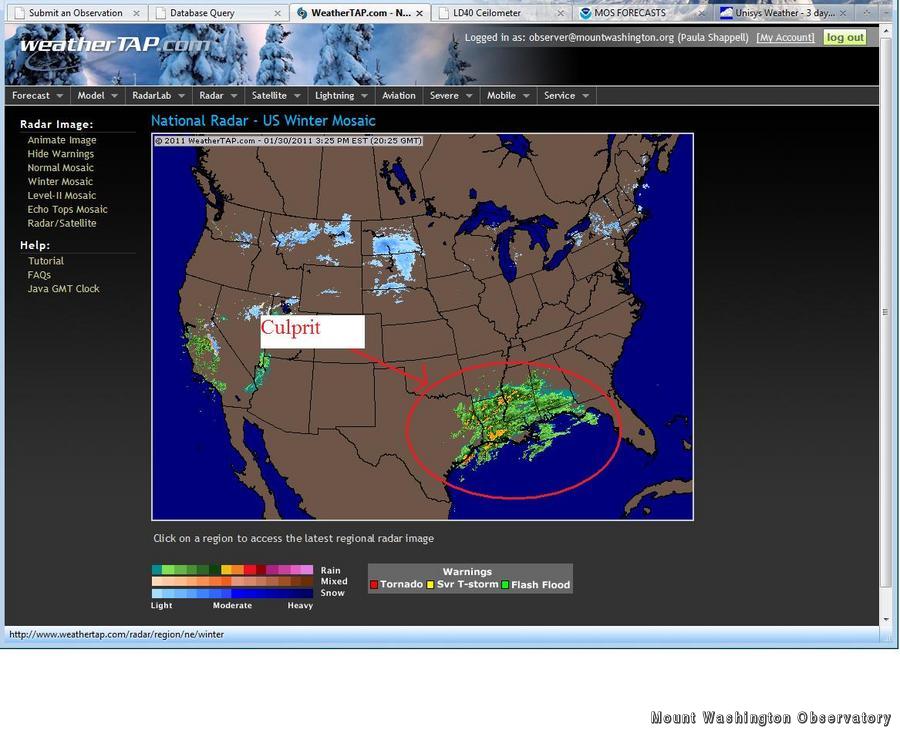 another storm is brewing
Oh no, not again! I am sitting at the weather desk, watching the radar, knowing that the mass of rain and thunderstorms overspreading the Gulf States will eventually make its way to the northeast…on Wednesday. The good news is that this will not be a nor'easter (for what might possibly be the first time this winter).
However, it will carry with it a load of snow. I do not specialize in snow totals, but I do know that the fact that this storm is originating in the Gulf of Mexico means it will be full of moisture. Over the next couple of days, the low will start to develop and organize itself and it will start to move up the Mississippi River Valley. By Wednesday morning, this storm will be just south of the Great Lakes, pulling moisture from the Gulf of Mexico and on a track straight towards New England.
As a snowboarder, this news is exciting. As a commuter who travels primarily on Wednesdays, this news is disheartening and a little exhausting. It seems like almost every Wednesday, some storm is raging. One way to avoid a stressful commute would be to just do it on Thursday, after a long day on the slopes. I just have to convince my carpool buddy of the obvious advantages of that plan.
Stacey Kawecki,  Observer and Meteorologist
Ellen Estabrook
Adjusting to Life on the Summit By Charlie Peachey Working on the summit of Mount Washington is not your average job. There aren't too many other places where the employees work and live together for
Ellen Estabrook
A Surprise Aurora By Francis Tarasiewicz After 17 months of working at New England's highest peak, it finally happened. On the night of November 12th, 2023, I was lucky enough to view the famous and
Ellen Estabrook
A Glimpse at METAR Reports By Alexis George, Weather Observer & Meteorologist METAR observations are submitted every hour of every day at Mount Washington Observatory. METAR is a format for reporting weather information that gets