NYC Trip
2011-04-14 11:39:20.000 – Rebecca Scholand,  Summit Intern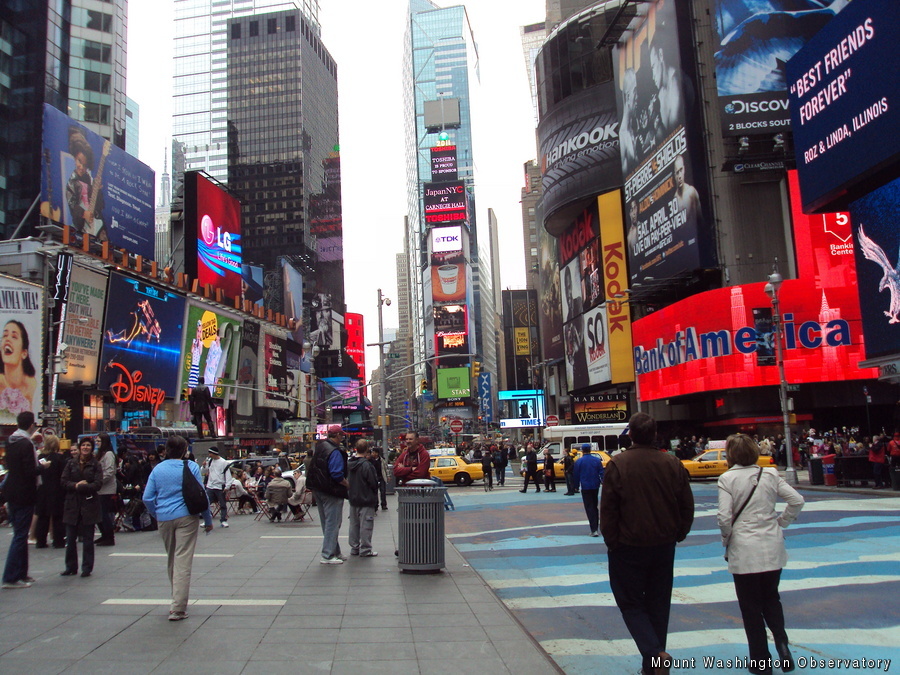 Times Square
This past off week was just as crammed packed and adventurous as they always are for me, however I had Observers Ryan and Bryan as well as Brian's girl friend Laura along for the ride. Our adventure started around 5am Saturday morning. Brian swung by to pick Ryan and I up before we headed to Saddleback Maine. We arrived at Saddleback just after 9am and were on the slopes under blue bird skies shortly thereafter. We could even see the summit of Mount Washington from Saddleback. The conditions were also more than desirable. There was lots of snow, steep terrain, un-groomed trails, bumps, and glades. Although we were only there for about four hours we left having had a great time.
From Saddleback we headed back south to begin the next leg of our trip. Once we arrived back to the Mount Washington Valley area we shuffled cars, packed up my car, and picked up Laura for our trip south. We were headed for the north fork of Long Island for the night. We arrived in Bridgeport, CT to catch our ferry to Port Jeff, NY and finish our drive to my little hometown on the east end of Long Island. We arrived 'home' around midnight and Ryan, Brian, and Laura were tired and headed to bed. Personally I was still wound up from simply being energetic and having been in the car for hours, so I hit my rock climbing wall so conveniently located in my parents dinning room before jumping into the hot tub to relax after a great morning of skiing and travel. I then retired to my room and curled up in my hammock for a few hours of sleep. I find I always sleep better in my own room back home.
Sunday morning I woke early to finish some homework before everyone else got up and we started our day. By 8am and my Mom had made some awesome waffles. They were supper yummy. We all ate and headed out the door for a packed day of fun. We first met my Dad at Westhampton Air Base for an areial tour of Long Island. From the air you could clearly see the fish shape of the island and had fun looking at all the houses on the south fork. The south fork is home to some of the most famous and rich family's in the country. It was fun to dream of the houses one could possibly own. My personal favorite was the community with its own private heliport making it convenient for your limo to pick you up and avoid town traffic. Regardless it was a great way to get a tour of Long Island all before 11am.
From the airport we headed to the LIRR train station to ride into New York City to see a Broadway show. This was in fact the reason we had ventured to New York after all. When we arrived at Penn Station about 1pm and walked into Times Square. Times Square was busy as usual but I enjoyed playing tour guide. We then made our way to the famous St. James Theatre. We were all here to see Green Day's American Idiot. This was a special performance, not only because it is in its last weeks on Broadway, but Billie Joe Armstrong (lead singer of Green Day) was playing the part of St. Jimmy! I will admit I have a slight crush on Billie Joe making this performance very special. The show ended up being beyond incredible. Out of all the Broadway productions I have seen this is now my favorite. It was very well put together and the cast was amazing including Billie Joe.
After the show my really good friend met up with us and we headed out for more adventures. From the St. James Theatre we walked up to Central Park to show Ryan, Bryan, and Laura then over to 5th Avenue where Bryan had the chance to venture into the Apple store before we headed back towards Rockefeller Center. Rockefeller Center was missing the tree but the ice rink was still in full swing.
By this point in the day it was about 6pm and we were all getting a bit hungry so we caught the Subway to lower Manhattan where we found a little Thai restaurant and ordered up. The food was delicious and filling, leaving us ready to head downtown for some more fun. Our first stop on the way was the Continental where we stopped in for a beer and caught some of the Red Sox vs. New York Yankees game. We tried kept the fact we were Red Sox fans quiet and left without a scratch.
Our last stop for the night before heading home was a great downstairs club called Cafe Wha. They had a great vibe and we all enjoyed hanging out. There was even a proper NYC shout out to our visiting friends from New Hampshire by the band. It was a great night and I for one was sad to leave the city. After arriving back to my house just before 3am we all crashed.
Monday morning we piled back in the car and headed north to New Hampshire. By 6pm we were all home after our whirl wind three day adventure. We had covered five states and managed transportation by skis, foot, car, ferry, plane, train, and subway all within about 60 hours. Too bad my surfing excursion was cancelled yesterday to tie my week together. Instead I ended my off week on a slow note. I did some laundry, ran errands, washed and waxed my car, cleaned out my flower beds, planted some new flowers, and did some spring cleaning. All I can say is I am going to sleep well tonight!
Rebecca Scholand,  Summit Intern
Ellen Estabrook
Adjusting to Life on the Summit By Charlie Peachey Working on the summit of Mount Washington is not your average job. There aren't too many other places where the employees work and live together for
Ellen Estabrook
A Surprise Aurora By Francis Tarasiewicz After 17 months of working at New England's highest peak, it finally happened. On the night of November 12th, 2023, I was lucky enough to view the famous and
Ellen Estabrook
A Glimpse at METAR Reports By Alexis George, Weather Observer & Meteorologist METAR observations are submitted every hour of every day at Mount Washington Observatory. METAR is a format for reporting weather information that gets