Obs Life Off-Summit, Part I: Suburban to Sub-Alpine
2017-10-18 17:20:46.000 – Mike Carmon, Senior Meteorologist & Education Specialist
Time passes in a whole different manner up here at 6,288 feet. Perhaps it's the 20% less oxygen, although that might mean residents of Denver, Colorado would be empathizing more often. On the contrary, the week on/week off routine gives the word schedule a new meaning, although any summit staffer would refer to it as more of a lifestyle than a schedule. The fog-ridden world of an observer gives ample opportunity for regular periods of introspective inner-dialogue, particularly when the hustle-and-bustle relents and the isolation of a mountaintop rushes back in to its rightful niche.
Over 9 years have passed since my tenure at the Observatory commenced, and I find myself reflecting on how staggeringly my personal life has changed since my first steps onto our observation deck. I've most likely described in previous blog posts, comments, etc., about changes in my professional track with MWO, but indulge me for a few paragraphs as I cogitate upon the off-summit life of a long-time observer.
At 22 and right out of college, I had never really lived outside of central New Jersey. The suburbs were home, the city was always a stone's-throw, and the mountains were a mystical mysterious setting generally relegated to my condescension (this was purely out of ignorance, so I hope my fellow mountain residents can forgive my young naivety here!). "You're moving where?" most of my closest friends would ask when I told them of my internship in New Hampshire. "But…there's nothing up there" they would elaborate. While I spoke in my defense, unspoken were uneasy thoughts of concurrence.
Even throughout my first year as a visitor of the White Mountains (I would hardly consider myself a resident at that time), I felt like a stranger in an almost foreign land. What did folks do for fun around here? Where are all of those folks? How am I supposed to get around with these mountains in the way?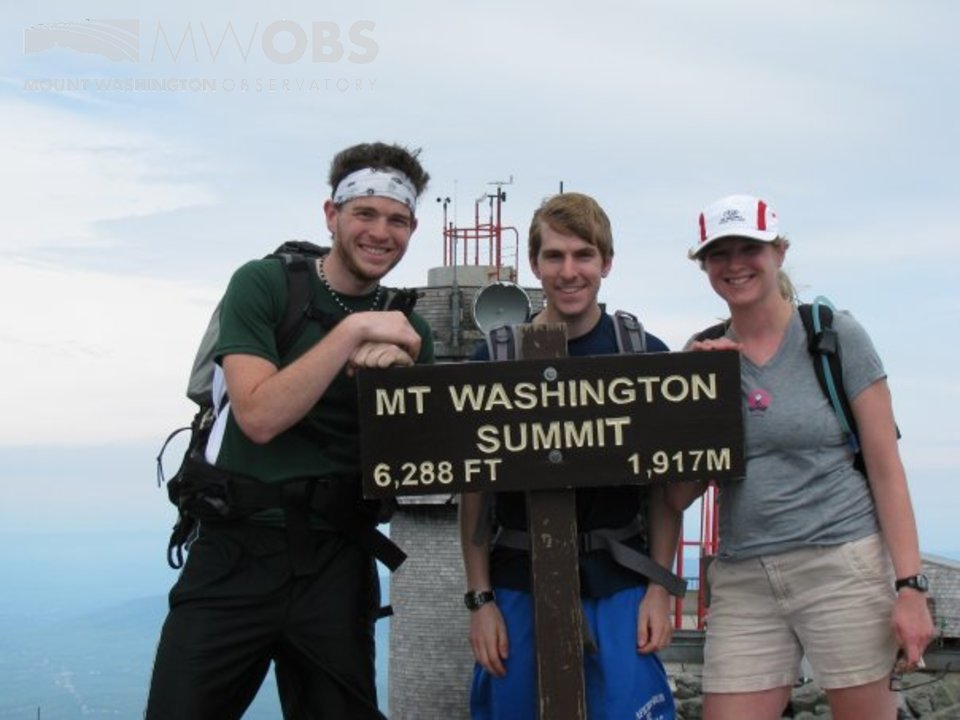 Caption: My first ever hike to the summit of Mount Washington, in the summer of 2009.
After nearly a year, I decided to make a change and pack up my belongings for a new off-week life in Burlington, Vermont. My college years—part II—is the label I throw on this, and I soaked up every minute of this exciting and vibrant city! It felt more like the home of old, although with a lake and a few (albeit less impressive) mountains as backdrop, the scenery was strikingly disparate.
After three years as a Burlington resident, I found my personal life changing once more, and a move back to the north country of New Hampshire became imminent. The odd situation of a summit observer is an intriguing one, as even though I had been an Observatory employee for four years to this point, I never felt like a New Hampshire resident. Sure I spent most of my time at the crux of the tallest mountain in the state, but down below was simply "the valley"—it had no real meaning to me, no personality of its own, no personal significance.
Then, I hit the trail.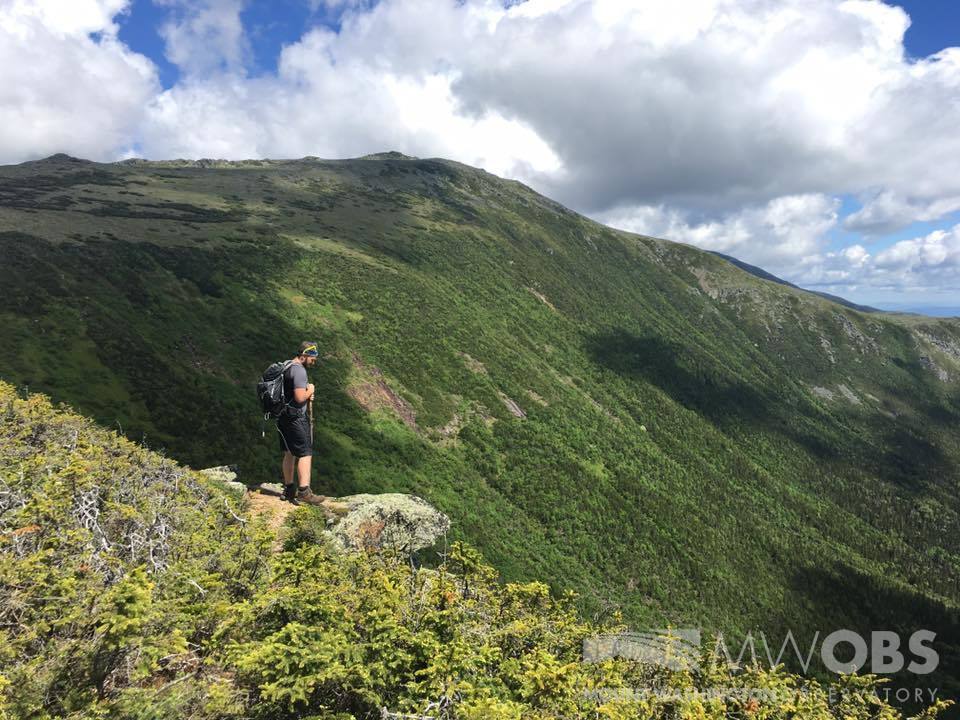 Caption: Ascending the Glen Boulder Trail, overlooking the Gulf of Slides, with Boott Spur up above.
Although I had hiked on-and-off during my previous four years in New England, it was simply another activity to fill the time. If a friend wanted to hike, I would hike. Otherwise, there was no legitimate temptation. However, once I began hitting the trail regularly and savoring the true mountain experience, my entire frame of reference on New Hampshire, and even life in general, changed dramatically. Suddenly, I was not simply biding my time off of work until I returned to the summit of Mount Washington. I was out there, I was meeting some of the finest folks I ever have, and becoming part of a truly unique and gratifying culture that I was completely ignorant of up until this point. I gained a newfound respect for the environment around me, it's beautiful and tender fragility, and the nuance of each individual stretch of White Mountains trail. There was no need to have an excuse to speak with folks while out on the trail; although everyone had their own individual reasons for being out there, they all relished in the backcountry experience in their own inimitable manners, and learning more about these motivations and sharing similar experiences provided personal connections that could last a lifetime!
Now, after nine years of life in New England, at 31 years old I'm lucky enough to be engaged to the love of my life! And I know my passion for this mountain, the White Mountains in general, the hike life, and my motivation to seek out new personal connections is what led me to this most recent and exhilarating development of my life to date. In fact, my fondness for the mountains has grown so deep that I proposed to her on the summit of West Bond mountain, at the heart of the Pemigewasset Wilderness, where our mutual passion for the backcountry is best epitomized (in my humble opinion). If it were not for all of the trials, trails, and tribulations of the past nine years, both personal and professional, this moment may have proven wildly different.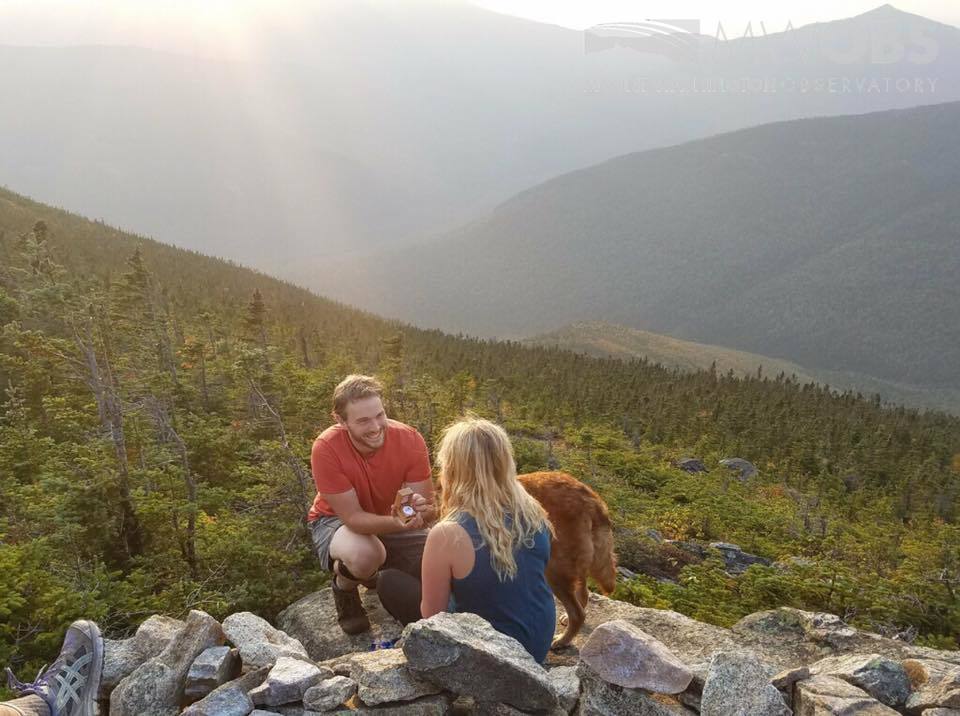 Caption: Proposing on the summit of West Bond at sunset.
But it wasn't. It was what exactly perfect, and I am eternally grateful for the moment, my wonderful fiancé, and all of the future alpine moments that surely lie before us.
"The mountains are calling, and I must go." – John Muir
Mike Carmon, Senior Meteorologist & Education Specialist
Ellen Estabrook
Adjusting to Life on the Summit By Charlie Peachey Working on the summit of Mount Washington is not your average job. There aren't too many other places where the employees work and live together for
Ellen Estabrook
A Surprise Aurora By Francis Tarasiewicz After 17 months of working at New England's highest peak, it finally happened. On the night of November 12th, 2023, I was lucky enough to view the famous and
Ellen Estabrook
A Glimpse at METAR Reports By Alexis George, Weather Observer & Meteorologist METAR observations are submitted every hour of every day at Mount Washington Observatory. METAR is a format for reporting weather information that gets