October Orographic Uplift
2012-10-01 18:12:12.000 – Brian Fitzgerald,  Weather Observer/Education Specialist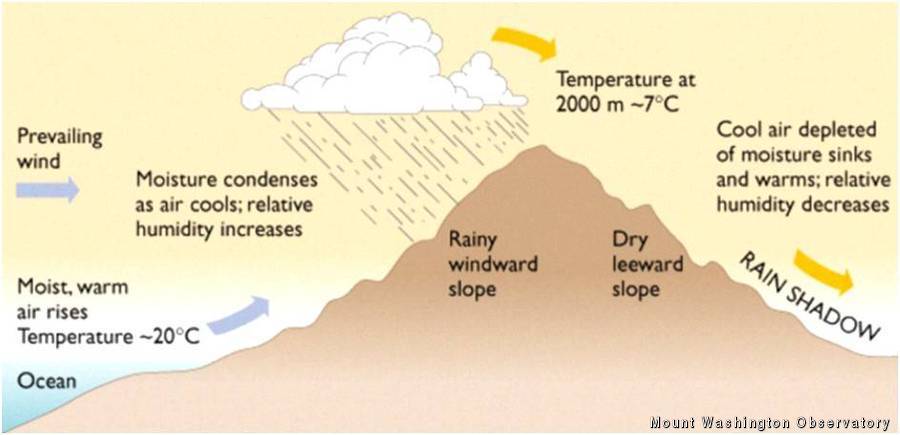 Diagram of Orographic Uplift
Happy October! It was quite the surprise to wake up to a blanketed-white summit and snow flakes flying. While a slight chance for mixed precipitation showers were in the forecast for today, it's always a pleasant surprise when you wake up to a new day and month.
The white stuff made a transition to rain by late in the morning as low pressure moved offshore, though not quite taking all the rain with it. As most of the rain in the region tapered off, steady light rain showers refused to leave the radar over the White Mountains, and more specifically right over our station, leading at least one observer to make the comment, 'Ah, upslope showers.' What is an upslope shower though? Certainly in my time as a hiker, intern and observer I've heard the term upslope showers being thrown around and wondered why Mount Washington was plagued by this.
Essentially, when we talk about upslope showers, we're talking about precipitation that is being formed by the size and shape of the mountain itself. Mount Washington is not the only mountain in the world that experiences this effect, but nearly every topographically-prominent mountain contributes to something known as orographic lift. When moisture-rich air is pushed into and up the side of a mountain it cools and condenses into clouds and eventually falls as precipitation on the windward side of the slope. On the back-side, or lee-side of a mountain, the prevailing wind (the air that has risen cooled and condensed) on the windward side of the mountain will now begin to warm and dry, leaving what is known as a rainshadow. One of the best examples of this phenomena is the Tibetan Plateau in southwest China, where monsoon moisture from the Indian Ocean drops significant precipitation south of the Himalayas, leaving Tibet parched and dry.
While Mount Washington may not have the same towering stature of the Himalayas, we still experience significantly higher precipitation from areas as close as Pinkham Notch, where rain and snowfall amounts typically fall to about half of the summit's total. This is just another reason why it's critical for visitors of the summit to expect the unexpected when venturing above treeline.
Tomorrow, as moisture slowly leaves the region we can expect that upslope showers will dissipate and who knows, maybe the sun will make an appearance on high. I know my fingers are crossed.
For more information on the Mount Washington Observatory about events, information on becoming a member or local forecasts and outlooks, visit MountWashington.org .
Brian Fitzgerald,  Weather Observer/Education Specialist
Ellen Estabrook
Adjusting to Life on the Summit By Charlie Peachey Working on the summit of Mount Washington is not your average job. There aren't too many other places where the employees work and live together for
Ellen Estabrook
A Surprise Aurora By Francis Tarasiewicz After 17 months of working at New England's highest peak, it finally happened. On the night of November 12th, 2023, I was lucky enough to view the famous and
Ellen Estabrook
A Glimpse at METAR Reports By Alexis George, Weather Observer & Meteorologist METAR observations are submitted every hour of every day at Mount Washington Observatory. METAR is a format for reporting weather information that gets