Off Week Fun!
2011-09-22 23:34:46.000 – Erin Diveny,  Summit Museum Supervisor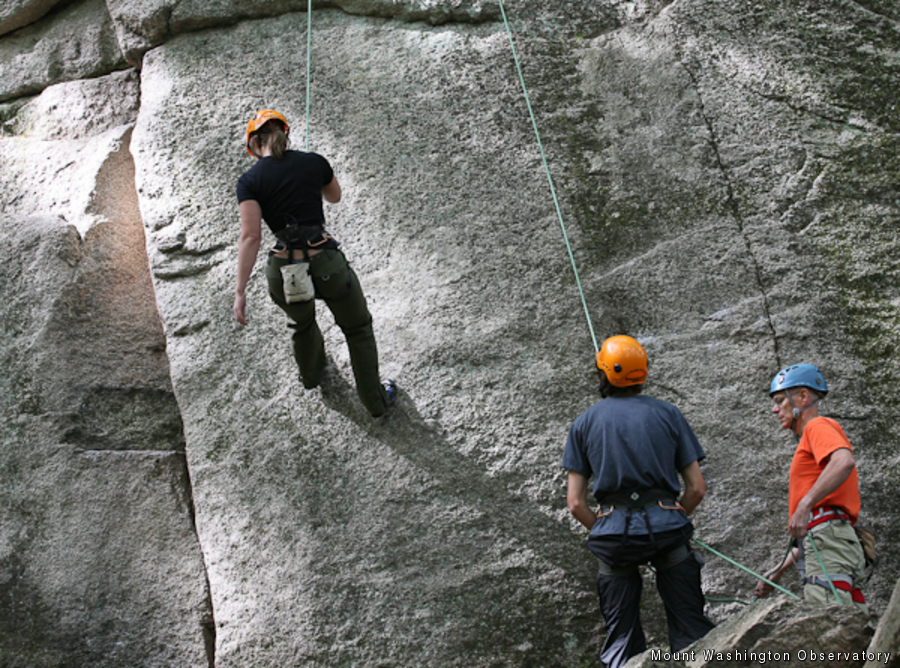 Being lowered back down while Kevin belays
As most of you know, here at the observatory, we work Wednesday-Wednesday shifts.
Well, this past off week, Kevin the fall intern and I had a ton of fun helping out our sponsor Eastern Mountain Sports film a rock-climbing video shoot. This video will be shown throughout their stores and on their website as a way for customers to view what a rock-climbing class of all levels is like through EMS. Kevin and I got to learn a lot of new things about rock-climbing and had a lot of fun! Some things we learned were tying in with a figure eight knot, belaying, repelling, two person rescue, how to use ascenders, and different hand and foot placements. (click the links above for more pictures.)
We also lucked out on our first day of climbing (Thursday) with a whole three hour break in the weather so we could film. It was neat being able to watch the front move in from the distance while a little afternoon rain started to fall! As it rained on us in the valley it was blowing snow up on the summit with rime ice!
It was a great two days and the instructors were great! We got to climb on cathedral ledge and on white horse…two popular climbing spots in North Conway!
Want to help out the observatory and buy some great gear? Check out Eastern Mountain Sports by clicking the link on our web-page! You get discounts and we get a donation! Its a win-win!
Erin Diveny,  Summit Museum Supervisor
Ellen Estabrook
Adjusting to Life on the Summit By Charlie Peachey Working on the summit of Mount Washington is not your average job. There aren't too many other places where the employees work and live together for
Ellen Estabrook
A Surprise Aurora By Francis Tarasiewicz After 17 months of working at New England's highest peak, it finally happened. On the night of November 12th, 2023, I was lucky enough to view the famous and
Ellen Estabrook
A Glimpse at METAR Reports By Alexis George, Weather Observer & Meteorologist METAR observations are submitted every hour of every day at Mount Washington Observatory. METAR is a format for reporting weather information that gets