Our Shift Is Whole Again!
2020-02-29 19:04:06.000 – Ian Bailey, Weather Observer/Education Specialist
It has been another week of crazy winter weather here on the summit! High winds, lots of snow, low visibility; the typical Mount Washington Winter Experience. But outside the weather, it has been a very pleasant and exciting week as well! For the first time since the beginning of January, we have a full crew!
I'll let him speak for himself when he posts later this week, but it has been such a pleasure meeting and working with David! He came in to the Obs from Antarctica, and has been taking to the work up here like a fish to water. He's been training with us this week to get an idea what the day shift is like, and learning many of the tasks we are responsible for each day during the shift. Next week and going forward, he'll be training with Jay to learn all of the night responsibilities, to inevitably take over as our Night Observer in a couple of months! It's very exciting, and I am super glad he has joined our crew.
Just like with Caleb, he's had some pretty exciting weather to deal with! We had a maximum 132 mph gust on Thursday, over a foot of snow accumulation so far, and more frigid temperatures below 0. It's safe to say that things are much different than they were last year! We've even had some firsts for me as well! Friday morning, when we went to retrieve the precipitation can for the synoptic, we were greeted at the door by a chin-high snow drift! Check out this monster: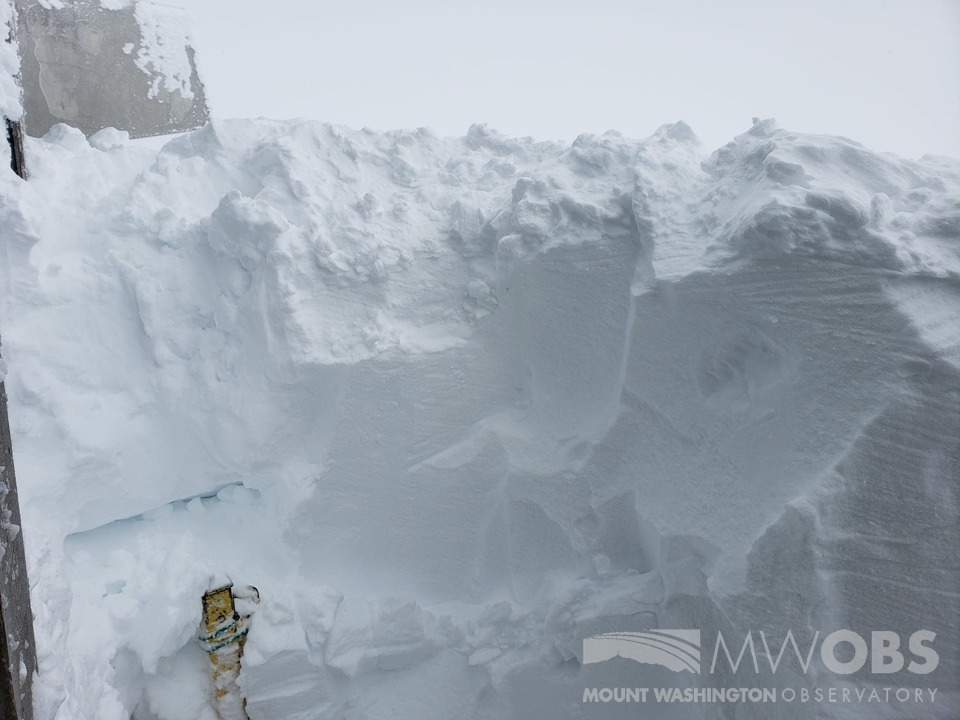 Snow drift just to the left outside the door. Yellow post is about 2 feet tall.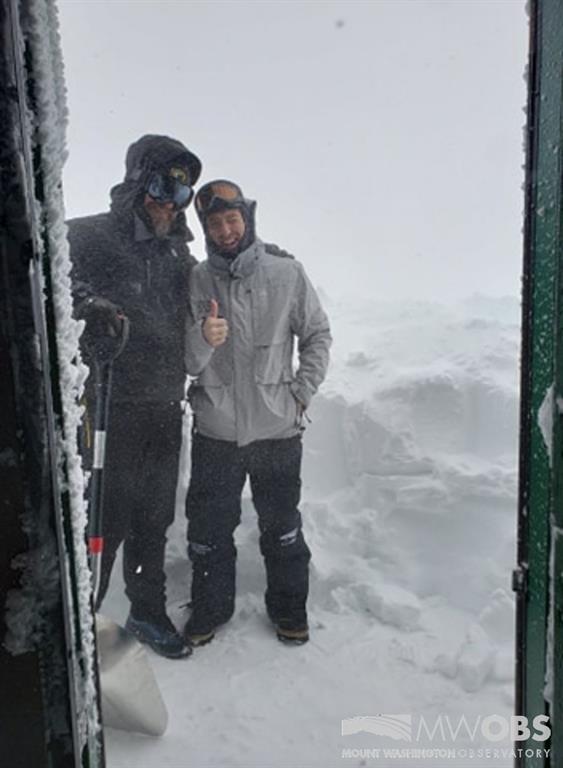 Patrick and Caleb next to the drift for scale ;)
David and I shoveled out a small path to climb over just so we could get the can for the Ob. But Patrick from State Park came over later in the day, and myself, David and Caleb went with him to check out the dig-out progress he had made. The pictures ensued, and it was just impressive how compact the drift was! Both David and I could stand on top without sinking in, and it was almost as if Patrick was tunneling us out of the Sherman Adams Building. If the drifts are this high over here, I can only image what they are like over at Yankee Building…
The rest of the week looks interesting for us. On the social side, we do have 1 Day Trip coming on Monday. And while they should be able to visit without issue, Monday night we have another big low pressure coming in. It looks like an occluding Hudson Bay Low at the time of this writing, which will bring a few more inches of snow and some more hurricane force winds for sure. We're also watching another low pressure headed our way for shift change day. Moderate precip and high winds never make things easy. So for certain we'll keep our eyes on the skies, and we'll see what the rest of this shift has in store for us!
Ian Bailey, Weather Observer/Education Specialist
Ellen Estabrook
Adjusting to Life on the Summit By Charlie Peachey Working on the summit of Mount Washington is not your average job. There aren't too many other places where the employees work and live together for
Ellen Estabrook
A Surprise Aurora By Francis Tarasiewicz After 17 months of working at New England's highest peak, it finally happened. On the night of November 12th, 2023, I was lucky enough to view the famous and
Ellen Estabrook
A Glimpse at METAR Reports By Alexis George, Weather Observer & Meteorologist METAR observations are submitted every hour of every day at Mount Washington Observatory. METAR is a format for reporting weather information that gets