Out of the Fridge…And Into the Freezer
2019-03-10 10:48:44.000 – Thomas Padham, Weather Observer/Education Specialist
After today's Facebook Live forecast discussion I thought I'd take a little more of an expanded look at the longer range forecast for the majority of this month of March. March is commonly referenced to have weather "in like a lion, out like a lamb" as we progress out of the last hurrahs of winter and into spring. Things looks a bit more complicated than that as far as the longer range models are concerned.
Behind this storm system which will affect Mount Washington with 6-8" of snow and yet another round of 100+ mph winds, we'll see another batch of cold air. We'll likely bottom out just below zero on the summit early Tuesday, roughly 10-15°F below average for this time of year.
Then comes a brief, but significant warm up for the Northeast. Low pressure looks to rapidly develop over the central Plains Thursday, with a deep flow from the Gulf of Mexico surging ahead of the storm. The storm itself appears to mostly fall apart before reaching New England, with a light rainfall expected. The bigger story will be the very mild, spring like temperatures. Here on the summit we'll be looking at the first 40+ degree readings of 2019, possibly reaching the mid or ever upper 40s. This combined with rainfall and summit fog will likely lead to a significant melt out. Readings in the valleys of New England will possibly reach 60°F Friday in a few spots, a welcome sign for many of our winter-weary residents!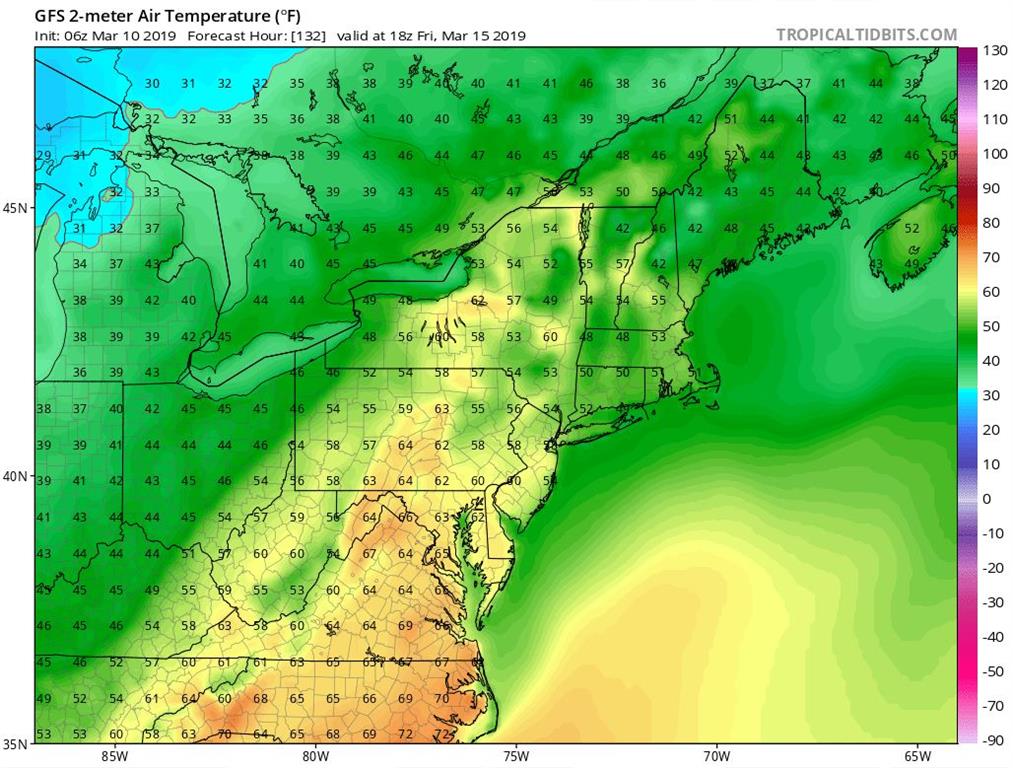 GFS model surface temperatures for Friday, March 15th showing very mild readings across the Northeast. Image courtesy of Tropical Tidbits.
So should we break out the shorts and say goodbye to winter? Not quite yet. Especially for northern New England, all signs point towards below average temperatures for much of the remainder of March after this brief warm up Thursday-Friday. This looks most certain for the middle of the month, when the National Weather Service 8-14 day outlook has below average temperatures for the entire eastern 2/3rd of the country. On the summit there is no sign of any additional above freezing temperatures as far out as we can see. I'll be looking forward to the brief taste of spring, but I'm also always in favor of some more snow and cold at the "Home of the World's Worst Weather"!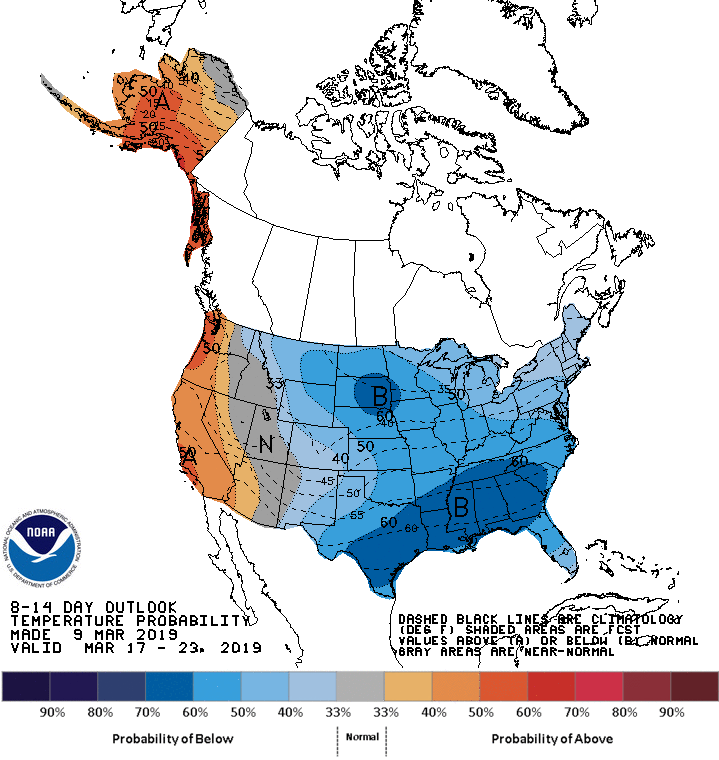 Thomas Padham, Weather Observer/Education Specialist
Ellen Estabrook
Adjusting to Life on the Summit By Charlie Peachey Working on the summit of Mount Washington is not your average job. There aren't too many other places where the employees work and live together for
Ellen Estabrook
A Surprise Aurora By Francis Tarasiewicz After 17 months of working at New England's highest peak, it finally happened. On the night of November 12th, 2023, I was lucky enough to view the famous and
Ellen Estabrook
A Glimpse at METAR Reports By Alexis George, Weather Observer & Meteorologist METAR observations are submitted every hour of every day at Mount Washington Observatory. METAR is a format for reporting weather information that gets