Potential Weekend Storm
2019-01-15 13:12:38.000 – Tom Padham, Weather Observer/Education Specialist
A significant storm for the upcoming weekend has now been consistently in the models over the past several days, and it could be an impressive storm for much of New Hampshire and New England. I thought it would be good take a look at the current models and see the things that are closer to a certainty, and also those that are more "up in the air" for this weekend. First off, let's back up a little bit and see how the weather is looking ahead of this weekend.
A weak clipper system will cross through New England tomorrow, mostly impacting the northern half of the region with some snow showers, gusty winds, and a reinforcing shot of colder air. Particularly in the mountains we could see some briefly heavy snow via snow squalls tomorrow afternoon and evening, with even a rumble of thunder not out of the question. Snow accumulations for the summit will likely be in the 1-3" range, although if any squalls track directly overhead we could see slightly higher amounts.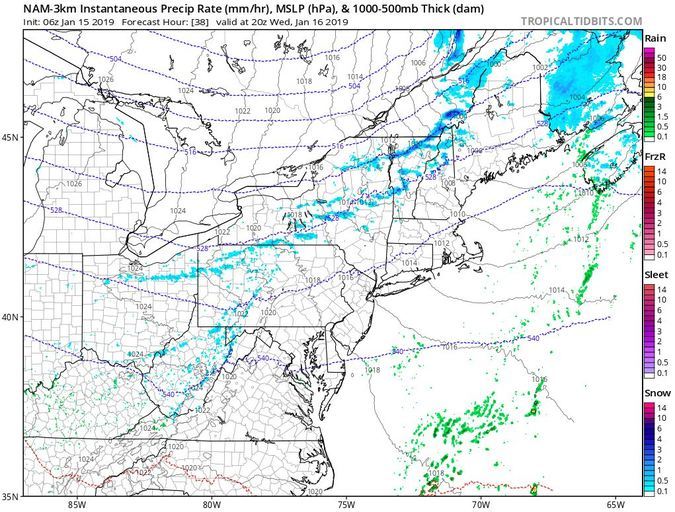 3 KM NAM model showing potentially heavy snow showers crossing northern New England Wednesday afternoon. Image courtesy of Tropical Tidbits.
After a break in the action Thursday, another relatively weak system will track through southern New England for Friday, with a light but widespread snowfall for the area. This will luckily be a quick mover, likely starting early Friday morning and ending by the late evening the same day. It will however, be a negative impact on driving as the area looks to receive 2-4" of snow, just enough to be a nuisance for driving, or great for skiing!
Then attention turns to the much more significant storm. This system is just starting to impact the West Coast tomorrow and Thursday, at which point the models will likely have a much better understanding of how it will evolve over time as it crosses the country. After producing heavy rain and snow in the West, with up to 5 feet of snow in the Sierra Nevada mountains, the storm will redevelop in the lee of the Colorado Rockies Friday. By Saturday the system will be picking up a significant amount of moisture as it tracks across the Mississippi River, quickly pushing snow into the Northeast during the overnight hours.
Temperatures will be cold enough for snow statewide as precipitation begins in earnest by midnight Saturday, with potentially heavy snow during the predawn hours Sunday through the afternoon. What's still uncertain is how far north warmer air will push in, allowing for a changeover to more of a snow/sleet mixture. Along the coast there could briefly be some freezing rain as well, but eventually warmer air will win out here allowing for a changeover to plain rain. Across the higher elevations of the White Mountains like Mount Washington and for points further north, precipitation should remain all snow.
GFS model showing potentially where the rain-snow line will be setting up Sunday morning. Image courtesy of Tropical Tidbits.
By the time the storm departs Sunday night we could be looking at a widespread area of near one foot of snow, with localized higher amounts. The summit will almost certainly see 100+ mph winds either during or just after the storm departs, and there's also the potential for near-record cold on the backside of this system for early next week. It's going to be a very active and exciting time to observe the weather on Mount Washington, we'll continue to monitor this storm over the next few days as it develops and hopefully witness some of the extreme winter conditions we're famous for!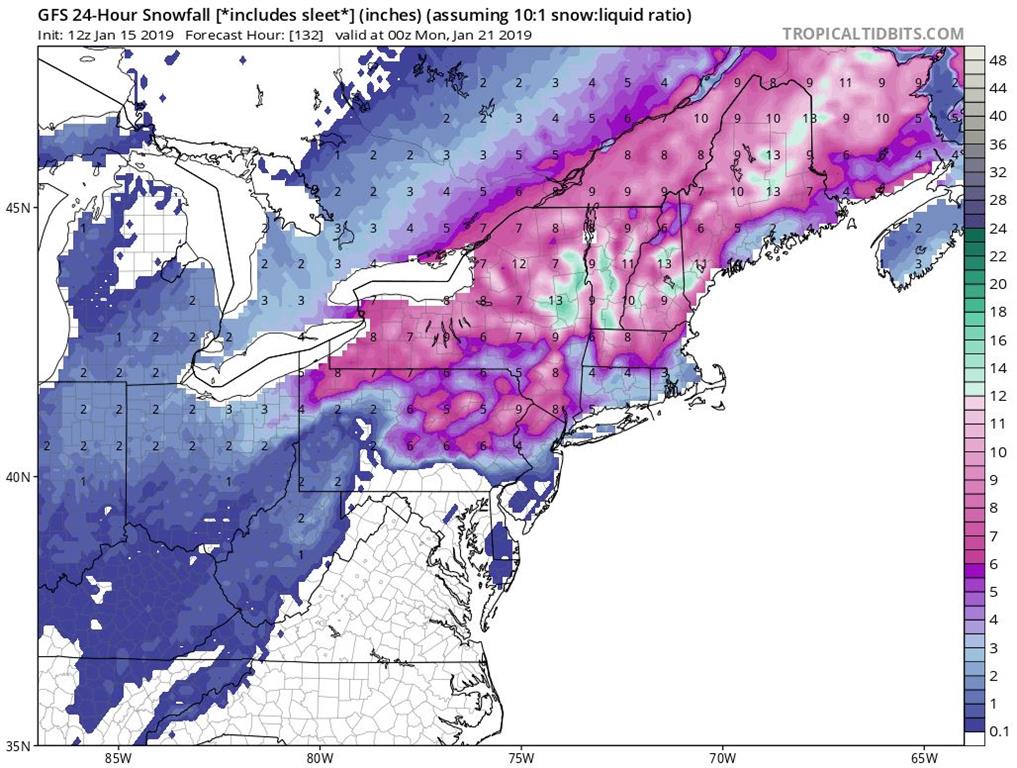 24-hour snowfall amounts from the potential storm late Saturday night through Sunday night. This is just one solution, but many areas in interior New Hampshire and Maine may see roughly one foot of new snow. Image courtesy of Tropical Tidbits.
Tom Padham, Weather Observer/Education Specialist
Ellen Estabrook
Adjusting to Life on the Summit By Charlie Peachey Working on the summit of Mount Washington is not your average job. There aren't too many other places where the employees work and live together for
Ellen Estabrook
A Surprise Aurora By Francis Tarasiewicz After 17 months of working at New England's highest peak, it finally happened. On the night of November 12th, 2023, I was lucky enough to view the famous and
Ellen Estabrook
A Glimpse at METAR Reports By Alexis George, Weather Observer & Meteorologist METAR observations are submitted every hour of every day at Mount Washington Observatory. METAR is a format for reporting weather information that gets